Samsung ATIV Smart PC: Performance
Anand covered the CPU and GPU performance of the Atom Z2760 really thoroughly in his Clover Trail platform review with the Acer W510. At this point, Z2760 is pretty familiar to us—two Hyper-Threaded Saltwell cores at 1.8GHz, along with PowerVR's SGX 545 GPU clocked at 533MHz. Saltwell is the 32nm shrink of Bonnell, which you probably better remember as the heart of the much beloved Atom N270 netbook processors. (I'm kidding about the much beloved part.) The new 22nm microarchitecture cannot come soon enough. Here's a rehash of Clover Trail performance, which is generally identical to the Acer W510.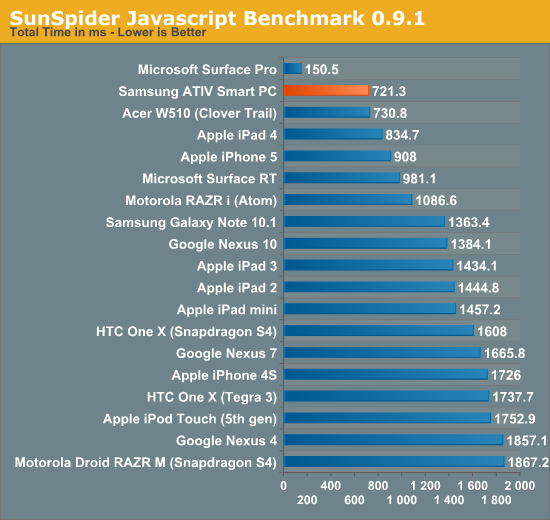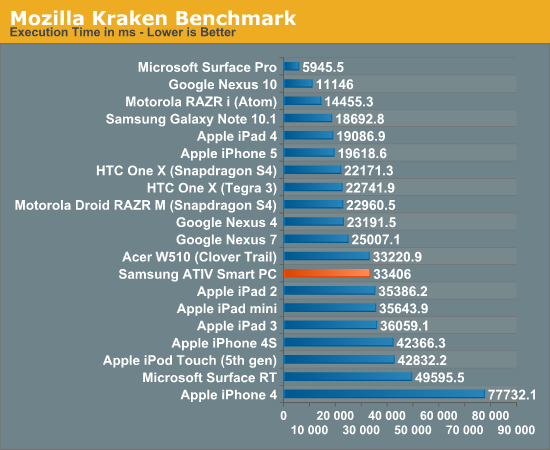 For the first time, we're seeing Intel lose its performance edge to Cortex-A15 based SoCs, but for now Clover Trail is still competitive from both compute and power efficiency standpoints. That's more than can be said for SGX 545, even at such a high clock. Clover Trail+ changes that though, with the inclusion of two SGX 544 cores, and should offer graphics performance that is in the same range as Adreno 320, as well as being much more competitive with Apple's recent SoCs. But CT+ hasn't arrived yet, so for now we're left with good old Clover Trail. I'm leaving Surface Pro's numbers in the following graphs, just so that you can see how much faster the ultra-low voltage IVB parts are when compared to Clover Trail. It's a pretty huge difference, even when looking at just the Core i5.