Technology
Philips Hue uses ZigBee (more specifically ZigBee Light Link) to control the Connected Bulbs. Of course, smartphones and tablets don't have ZigBee built into them, nor for that matter do PCs and Macs (yes, you could get a ZigBee USB dongle if you wanted), and hence the need for the Hue Bridge. It basically acts as a link between the devices running Apps that use the home network/WiFi and the ZigBee link to the bulbs. The App sends the command to the Bridge, the Bridge converts it to the ZigBee protocol, and vice versa. ZigBee operates in the 900-928MHz band in North America and Australia, 868MHz in Europe, and 900-924MHz plus 2.4GHz worldwide.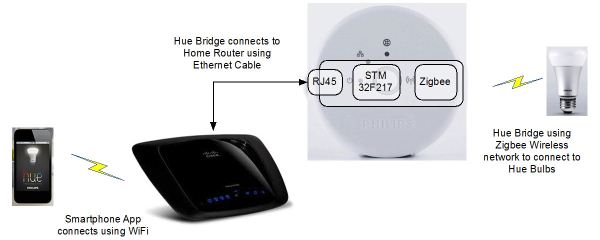 You might think that the bridge is simply an additional device; why not make the bulbs WiFi? It's a valid question and it could be done, but imagine trying to get each bulb connected to the network. Technically savvy users could likely figure it out, but for everyone else it would be a nightmare. I've tried helping friends and family with basic WiFi configuration issues over the phone, using PCs where all they need to do is enter the network password, and it can still be a pain. Trying to deal with IP addresses and potential conflicts on a per-bulb basis isn't something most people would be interested in doing.
There are additional factors as well, such as cost, power consumption of WiFi vs. ZigBee, and range requirements. ZigBee range is typically lower than 2.4GHz WiFi range; however, ZigBee is a mesh network so each device added can function as a repeater to extend the coverage area. That means as long as there are some devices closer to the Bridge coverage should be sufficient. ZigBee also consumes less power than WiFi and usually costs less as well, which is important when you're looking at integrating the functionality into devices like bulbs.
Ultimately, though, I think managing the setup and being able to control the bulbs effectively are the primary reasons why ZigBee is the right choice. Having the Bridge also makes it far easier to use multiple devices to communicate with the network, and it makes the creation and use of an app a lot simpler as well.