Far Cry 3
The final new game added to the latest rendition of our benchmark suite is Far Cry 3, Ubisoft's recently released island-jungle action game. A lot like our other jungle game Crysis, Far Cry 3 can be quite tough on GPUs, especially with MSAA and improved alpha-to-coverage checking thrown into the mix. On the other hand it's still a bit of a pig on the CPU side, and seemingly inexplicably we've found that it doesn't play well with HyperThreading on our testbed, making this the only game we've ever had to disable HT for to maximize our framerates.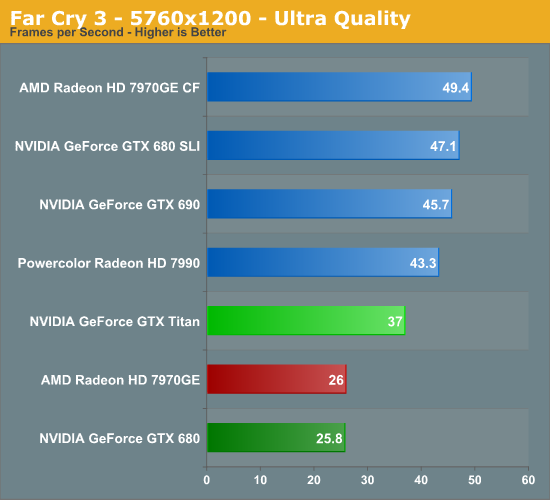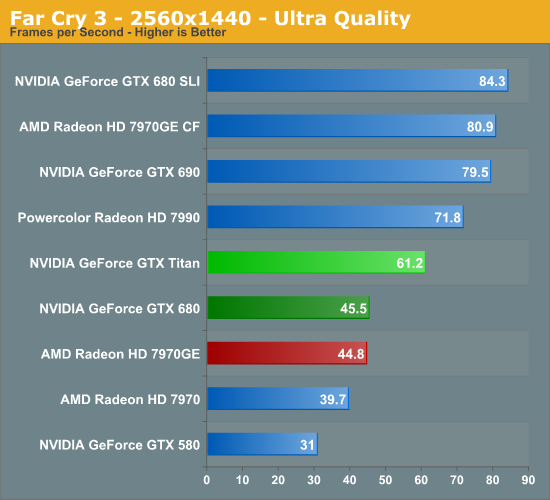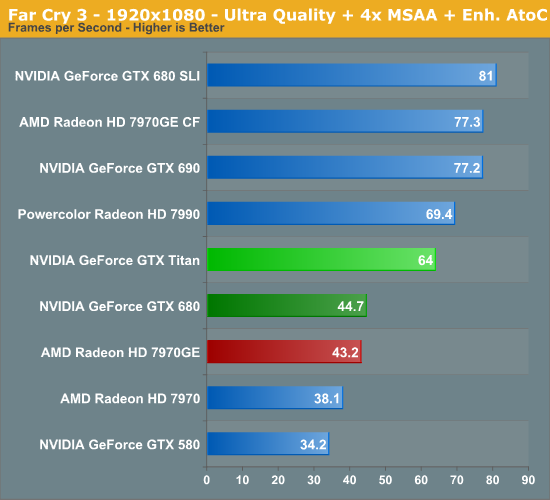 For the 7970GE and GTX 680, FC3 at 2560 was already a very close match. Or put another way, with the 7970GE and GTX 680 tied up with each other, Titan is free to clear the both of them by approximately 35% each at 2560. This is enough to launch Titan past the 60fps mark, the first for any single-GPU card.
As for our other resolutions, it's interesting to note that the gains at both 5760 and 1920 with MSAA are actually greater than at 2560. As we mentioned before Far Cry is somewhat demanding on the CPU side of things, so Titan may not be fully stretching out at 2560. In which case the performance gains due to Titan would be closer to 45-50%.
Moving on to our multi-GPU cards, this is something of a mixed bag. Titan isn't close to winning, but GTX 690 wins by under 30%, and 7990 by just 17%. This is despite the fact that SLI/CF scaling is as strong as it is. At the same time Far Cry 3 is a good contemporary reminder of just what Titan can excel at: had Titan been out in 2012, it would have been doing roughly this well while NVIDIA would have still been hammering out their SLI profiles for this game. Multi-GPU cards are powerful, but they are forever reliant on waiting for profiles to unlock their capabilities.