Random Read/Write Speed
Although random write consistency is an important part of the any enterprise SSD story, read performance is also very important. Here we're looking at 4KB random read performance over a 100% LBA span at a queue depth of 32: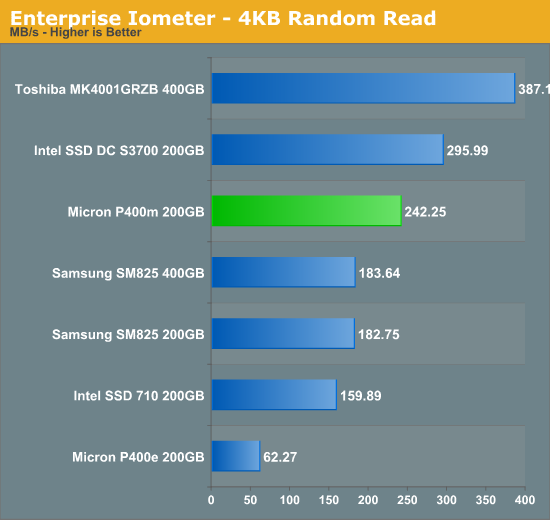 The P400m shows a tremendous increase in performance over the P400e. I'd almost argue that these two drives shouldn't carry such similar names given how differently they perform here. Intel's S3700 manages 22% better random read performance, but if random read performance is really the name of your game then Toshiba's SAS drive has everything else beat.
For the past few years we've been using 4KB random write performance as a measure of how advanced a controller is. Big multi-user (or virtualized) enterprise workloads almost always look fully random at a distance, which is why we use steady state random write performance as a key metric. The results below take hours to generate per drive and are truly an indication of steady state performance for 4KB random writes (100% LBA space):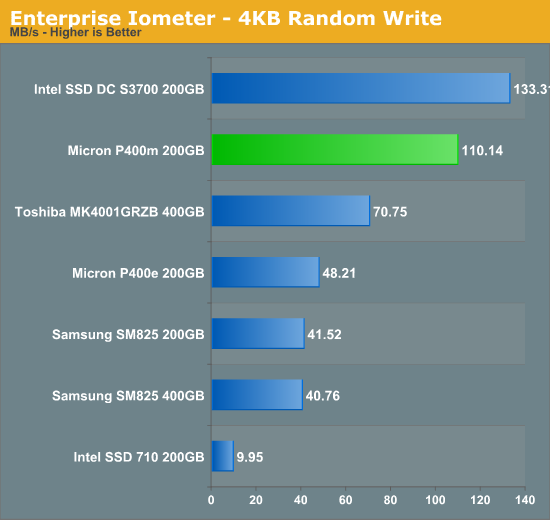 As far as 2.5" enterprise SATA drives are concerned, Intel's S3700 broke new ground in steady state 4KB random write performance. Micron's P400m isn't too far behind though. Intel maintains a 20% performance advantage, but the P400m puts nearly everything else in our chart to shame. Once again the comparison to the P400e is like night and day.
Sequential Read/Write Speed
Similar to our other Enterprise Iometer tests, queue depths are much higher in our sequential benchmarks. To measure sequential performance I ran a 1 minute long 128KB sequential test over the entire span of the drive at a queue depth of 32. The results reported are in average MB/s over the entire test length.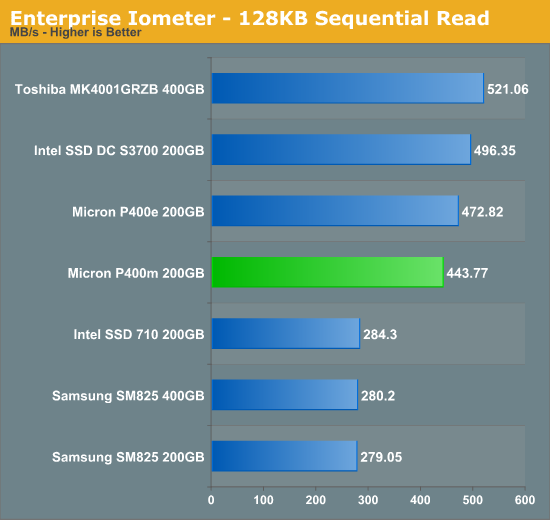 This is the only area where the P400e manages to slightly outperform the P400m. The margin of victory isn't enough to ever recommend the P400e over the P400m, but it just shows how Micron's focus has shifted between these drives. Intel and Toshiba hold the performance advantage here over Micron, but all of these drives are at least within the same realm of performance.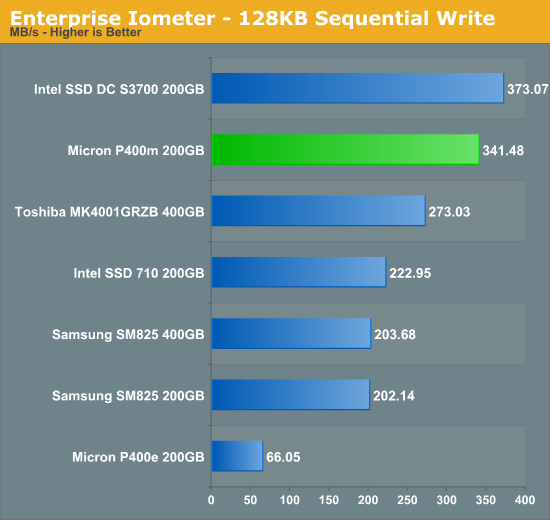 Switch our focus to writes and the P400m and S3700 are alone at the top. Once again the P400m puts the P400e to shame, its sequential write performance is over 5x that of Micron's previous drive. Intel maintains a 9% performance advantage here.