Performance Results
I mentioned in the introduction that the new Corsair radiators are operating off of the same OEM hardware as NZXT's resident 140mm-based radiators. What I didn't mention was that Corsair doesn't have any software control for the fans or even any allowances made towards connecting and controlling the fans at all beyond the conventional motherboard headers. Corsair needs to hope the fans used on their H90 and H110 are enough to differentiate them from NZXT's Kraken series.
Swiftech, meanwhile, also uses PWM control, but includes a breakout block with the H220 to connect as many as seven different fans to a single PWM channel. It's worth noting, too, that though the Swiftech H220 is a 240mm radiator (like the Corsair H100i), the building materials and pump are almost completely different. The pump uses Swiftech's own secret sauce, while the radiator uses brass and copper instead of the garden variety aluminum the other radiators use. On top of this, they're using their own fans. Suffice to say, it's going to be interesting to see if the H220 can prove the extra effort and higher quality components are worthwhile.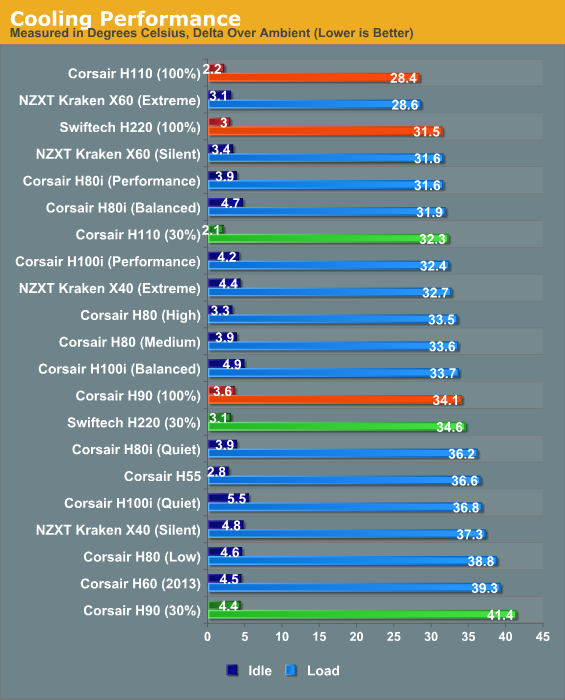 Whether it's Corsair, NZXT, or good old-fashioned Asetek, the results don't lie: the 280mm radiator is just plain more efficient than any smaller block. Swiftech's H220 puts in a reasonably strong showing, though interestingly it has trouble overtaking the Corsair H80i at higher speeds. There's a very good reason for that, though, and you'll see it in a second.
Meanwhile, Asetek's single 140mm radiator basically continues to be a bust. It's by no means a terrible product, but the H90 and Kraken X40 are both pretty underwhelming. A thicker 120mm radiator with two fans continues to be a comparable if not superior choice.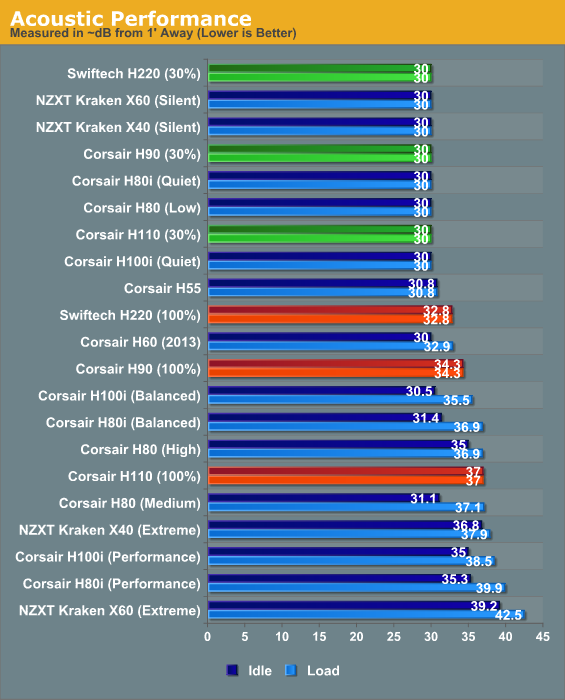 If the Swiftech H220's performance is a little underwhelming, this is why. The H220 itself is definitely a strong radiator, but Swiftech clearly tuned their fans for acoustics instead of performance. At 30% fan speed only the X60 and H110 can offer both better thermal performance and fan speed, but at 100% fan speed, the louder, more aggressive fans are just able to push more cool air through their respective radiators.
What must be kept in mind is that while the H220 isn't necessarily blowing up the charts, the noise levels and thermal performance need to be connected and placed in context. The H220 is able to deliver competitive performance at lower noise levels than the competing radiators, and really only has to worry about the Corsair H110 and Kraken X60 beating it. Both of those are much harder to fit into most cases, too, a problem the Swiftech H220 doesn't have.