Conclusion, Part 2: NZXT
While I'm actually fairly familiar with Asetek cooling systems, this is the first time I've seen anything branded by NZXT. Much as Corsair did when they ventured into cooling, NZXT appears to be making careful steps, and the Kraken X40 and X60 are both distinctive products that have a good fit and finish to them. The Kraken Control software leaves something to be desired, though, with its reliance on an open source program that runs separately in the system tray to handle hardware monitoring duties. It's a minor quibble, but Corsair Link has been around for longer, and the difference really shows.
NZXT Kraken X40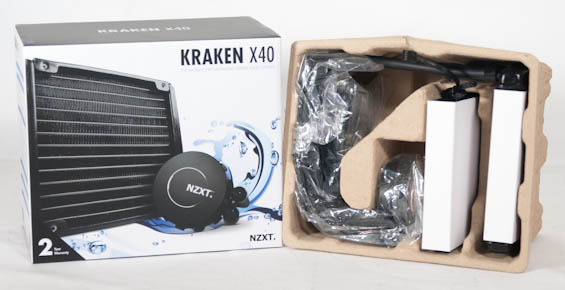 Of the two Kraken solutions, it should be fairly obvious that the X40 is the weaker of the species. Pushed to the hilt it offers competitive performance, but it's awfully loud in the process. The Corsair H80i more or less runs roughshod on it for about $10 more. I suspect users willing to add a second fan to it may get a little more mileage, but NZXT's single stock fan is also actually pretty solid on its own.
NZXT Kraken X60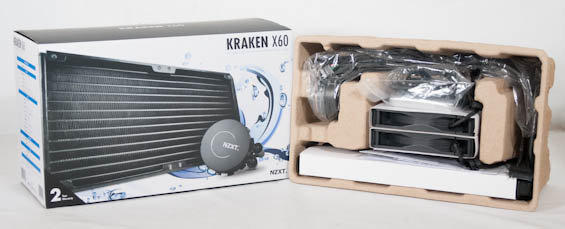 If like John Hammond in Jurassic Park you are prepared to spare no expense, NZXT's Kraken X60 sits squarely at the top of the food chain. Much as larger, more expensive ATX cases are often able to produce both excellent thermals and acoustics, so this most expensive closed-loop cooler is able to do the same. At its "Silent" setting it still produces the best thermals of the systems tested here, and if that's not enough and you're willing to crank up the volume, the "Extreme" setting performs better still. The Kraken Control software may need work, but the X60 is a tough act to follow.
Recommendations
Of the six coolers tested here, I can comfortably recommend three, and happily enough they all fit into pretty simple categories.
Users on a budget who want to "get their feet wet" will undoubtedly be satisfied with the Corsair H55. While it's still pricey compared to fantastic budget air coolers like Cooler Master's Hyper 212 Evo, it's inexpensive for a closed-loop liquid cooler, easy enough to install, and offers fairly competitive performance. On top of that, the fixed-speed stock fan is surprisingly quiet. $59 or less is totally reasonable for this cooler.
Users looking for the best 120mm cooler they can find are going to be best served by Corsair's H80i. The H80i is feature rich while offering compelling performance. The flies in the ointment are the fairly high price tag ($109) and mediocre mounting solution, but you do get Corsair's solid Corsair Link software, a five year warranty, and solid performance all around.
Finally, if you want the best closed-loop liquid cooler you can find, it's going to be tough to beat the NZXT Kraken X60. The price tag and quirky compatibility due to being a 280mm radiator instead of a 240mm make it tough to immediately recommend, and they need to refine their software, but the X60 is capable of producing frankly amazing performance that handily beats the other radiators we tested. Even better, it offers that performance at much lower noise levels. If you can afford it and you can fit it, the NZXT Kraken X60 is the one to beat.