Performance Results
Going into testing, it's pretty easy to expect how the coolers should ultimately stack up: Corsair's H55 should be last, followed by the H60, the H80, the H80i, the NZXT Kraken X40, the H100i, and then the NZXT Kraken X60 at the top of the list. The X40 and H80i should compete pretty closely; the X40 has a larger surface, but the H80i has a thicker radiator and a second fan. Corsair's also been happy to advertise that these "2013" radiator fans are based on their successful SP120 radiator fans, which makes sense. We found the Silent SP120 to be pretty solid while the Performance model was at the top of its game if noise was a non-issue.
Keep in mind, though, NZXT's stock radiator fan did surprisingly well in our testing too.
So how did these systems turn out?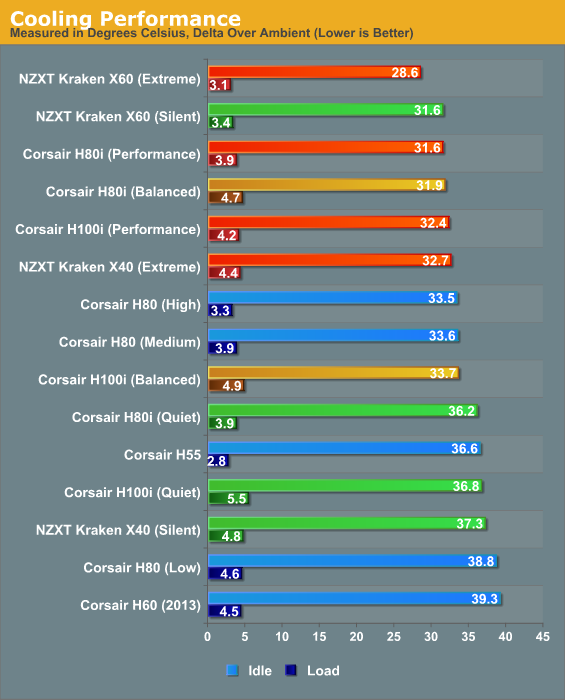 Surprisingly, two early favorites turn out to be major underperformers: the Corsair H100i for some odd reason is consistently worse than the H80i (and I did retest to confirm), while the Kraken X40 needs to run at full bore to produce decent results. Meanwhile, the H55 with its constant fan speed actually manages to best the new H60 (though PWM control may certainly contribute to that).
So where are the big winners? While the H80i is pricy, it does perform notably better than its predecessor, producing better thermals at a lower setting. And the most expensive system of all at least earns its price tag; the NZXT Kraken X60 turns out to be every bit the cooling monster the rep promised it would be, meeting or beating every other cooler at its lowest setting.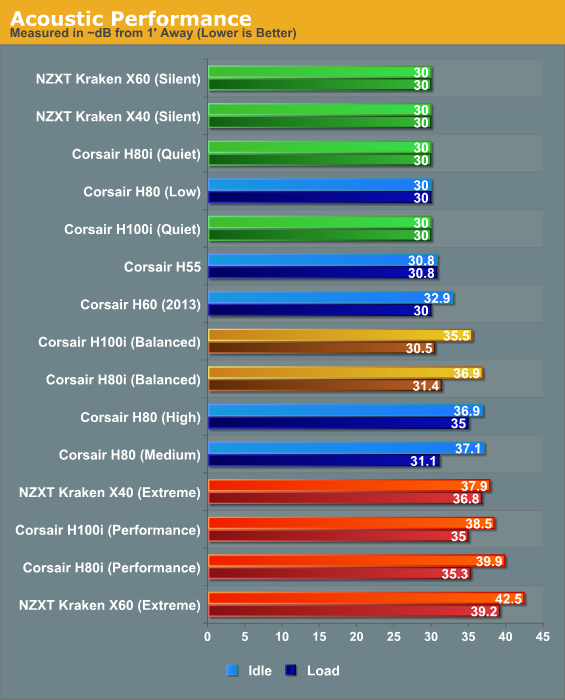 As far as noise is concerned, the X60 is once again at the top of the pack. Note that our sound meter doesn't go below 30dB and the X60 is noticeably louder than the X40, but not by much and not enough to really change the way things turn out.
So how do noise profiles change the standings? The X60 excels in both disciplines and is essentially undefeated, but the Corsair H55 makes a good case for itself. Thermal performance isn't fantastic, but it's quieter than the H60 under load while running cooler. Meanwhile the H80i remains basically the best offering in Corsair's lineup, running slightly cooler and quieter than the single-fan Kraken X40.