Charging & Battery Life
The ATIV Tab ships with a two piece power adapter that looks a lot like what you'd get with a Samsung notebook. The adapter is rated for 3.33A at 12V, but in practice it'll draw a max of 11.3W while charging (but not powering) the ATIV Tab.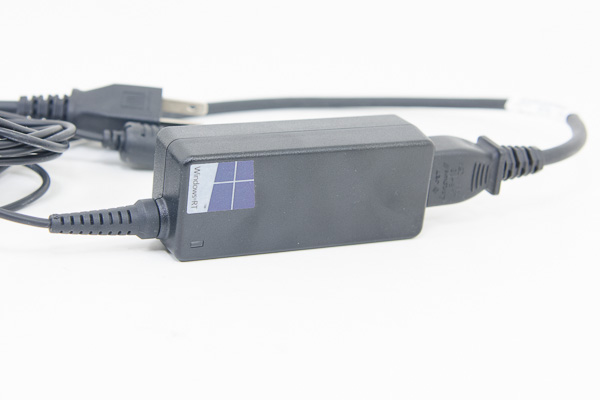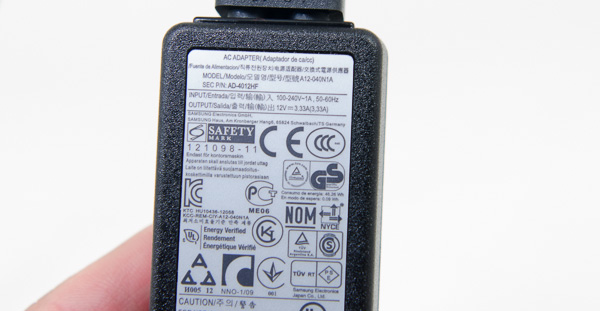 The power supply must be fairly inefficient because even after 2.68 hours of pulling over 10W, the ATIV Tab's 30Wh battery is only 68% charged. After 3.44 hours the battery was at 85% of its fully charged capacity and it's not until 5.25 hours before the ATIV Tab will report being fully charged (after 4.5 hours it only has around 5% left to go).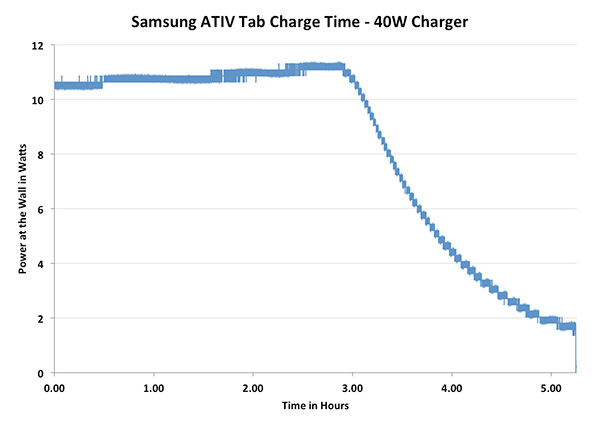 The good news is that using the ATIV Tab while charging it doesn't appear to slow charge times down at all. The ATIV Tab is limited to pulling ~11W from the wall while charging, but if you're using the tablet while charging the power adapter will draw several more watts.
Battery Life
We've started running our new smartphone web browsing battery life test on tablets as well. If you missed its introduction in our iPhone 5 review, here's a bit about the new test:
We regularly load web pages at a fixed interval until the battery dies (all displays are calibrated to 200 nits as always). The differences between this test and our previous one boil down to the amount of network activity and CPU load.
On the network side, we've done a lot more to prevent aggressive browser caching of our web pages. Some caching is important otherwise you end up with a baseband/WiFi test, but it's clear what we had previously wasn't working. Brian made sure that despite the increased network load, the baseband/WiFi still have the opportunity to enter their idle states during the course of the benchmark.
We also increased CPU workload along two vectors: we decreased pause time between web page loads and we shifted to full desktop web pages, some of which are very js heavy. The end result is a CPU usage profile that mimics constant, heavy usage beyond just web browsing. Everything you do on your device ends up causing CPU usage peaks - opening applications, navigating around the OS and of course using apps themselves. Our 5th generation web browsing battery life test should map well to more types of mobile usage, not just idle content consumption of data from web pages.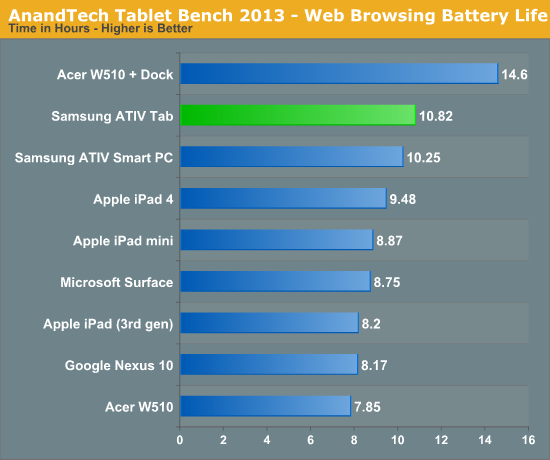 Battery life for the ATIV Tab is amazingly good. With a smaller display but the same sized battery, the Qualcomm powered tablet is able to best Intel's Clover Trail powered ATIV Smart PC. The display discrepancy makes drawing a direct conclusion here difficult, but we'll soon be able to repeat our Clover Trail power experiments with a Krait based tablet to see how close those two SoCs really are when it comes to power consumption.
At 10.82 hours off of a 30Wh battery, the ATIV Tab does better than even the 4th generation iPad.
Our video playback test remains unchanged from previous tablet reviews. Here I'm playing a 4Mbps H.264 High Profile 720p rip I made of the Harry Potter 8 Blu-ray. The full movie plays through and is looped until the battery dies. Once again, the displays are calibrated to 200 nits: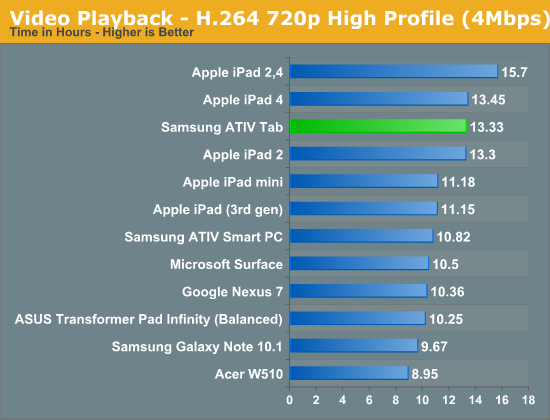 Video decode battery life is outstanding from the ATIV Tab - we finally have a tablet that can equal Apple's iPad in terms of battery life when playing back video. There's a clear advantage here over the Clover Trail based platforms, and obviously compared to the Tegra 3 based Surface RT as well. I believe what we're seeing here are the benefits of TSMC's 28nm LP process delivering extremely low leakage while the SoC is mostly idle. Qualcomm's video decode block seems to do a great job at being very power efficient here.