Assembling the Fractal Design Node 304
Befitting the Fractal Design Node 304's simple aesthetic is an equally simple assembly, but there are definitely measures that could've been taken to make it easier still. In its own way this is par for the course with Fractal Design's cases; they're easy to build but they could've optimized things even further.
The biggest problem is actually installing the motherboard. Before installing anything you need to remove the three drive brackets, all of which are secured by two thumbscrews and a single small Phillips head screw. Getting the I/O shield in is easy enough, but Fractal Design makes you install the standoffs on your own despite the fact that mITX boards only ever have four and they're all in the same place. That's a minor nitpick, but note that clearance is going to be a bit difficult as the power supply region and bracket sits almost flush with the motherboard and they recommend you install the PSU first.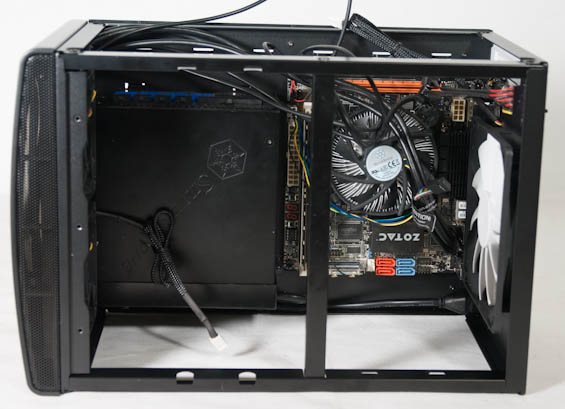 Getting the PSU in is also a bit of a tight squeeze; our test PSU is 180mm with modular connections, essentially longer than the Node 304's spec. As a result, the PCIe slot is rendered essentially unusable to cards longer than the motherboard itself. The problem is that a modular power supply is practically essential for a case like this as there simply isn't anywhere else for the cables to go. I don't think this is a dire situation, but it's one of the places where I feel like the SFX power supply standard really needs to proliferate and would be more ideal. You just don't need a full ATX PSU in a case this size, and space is at a premium.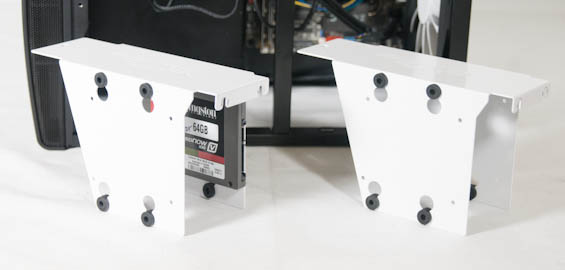 With no optical drive bay to speak of, we're left with the drive mounting brackets, and I think they're for the most part a solid design. There are three, but really you're going to want to use the bare minimum, which for the purposes of testing was just one. Drives bottom-mount to the sides of the brackets (which took our Corsair Link box out of the equation), and then the brackets go in. One potential problem is that a pair of 3.5" drives run the risk of blocking an intake, and I don't see people filling this case up with six drives as I'm just not sure there's space for them.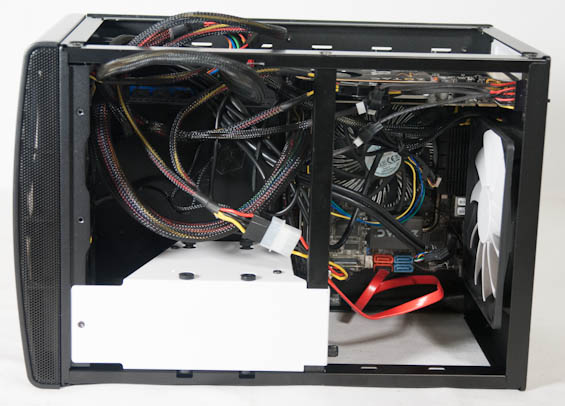 Because of the way the cables stuck out of the power supply and the length of the power supply itself, I was unable to fit our GeForce GTX 560 Ti inside the Node 304 for testing. The short, single-slot Zotac GeForce GTS 450 Eco, however, went in just fine and was surprisingly easy to install and remove. Cable spaghetti is a foregone conclusion in a case like this and unfortunately that made getting the shroud back on that much more difficult.
As far as small cases go, assembly in the Node 304 was tight but not impossible and if anything might've stood to be a little more involved. I'm not sure how I feel about the drive brackets, but since Fractal Design is targeting small home servers with this case I can understand the need to cram as much storage in as possible and the intakes probably serve more to keep the drives from overheating than actually circulating air through the chassis. I do think they could've gone with an SFX power supply instead, though, and even though it would've been more involved, splitting the shroud into two or even three panels might make assembly and service much easier.