The Xeon Phi card comes on a PCIe card, much like a GPU. Given the architecture's origins as a GPU, the form factor should't come as a surprise. Like modern HPC GPUs however, the Xeon Phi card has no display output - its role is strictly for compute.
The Xeon Phi acts as a multi-core system on chip running its own operating system, a modified Linux kernel. Each Xeon Phi card has its own IP address however, the Xeon Phi can not operate on its own. A "normal" Xeon will be be the host CPU, the Xeon Phi card is a coprocessor, similar to the way your CPU and GPU work together.
Below you can see the SKUs that Intel will offer.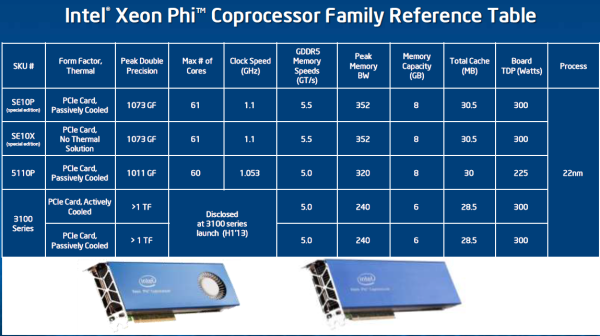 The Xeon Phi inside the Stampede are special edition Xeon Phis.These special editions get 61 cores and run at a slightly higher clockspeed (1.1 GHz).
The commercially avialable 5110P has one core and 50 MHz less than the special edition Phi but comes with 8 GB of ECC memory. The P-suffix indicates that it's passively cooled, relying on the host server for airflow. The 5110P is not cheap at $2699, but it's still more affordable than NVIDIA's Tesla K20 ($3199). The Xeon Phi 5100 series is really intended for more memory bandwidth bound applications thanks to the use of 5GHz GDDR5 and a fully populated 512-bit memory interface.
For compute bound applications however, Intel will offer the Xeon Phi 3100 series in the first half of next year for less than $2000. The Xeon Phi 3100 will come with 6GB of GDDR5 (5GHz data rate) and only a 384-bit memory interface. Core clock should be higher, delivering over 1TFLOP of DP FP performance.
The Xeon Phi cards use a 7GHz PCIe 2.0 interface, as Intel found moving to PCIe 3.0 resulted in slightly higher overhead.