Introducing the BitFenix Ghost
In the short time that they've been around, BitFenix has consistently proven an interest and willingness to design cases that are at the feature curve while being price competitive and offering a distinctive aesthetic and features. It sounds like a PR line, but it's true: the Merc series are among the best budget cases on the market, the Shinobi is a solid case in its own right, and the Prodigy was actually selling out for months after its release. In many ways they remind me of Corsair and Fractal Design; in the enclosure business for a short time, but continually making strides and ensuring each release is worth some attention.
That's true again today with the launch of BitFenix's first case tuned for silence, the Ghost. It eschews some of the design language that's become de rigeur for BitFenix (specifically the soft-touch plastic surface), but has some smart new design choices and more importantly, it hits a price point silent cases very rarely hit (outside of NZXT's H2): $99. So does the Ghost live up to its potential, or does it just leave us begging for more?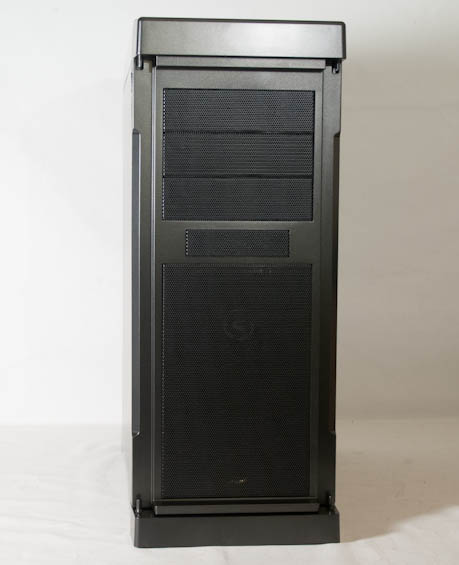 While I'm always on the lookout for a case to replace my venerable SilverStone FT02, very few promising candidates have ever come through that struck my tastes specifically. Yet the Ghost threatened to do exactly that, with its sleek, boxy design, ample watercooling support, and acoustic dampening materials. I'd been looking forward to reviewing the Ghost since I first saw it online. As you'll see the further we get into the review, this is a case I really wanted to succeed, not just for consumers everywhere but for myself as well.
BitFenix Ghost Specifications
Motherboard Form Factor
ATX, Micro-ATX, Mini-ITX
Drive Bays
External
3x 5.25", 1x 3.5"
Internal
4x 3.5"/2.5", 3x 2.5"
Cooling
Front
1x 120mm intake fan, 1x 120mm fan mount
Rear
1x 120mm exhaust fan
Top
1x 230mm/200mm fan mount or 2x 120mm/140mm fan mounts
Side
-
Bottom
1x 120mm/140mm fan mount
Expansion Slots
7
I/O Port
2x USB 3.0, 2x USB 2.0, 1x Headphone, 1x Mic, hotswap SATA bay
Power Supply Size
ATX
Clearances
HSF
170mm
PSU
180mm
GPU
12.5" / 318mm
Dimensions
8.3" x 20.6" x 20.1"
210mm x 522mm x 510mm
Special Features
Removable fan filters
Hotswap SATA bay
Noise dampening padding
Support for 240mm/280mm radiator in top of case
Price
$99
The Ghost also features a door that's hinged on both sides similar to the design Corsair employed on their fancier (and pricier) Obsidian 550D. While it's not the smallest case, it does feel a bit smaller than the norm while also making exceptionally smart use of its dimensions. The hotswap bay in the top of the enclosure fits perfectly with allowing for increased height for installing a radiator in the top fan mounts. Many cases that advertise being able to support a 240mm radiator will actually run into trouble if you try to install one due to limited clearance. It's all well and good to be able to get a radiator in, but you do need to actually install fans on it, too.
With all that said, I think Fractal Design hit the mark and BitFenix missed it by supporting a 140mm exhaust fan as well as dual 140mm intakes in the Define R4. 120mm may be the standard, but 140mm fans are becoming increasingly common and they're often more efficient for the noise than the smaller fans are. I personally would've loved to have seen a 140mm exhaust fan or at least support for one on the Ghost, even if it meant slightly widening the case.