Speakerphone and Audio
The Nexus 4 has a small vertical notch cut out of the back glass for its speakerphone port. The unfortunate part is that when the Nexus 4 is laid display-up like I always place phones for testing under our digital sound level datalogger, it is quite muted since there is no gap in the cavity for sound to escape through.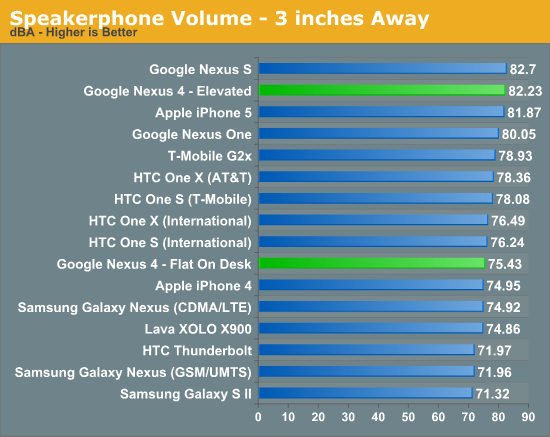 With the phone raised, however, the Nexus 4 turns out to be decently loud, which matches my subjective impressions using the device for Google Navigation over the past few days.
Noise Suppression
The Nexus 4 has a pair of microphones for noise suppression both when on calls, and also for the increasingly important task of reducing noise on ASR (Automatic Speech Recognition) workloads like Google Now. I believe the Nexus 4 is using Qualcomm's Fluence for this task, which is an adaptive beamformer system.
To test its efficacy, I turned to the industry standard babble track and ramped volume in front of a pair of speakers to 94 dBA (very loud) and then back down while recording the mobile-terminated end of the call on my PC. I should note that when I run these tests I always originate and terminate the call on the same mobile operator (in this case T-Mobile) if possible.
The Nexus 4 does a pretty decent job at canceling noise on my test call. The Galaxy Nexus noise rejection performance quite honestly never was that spectacular, and getting better noise filtering is going to be an increasingly important part of the speech recognition battle on these platforms.
Audio
Inside the Nexus 4 is a Qualcomm WCD9310 audio codec, which we've seen in other devices like the MSM8960-based Galaxy S 3s and a few other phones. Measuring sound quality is probably the number one requested addition to our reviews, and still is a rather nebulous thing to measure at times. For this I worked together with the ever-awesome François Simond (@supercurio) to measure sound quality on the Nexus 4 using RMAA on my desktop equipped with an ASUS Xonar Xense sound card.
Subjectively the Nexus 4 doesn't sound terrible to my ears on a pair of SE535s and listening to music at half volume or less. Objectively however the results are less than awesome thanks to a combination of things. First, audioflinger is set to 48 kHz which results in software resampling causing artifacts for 41.1 kHz source material. Second, there appears to be different modes that the Nexus 4 switches into depending on your volume level, and the frequency response plots show these different plots at the number of different volume levels we tested. We're going to update with some thoughts from Francois about the Nexus 4 soon, for now I think the Nexus 4 sounds ok at least when it comes to the most glaring of things — I couldn't detect any background hiss or whine as the SoC changes states, which is a huge percentage of what I normally wind up hearing on smartphones.