Final Words
In my first week with the iPad mini, it quickly became the iPad I actually wanted to carry around. The mini's form factor is really where all of the innovation is. It's thin, light and an almost perfect balance of functional screen size and portability. I really love this form factor. In my life, a tablet is really an augmentive device rather than something that takes the place of a larger notebook. As such, I actually want something even more portable than the current Retina iPad and the mini delivers just that. It's small enough that I don't mind taking it with me, and it retains nearly all of what made the iPad such a great consumption device. I say nearly all because there are some definite tradeoffs when moving to the smaller display. Mainly all UI elements shrink in size, which can be a bit annoying when tapping small widgets (especially at the corners of the display). There's always something to be given up in pursuit of ultimate portability.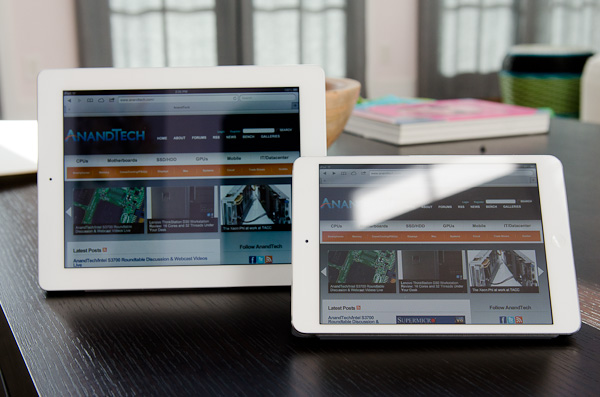 From a performance standpoint, the iPad mini is basically the same as the iPad 2. You do lose out on the battery life front (especially compared to the newer 32nm iPad 2,4), but in terms of repsonsiveness the mini is no different. Thanks to just how power hungry the iPad 3 and 4 are, the mini's battery life isn't really much worse despite the significantly smaller battery. In general you can expect anywhere from 6.5 - 11 hours on a single charge depending on what you're doing with the mini.
Unlike most brand new ultramobile devices, I don't necessarily see buying the mini today (vs. waiting for the 2nd generation) as a bad idea. We'll likely get A6 based silicon next year, perhaps even an update to the WiFi stack (802.11ac anyone?) but I'm not expecting significant changes. As always, I wouldn't recommend buying a fully loaded mini as Apple tends to charge way too much for NAND upgrades, but I don't have any problems recommending the mini today. It's a very well designed iPad that would act as a great companion tablet. Ultimately if you're buying this as your primary consumption device, I'd probably recommend the bigger iPad instead, but for someone like me the mini works wonderfully.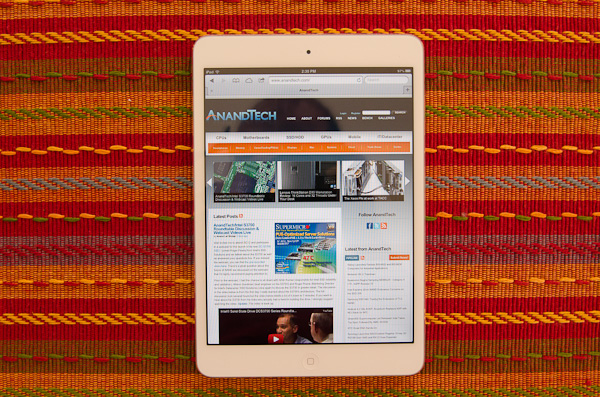 The biggest issues with the iPad mini really boil down to display and price. Despite boasting a higher pixel density than the iPad 2, anyone exposed to the iPad 3 or 4 will be let down by the iPad mini's display. Colors aren't as accurate, black levels aren't as good and the lower pixel density does impact reading small text. These are all things you can get used to, but they are all aspects where you give up performance compared to the big iPad. I don't know that there's a quick solution to this problem, as a doubling of resolution won't happen to the mini anytime soon without ruining the excellent form factor. If you haven't been exposed to (or aren't constantly bombarded by) the big iPad's Retina Display, this likely won't be an issue. It pains me to say it, but compared to most similarly priced notebooks, the iPad mini's display is amazing.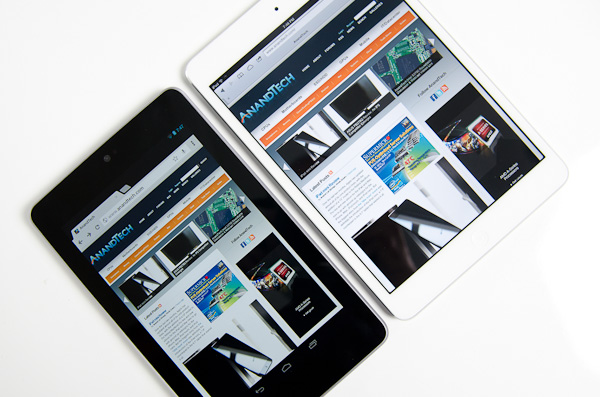 Nexus 7 (left) vs iPad mini (right)
At $329, the iPad mini is $130 more expensive than Google's Nexus 7. I do like the form factor better than the Nexus 7, but whether or not the difference in price is worth it to you depends entirely on how much you value iOS. If all you want is a small tablet, the Nexus 7 is a much more affordable solution to that problem. In many ways this is the same discussion we've been having on the Mac vs PC side. The Apple premium tends to come from build quality, component selection and software. In the case of the mini, component selection isn't necessarily a huge advantage as there are better displays offered at similar if not cheaper prices. Build quality is excellent and materials choice is pretty unique at this price point, but the Nexus 7 is also very well built. The form factor is special enough however that I can see it pushing some folks to the mini over a competing tablet. I know that's true for me personally.
If you're not as enthralled by the mini's form factor however, you're really left with software as the main differentiator between the iPad mini and other 7 - 9" tablets. Once again, this brings us back to the question: how much do you value iOS? I don't know that I can answer that for you, as everyone has different priorities and preferences. If you're already in the Apple ecosystem (e.g. if you have a Mac, iPhone and/or additional iPads), then the choice is pretty simple. This is exactly why Apple spends so much on software development and by integrating things like iCloud into everything, to keep you in the family.