GPU Performance
Although most of the industry has done a great job in pushing CPU performance forward, Apple remains largely uncontested when it comes to mobile GPU performance. This isn't really due to some unsurmountable advantage, but rather a willingness to spend on SoC die area and incorporate big GPUs into its designs. The graphics IP all comes from Imagination Technologies, and although it's very well integrated by Apple, there are other SoC vendors that could push the envelope here - they simply have chosen not to.
Things are beginning to change as we saw with the introduction of Qualcomm's Adreno 320 based Snapdragon S4 Pro. NVIDIA's Wayne (Tegra 4?) SoC is expected to be much more competitive on this front as well.
As a result of many of the competing devices using slower GPUs, the mini looks a lot better in our GLBenchmark tests than its competitors.
We'll start out with the raw theoretical numbers beginning with fill rate: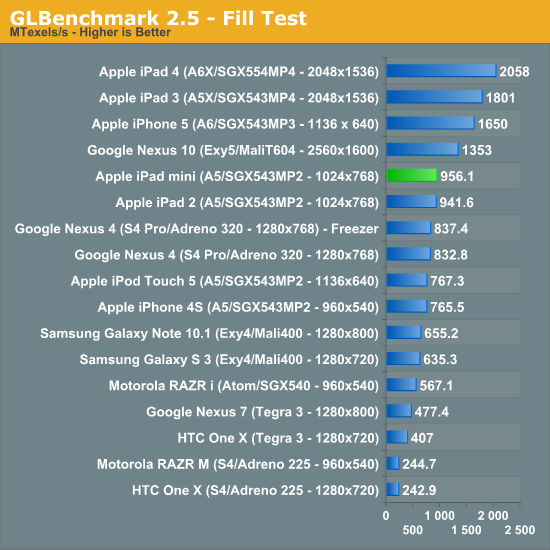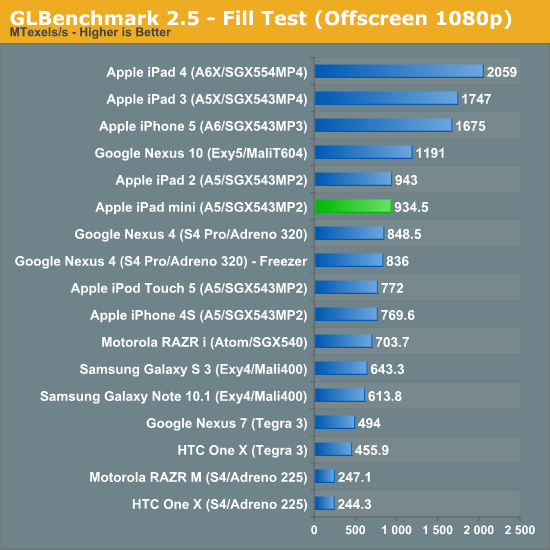 Other than the Nexus 10, the only devices that outperform the iPad mini here are other iPads or the iPhone 5. The mini's low native resolution will help ensure that gaming performance remains high for any currently available content.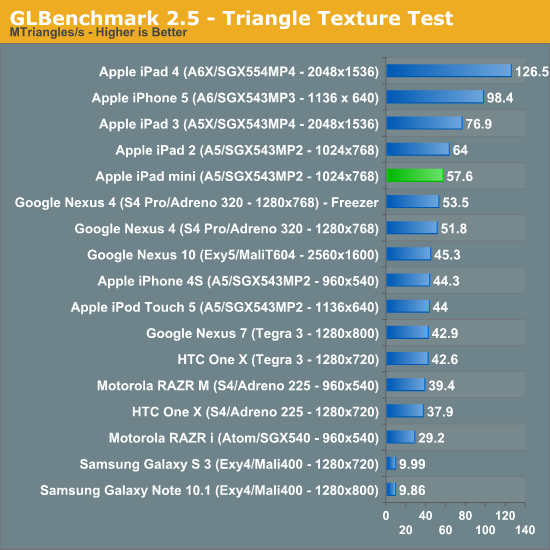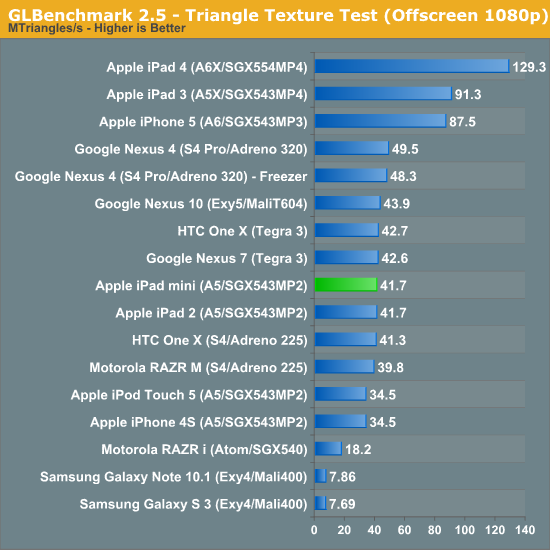 Triangle throughput looks very good here although the Tegra 3 based Nexus 7 is able to pull ahead on the offscreen test.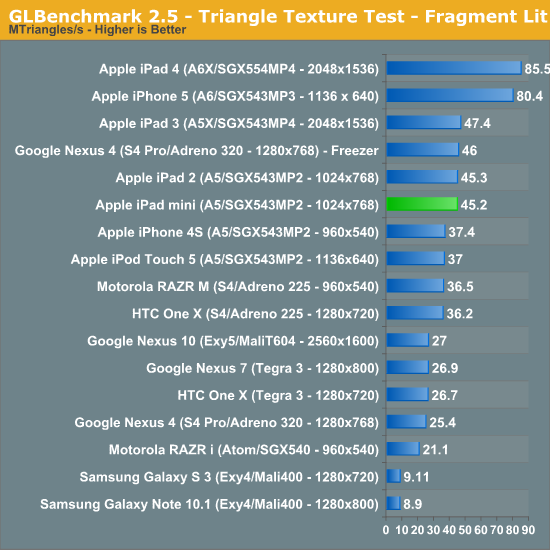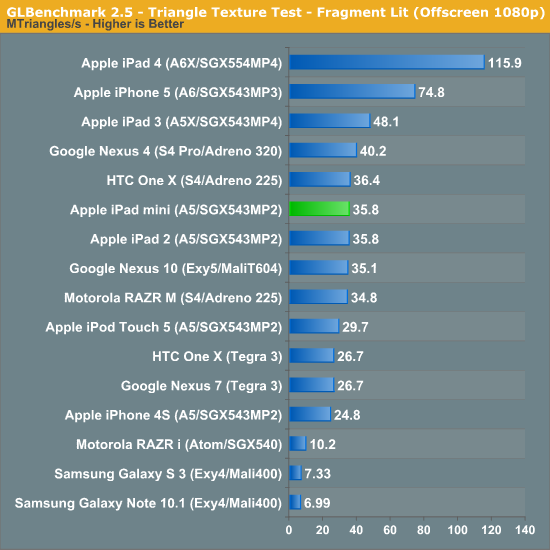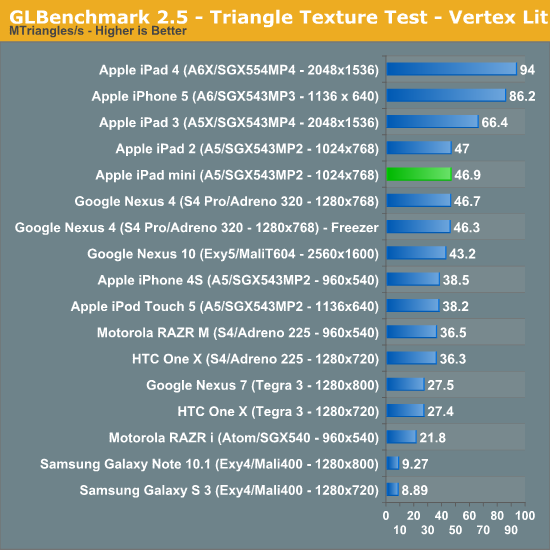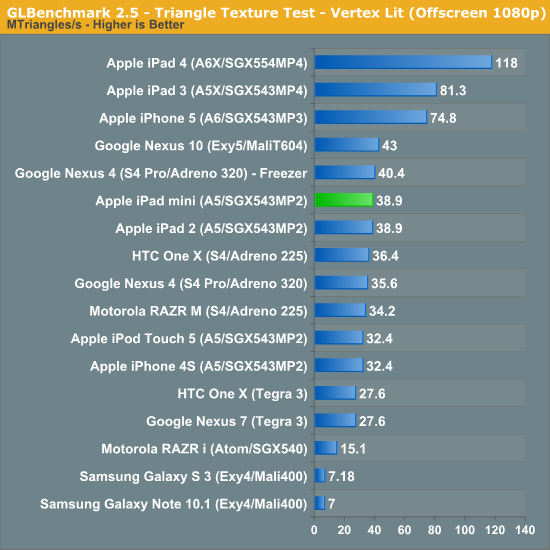 The mini continues to do quite well here vs the competition, although in the heavier triangle tests we see a clear difference between it and the A5X/A6/A6X based iOS devices.
With the synthetics out of the way, we can look at simulated game performance using the Egypt HD and Egypt Classic benchmarks. Remember the on-screen tests are run at native resolution with v-sync enabled, while the offscreen tests are run at 1080p with v-sync disabled for an architectural apples-to-apples comparison.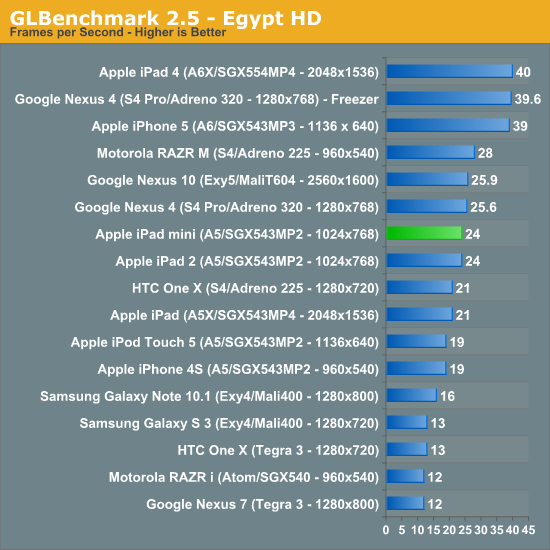 The mini does reasonably well running Egypt HD, which is a good indicator of future gaming performance on the device (perhaps ~2 years out for high end titles). The iPad 4's GPU does a good job of keeping up with its insane display resolution. The Nexus 7 doesn't fare nearly as well. Tegra 3 manages to run most current games just fine, looking forward though the GPU will probably not age too well.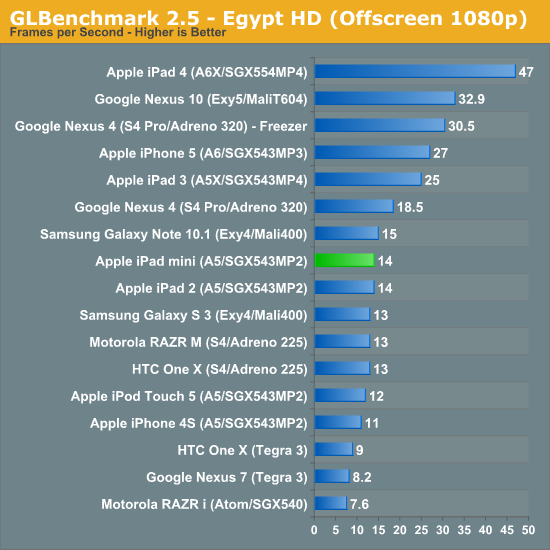 The offscreen tests show us what everything is really capable of given equal footing, and here the mini looks a lot more middle-of-the-road.
The Egypt Classic test is a much lighter workload, as a result most of these devices hit 60 fps at their native resolution: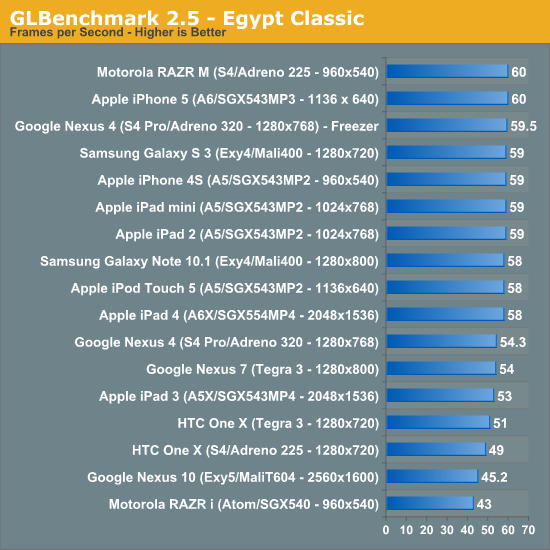 Although Egypt HD is a bit overkill for today's games, Classic undershoots by a good amount. The offscreen test however does provide some guidance as to whether or not these devices would be able to hit 30 fps on an appreciably heavier workload: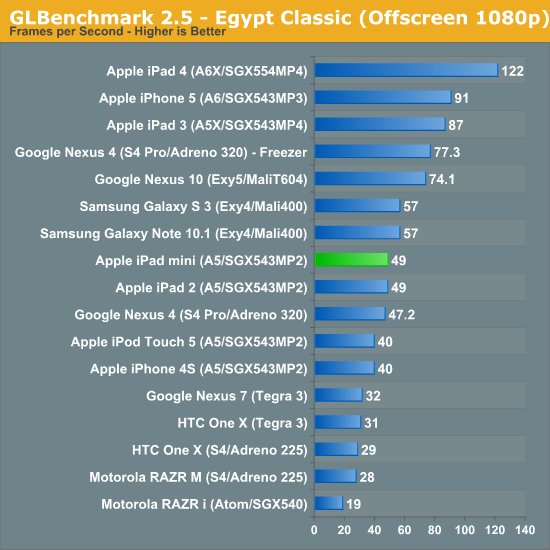 The mini does a good job here, although the iPad 3/4 and iPhone 5 are clearly quicker.
Overall the mini isn't a performance slouch. If you thought the iPad 2 was fast enough, the mini won't dissappoint. Its GPU remains very good and should be able to handle both present and upcoming iOS games. That being said, if Apple remains true to its typical cadence and gives next year's mini an A6 SoC I think that will end up being a much better match of price/performance.