The 13-inch Retina Display in Numbers
The latest rMBP features a 13.3-inch, 2560 x 1600 LED backlit IPS LCD panel. Apple maintains a total of four aspect ratios across all of its product lines:
Apple Display Aspect Ratio
Aspect Ratio
3:2
4:3
16:9
16:10
Apple Product
iPhone 4S
iPad, iPad mini
11-inch MBA, iPhone 5, iPod Touch (5th gen)
13-inch MBA, MacBook Pro, Retina MacBook Pro
I'm not sure if you can read anything into this, other than Apple seems to be fine with choosing a different aspect ratio to fit the form factor of whatever device it's building.
The 4MP panel has around 226 pixels per inch, compared to approximately 220 pixels per inch on the 15-inch rMBP's display. The slight increase in pixel density isn't really noticeable.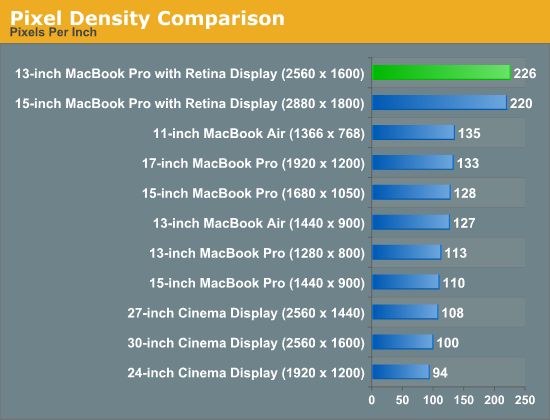 At first sight, the 13-inch rMBP panel is somehow less impressive than the old 15. Part of the problem is the 15-inch surface is just so much larger that it manages to deliver a pretty substantial impact. It's the problem of being compared to such an overachieving sibling: anything you do is just never good enough.
Despite its inability to outshine the 15-inch rMBP panel, the display on the 13-inch model is gorgeous. Viewing angles are great thanks to the use of IPS technology. Brightness and contrast are both top notch as well: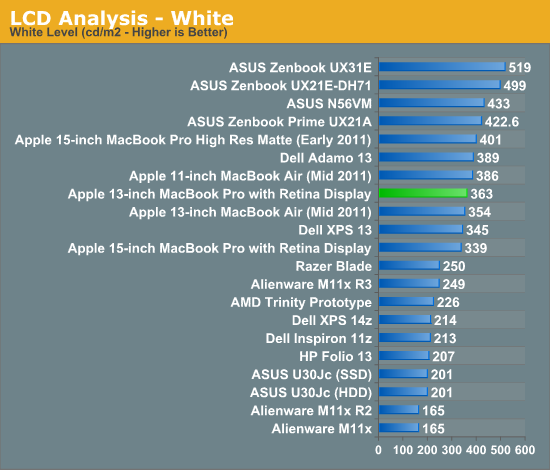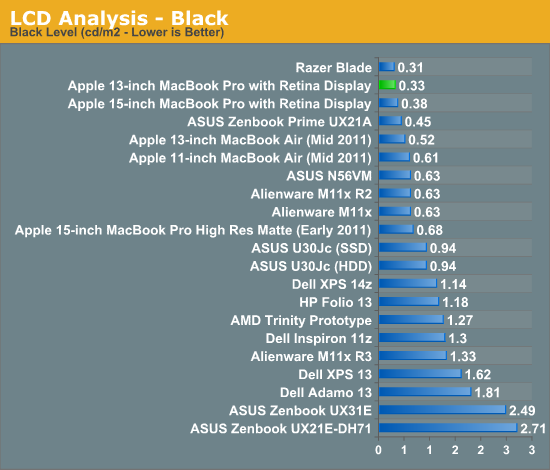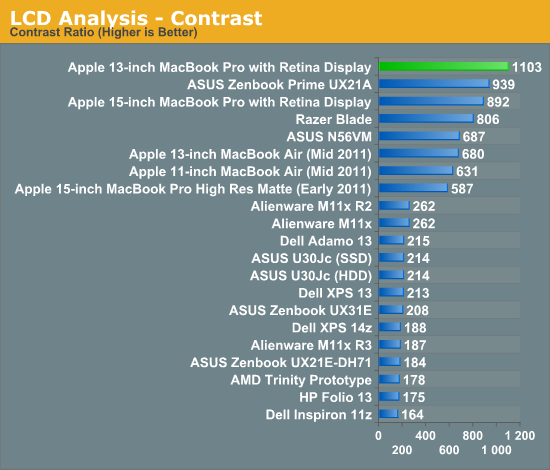 Color accuracy and gamut are both within the range of the 15-inch model, putting them among the best we've tested: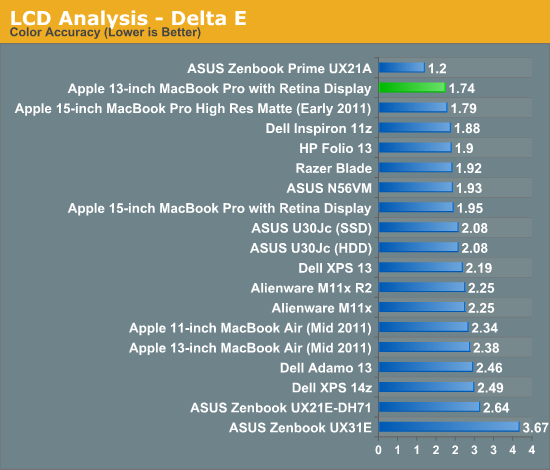 I also ran the 13-inch rMBP through our CalMAN smartphone/tablet workflow to compare it to Apple's iPad and iPhone 5. The results are very impressive (remember for the dE2000 values, lower numbers are better/more accurate colors):
CalMAN Display Comparison
Apple iPad (3rd gen)
Apple iPhone 5
13-inch rMBP (uncalibrated)
13-inch rMBP (calibrated)
15-inch rMBP (calibrated)
Grayscale 200 nits Avg dE2000
3.7333
3.564
1.7825
1.6997
1.8074
CCT Avg (K)
6857K
6925K
6632K
6545K
6583K
Saturation Sweep Avg dE2000
3.193
3.591
2.1663
1.2269
1.335
GMB Colorchecker Avg dE2000
3.0698
4.747
2.4521
1.0966
1.1714
Straight from the factory, the 13-inch rMBP display is a bit more accurate than what you get from the 3rd gen iPad and the iPhone 5. With an additional calibration pass using our i1 Pro spectrophotometer the rMBP display is in a different league. Once again we see relatively similar performance between the 13 and 15-inch rMBP displays.