Besides its sheer size, the other headlining Note 2 feature is – as the name implies – the ability of the Note 2 to serve as a notetaking device leveraging a real active digitizer by Wacom. The previous Note also used a Wacom digitizer, Note 2 improves on these features by including a better pen, better software stack with more features, and enabling functionality made possible through the hover detection implicit in Wacom's tech.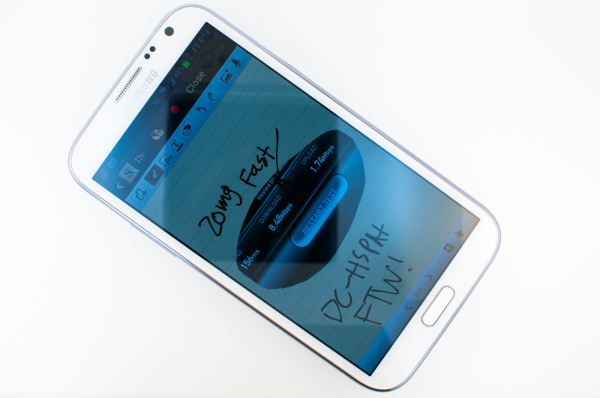 The original Note was initially criticized for bringing back the stylus. The reality is that an active digitizer is much, much more powerful than the styli of the past which primarily were designed to work with resistive touchscreens. I'm comfortable using a stylus since my mobile device addiction began that way, first with Palm OS, later Pocket PC and then Windows Mobile, all of which relied heavily on the use of a stylus. As a result, using the Galaxy Note 2 with a stylus is second nature, if a bit of a surreal trip back in time.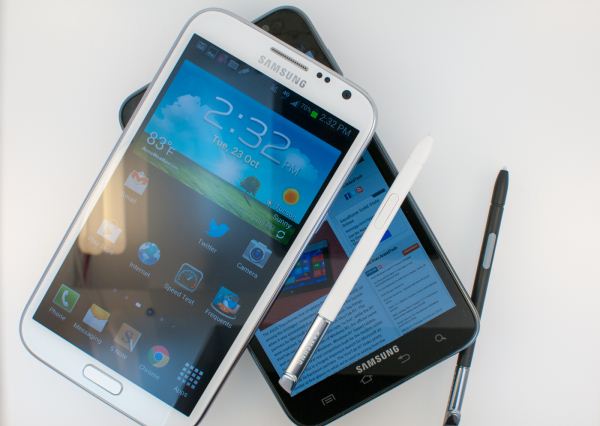 First off, the Note 2 changes up the S Pen a bit. The pen is now slightly girthier than its predecessor, and no longer cylindrical but rather a slightly asymmetric oval shape. The result is that it sits better in the hand than the predecessor, and can only slide into its storage port in one orientation. Getting the shape of the pen right is hugely important for precise writing, and the smaller styli tend to trend toward a flatter shape like this one, while those that emulate a larger pen go more cylindrical like those in a tablet PC. Like the original, there's a button on the pen for making crops and clips. I'm used to thinking of the button as a right click gesture, but I'm again strongly colored by tablet PC habits. Hold this down, and you can lasso a selection of what's on the screen on the Note 2 for annotation, saving to the gallery, and so forth without having to take a screenshot of the whole screen.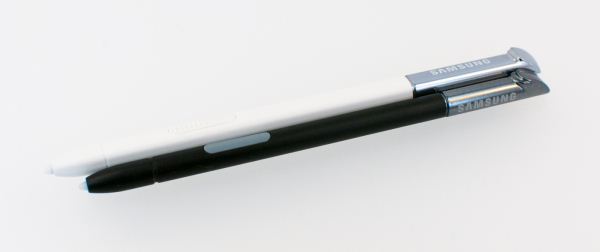 Galaxy Note 2 Stylus (white), OG Galaxy Note Stylus (black)
Like the past Note (and all Wacom based digitizers) users can of course bring their own digitizers as well. I used to do exactly that with the Tablet PCs I owned in the past, and although I'd imagine it would be a little weird carrying around one of those pens for a smartphone in theory you could do it. In fact, Samsung will sell you an S Pen with eraser for around 40 USD, as the supplied pen doesn't have an eraser functionality built in when flipped upside down.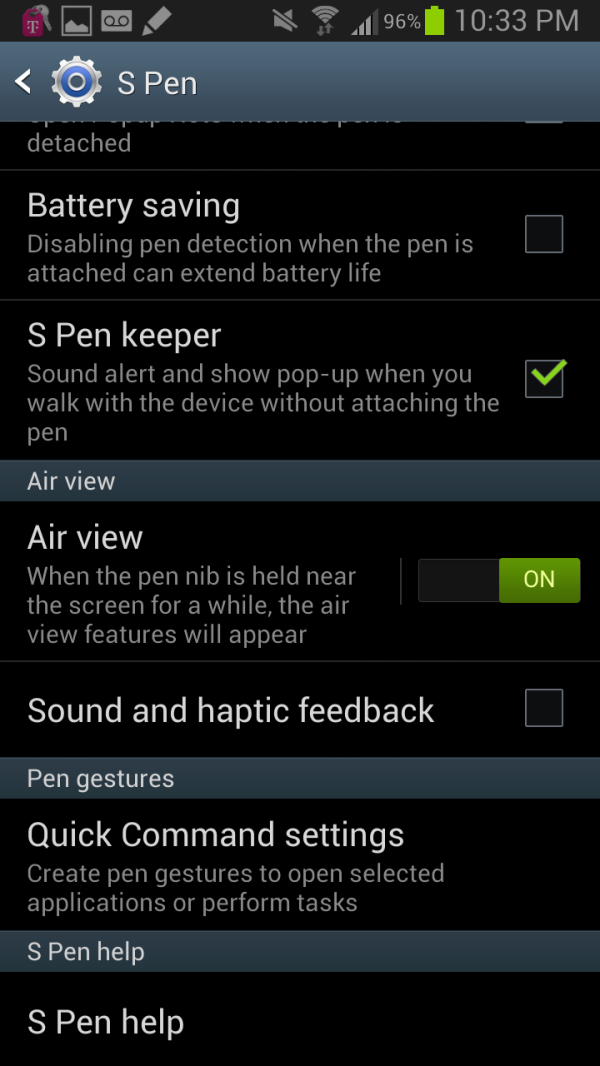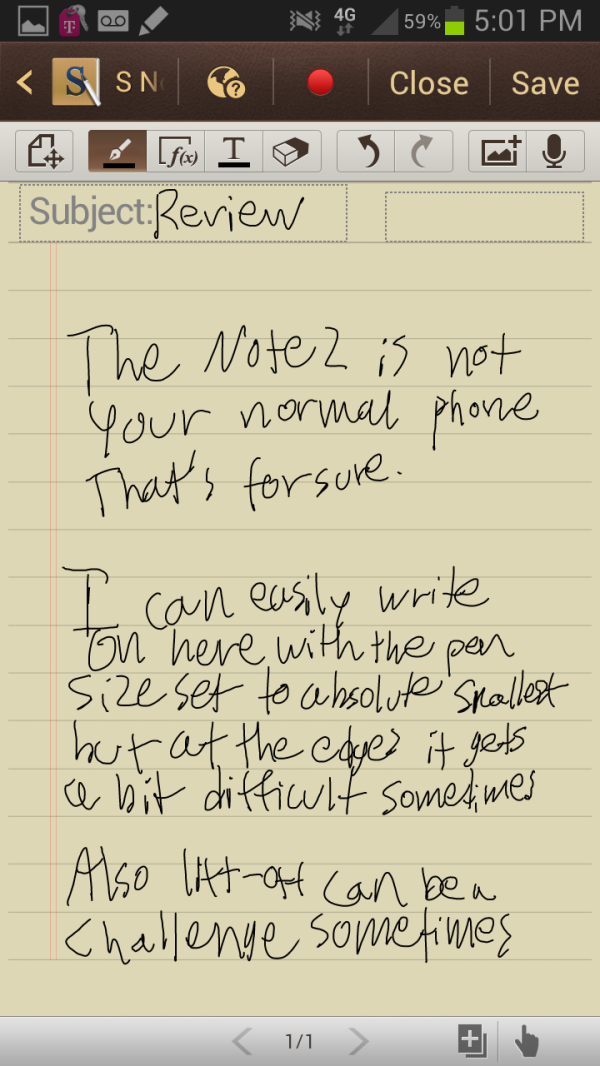 Air View is hard to demonstrate, but you get a circle above where the pen is currently. Forgive my atrocious handwriting as well.
The other big new feature is one Samsung calls Air View, but really this amounts to a hover visualization when the pen tip is held within about a centimeter of the display. I'm told that the original Note also had this (it's a Wacom feature) but was never visualized because the sensitivity range was just over a half centimeter. With the larger range on Note 2 it now made sense to add hover features wherever possible. The email app will show a preview if you hover over messages, the first party video player shows a thumbnail when scrubbed over, galleries expand to show a preview of the contents, and the stock browser also leverages and exposes hover actions to relevant pages.
I have to say that I'm very impressed with Samsung's Android implementation which leverages the active pen (of course, ICS and onward has had active digitizer API support) but nevertheless it's impressive to see how nicely this works. The combination of Android 4.1 and Exynos 4412 helps the stylus really stick with UI elements in a way that almost seems better than normal capacitive touch events at times.
S Note is Samsung's supplied note taking app which leverages every part of the S Pen, and it's surprisingly well done. I have to admit that the first S Note really felt like a rough outline of what a notetaking application needed to be. I took four years of undergrad notes in Microsoft OneNote, and truly learned to appreciate how much good software can make or break digital notetaking. Of course the other possible use for S Note is drawing, but I'm not very artistically inclined.
The S Note interface includes some of the basic organization elements I'd say are requisite for real note taking — Folders, notebooks, and pages. The app comes with a few preconfigured folders and notebooks, with content paginated in pages inside those notebooks. Tapping a the button at top left begins and stops inking, and tapping the button on the pen within hover range changes between inking and erase. The drawing mode includes 5 different pens, a size slider, and different colors. The handwriting tracking speed is absolutely fast enough to keep up with my writing, my only gripe is that lift-off tracking is a bit slow sometimes, but that's a problem I have had with a lot of different digitizers over time.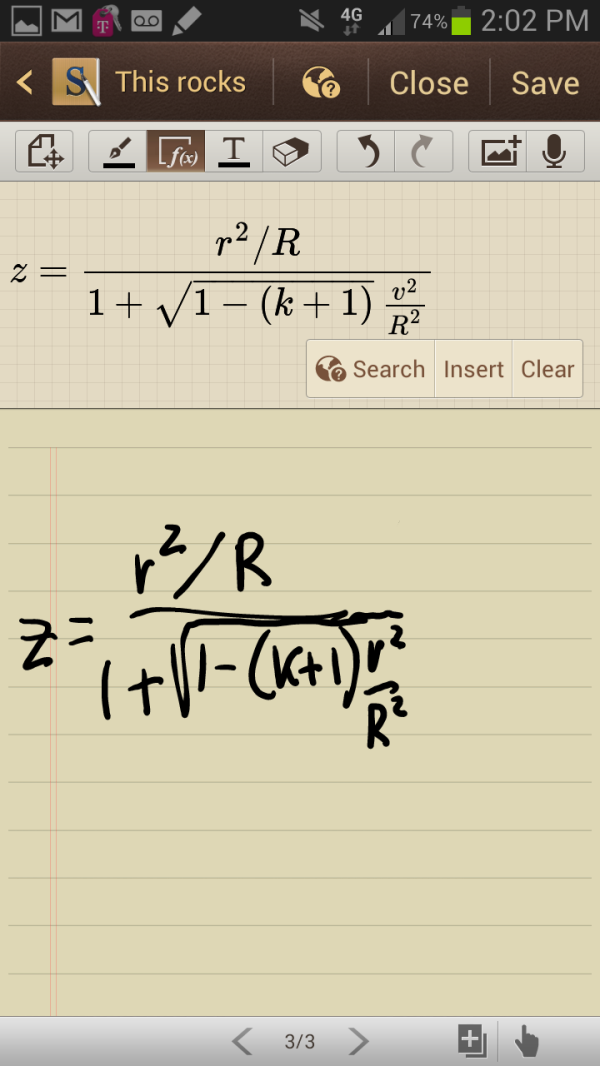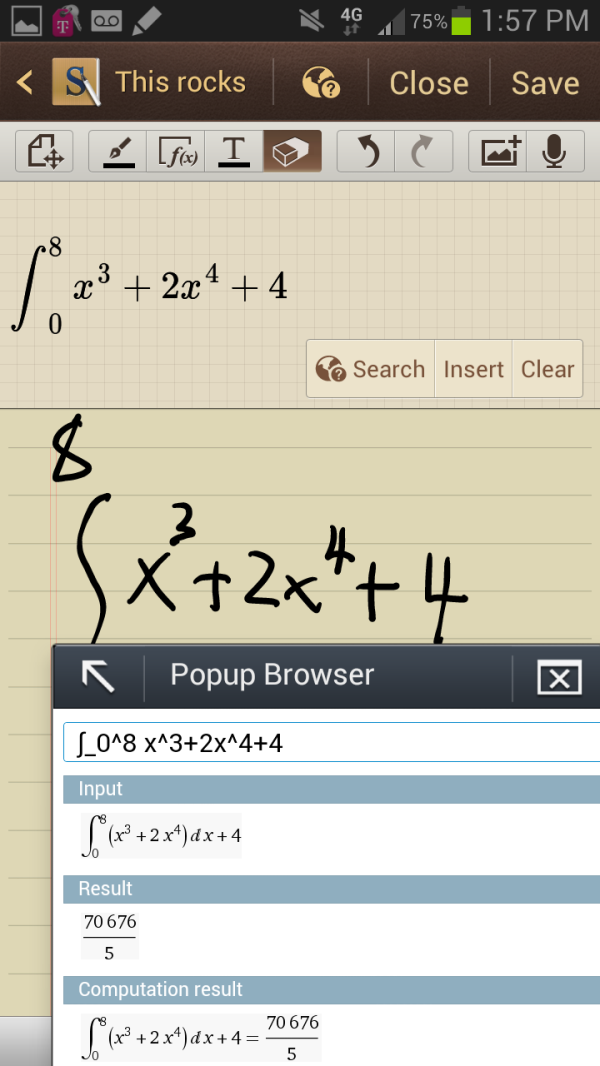 So close to being correct (left), Integral and popup browser with Wolfram Alpha (right)
What I'm very impressed by is the formula match productivity tool, which works surprisingly well. One of the big gripes I had in OneNote way back in the day used to be that it really just couldn't deal with equations at all. I eventually ended up using a mix of LaTeX and OneNote back in the day that worked but only passably so. Tap the formula recognition button, and your inking is parsed and printed out inline as text. I'm actually surprised at how well it's able to handle even what I consider very challenging stuff for a handwriting engine.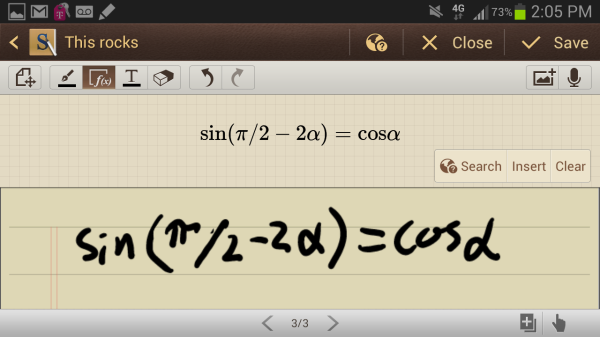 Functions then can be opened in the pop up browser on wolfram alpha, which of course can do things like solve the equation or parse your problem and spit out an answer. This is really a great example of the pop up browser which is a part of the Note 2 software being practical. I could see myself actually taking some engineering notes with this, my only wish is that there were infinite scrolling instead of forced pagination, and that there was an engineering paper grid background option.
The application also lets you record audio while taking notes, ink, of course add straight text using the on screen keyboard, and also do handwriting recognition. Thankfully there are also export to PDF functions for getting your notes out of the application and into an archival and sharing format that other devices talk.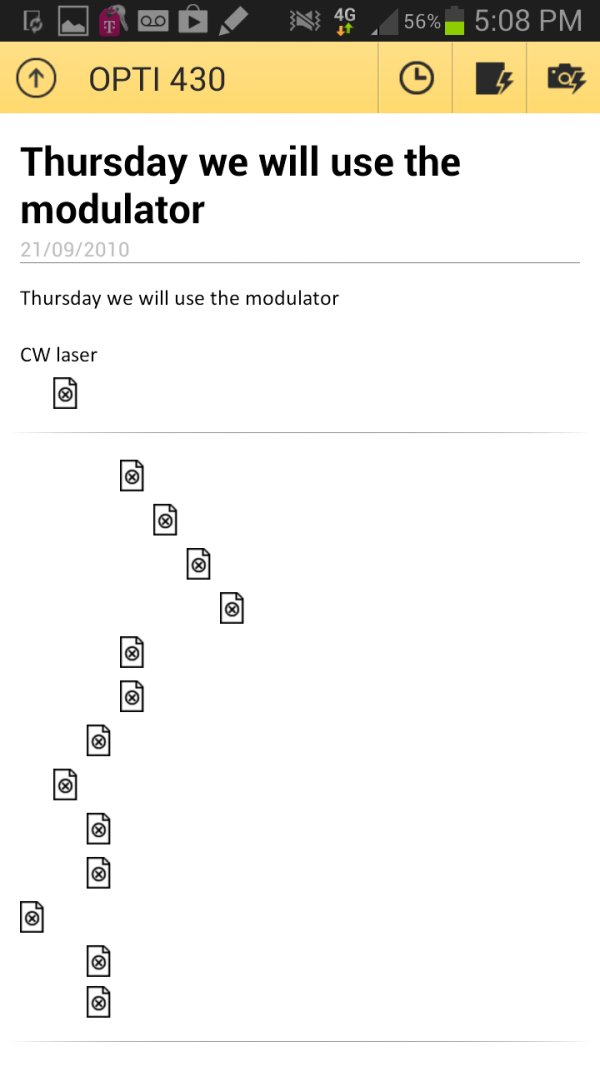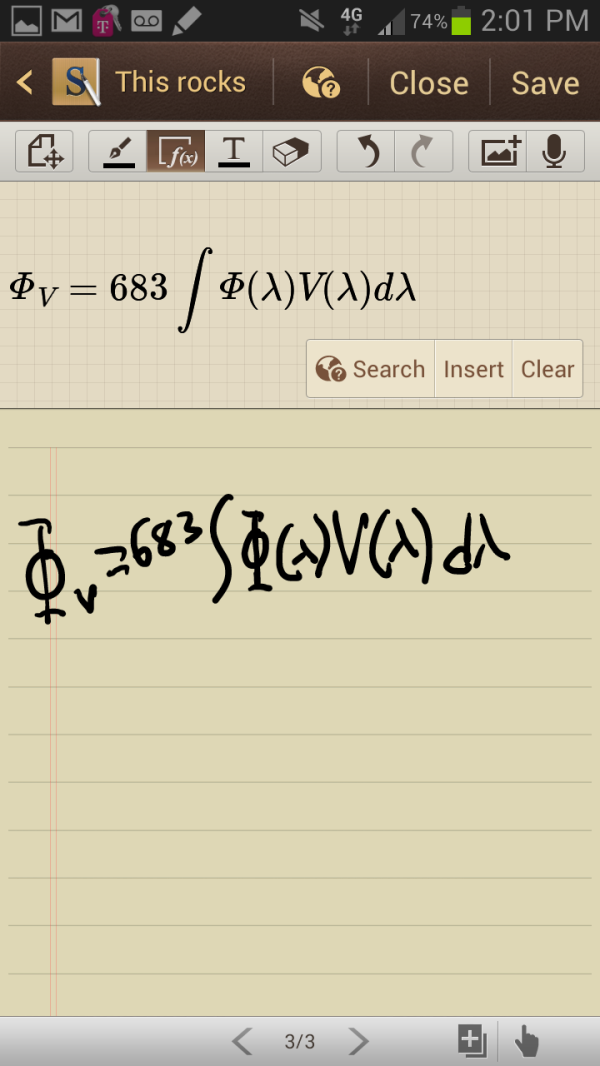 OneNote on Android fails to render any of my old notes at all (left), Impressive (right)
I really wish that OneNote for Android wasn't the steaming pile of poo that it is presently and worked with the active digitizer. I sincerely believe that the desktop OneNote application is one of the best hidden gems in the entire Microsoft portfolio. At present however S Note can get the job done passably well.
I mentioned the pop up browser, this is exposed as an Android intent for hyperlinks everywhere in the OS. It does exactly what it sounds like, pops up an overlay with the stock browser inside that can be moved around or closed. It cannot be resized, the original intention was to use this with the split screen viewing mode that exists on the international Note 2. That functionality isn't in the launch Note 2 firmware but will be coming eventually I'm told. It's a shame that carriers are still standing in the way of features like this for no apparent reason, but at the same time trying to sell their interaction as a value-add.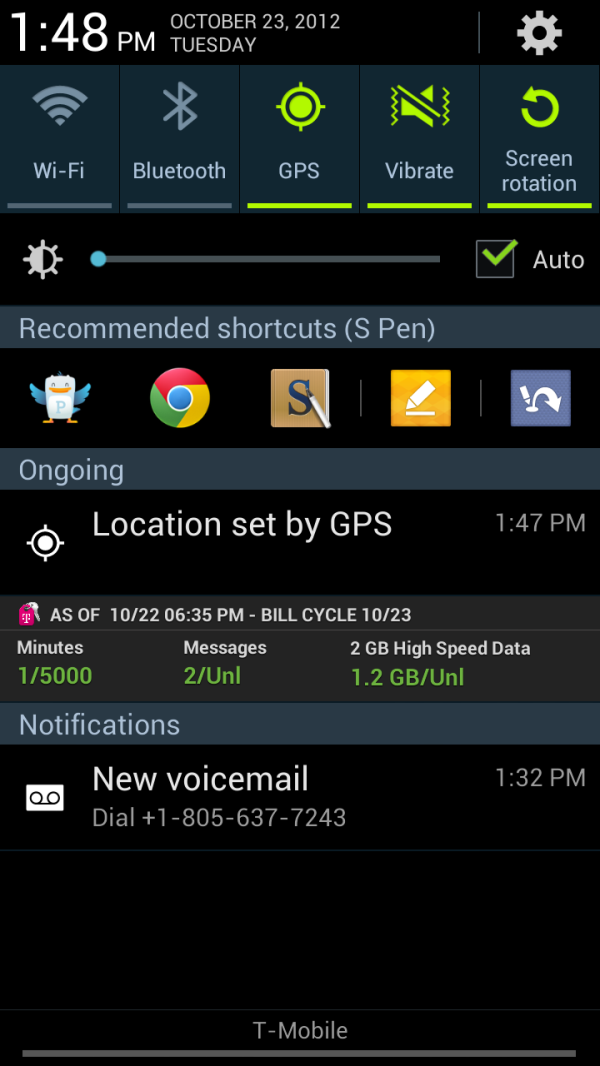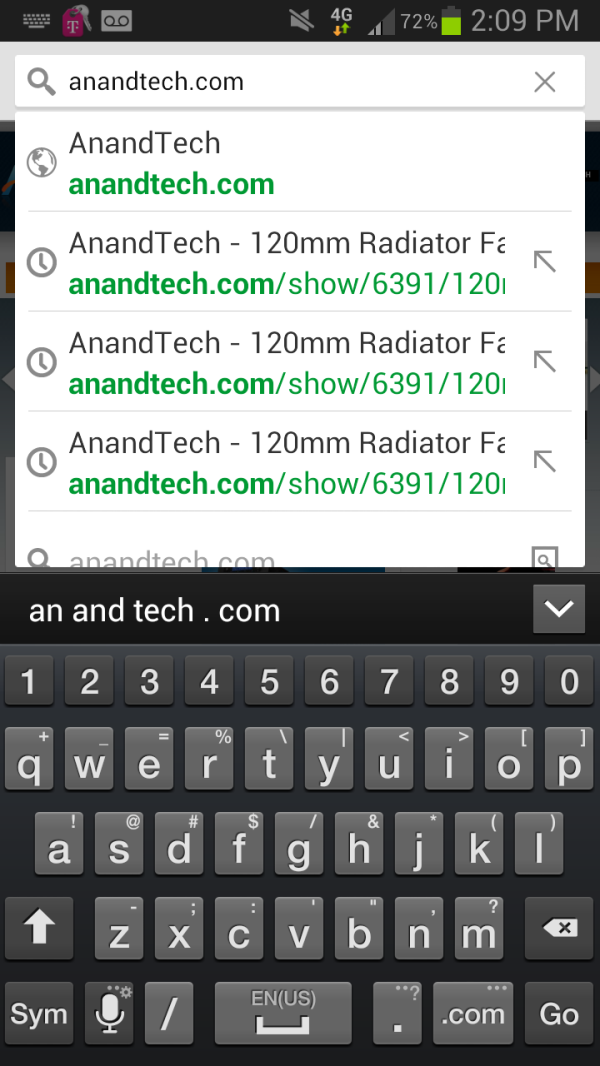 Notification Shade (left), Stock Keyboard with number row (right)
The version of TouchWiz on the Note 2 is largely what I'm used to seeing and is roughly analogous to that which shipped on the SGS3. It honestly isn't very distracting, but then again I'm used to it.
Under settings Samsung has added a few new things. There's a blocking mode toggle which basically is the Samsung equivalent of the do not disturb setting in iOS 6. Under display is another new feature which rotates between landscape and portrait based on the orientation of your eyes if smart stay is enabled. Page buddy is a new context-aware notification shade and homescreen tab feature. The idea is to give quick access to applications that are frequently associated with different states — when the pen is pulled out, when the earphones are plugged in, when the phone is docked, and so forth. It can also be disabled, but the concept is interesting and does make sense — if you have the pen out, you probably want to quickly get into something where you can write.
My last complaint is that like with the original Note, I find myself wishing that the normal capacitive Android buttons also worked with the S Pen. Switching back and forth between the stylus and fingers for using the basic Android interactions is annoying, and really the active region should extend down and include these. This would also mean no physical home button, or one with a detent.