Portal 2
Portal 2 continues to be the latest and greatest Source engine game to come out of Valve's offices. While Source continues to be a DX9 engine, and hence is designed to allow games to be playable on a wide range of hardware, Valve has continued to upgrade it over the years to improve its quality, and combined with their choice of style you'd have a hard time telling it's over 7 years old at this point. From a rendering standpoint Portal 2 isn't particularly geometry heavy, but it does make plenty of use of shaders.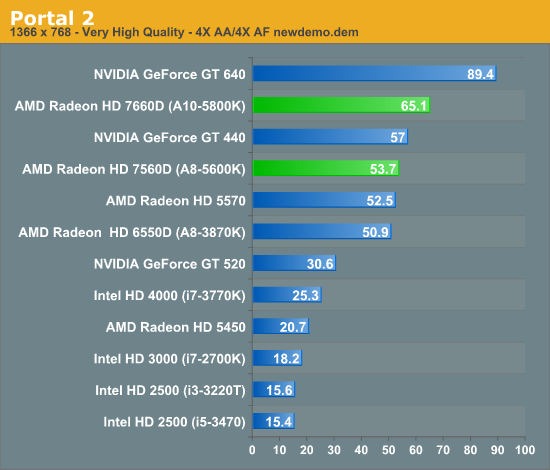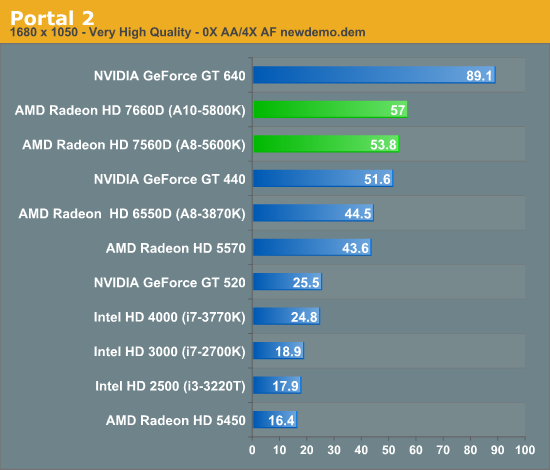 Portal 2 performance is one of the stronger showings for Trinity. In both of these tests we're seeing aorund a 28% increase in performance compared to the A8-3870K. Ivy Bridge doesn't stand a chance as the A10-5800K is more than twice as fast as Intel's HD 4000.
Battlefield 3
Its popularity aside, Battlefield 3 may be the most interesting game in our benchmark suite for a single reason: it was the first AAA DX10+ game. Consequently it makes no attempt to shy away from pushing the graphics envelope, and pushing GPUs to their limits at the same time. Even at low settings Battlefield 3 is a handful, and to be able to run it on an iGPU would no doubt make quite a few traveling gamers happy.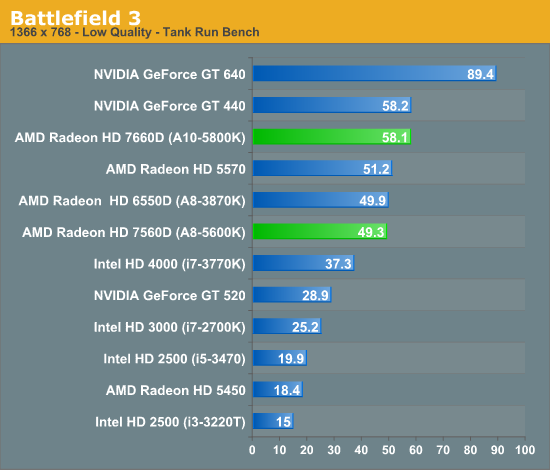 We're back down to more modest gains in our Battlefield 3 test: Trinity shows a 15% increase in performance compared to Llano at the high end. The advantage compared to Intel remains healthy at over 50%.