System Performance
The Intel Core i7-3610QM inside the Lenovo IdeaCentre A7 may be entry level Ivy Bridge, but you'll see that it still has teeth. By opting for a mobile processor, Lenovo is able to offer a substantial amount of performance without sacrificing thermal headroom (and thus noise) in the process. I've frequently felt that even the low-voltage desktop CPUs used in all-in-ones have been excessive, and the A7's test results seem to back me up.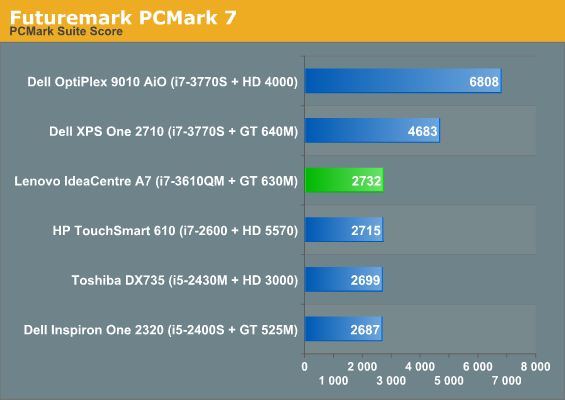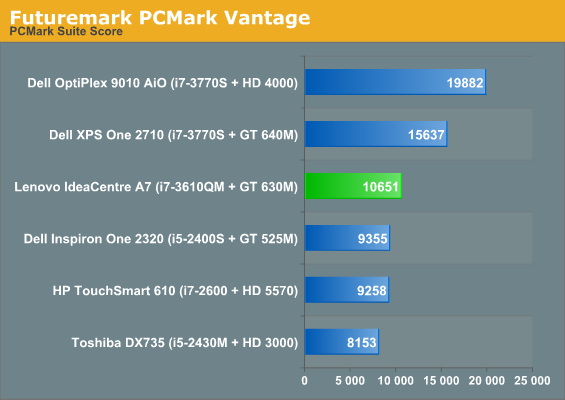 The A7 is hurt by the lack of an SSD; the slow hard drive keeps it from really breaking away from the last generation's all-in-ones in PCMark and for once I do agree. The 1TB Western Digital Scorpio Blue may offer a healthy amount of capacity, but a lot of performance is sacrificed to get it.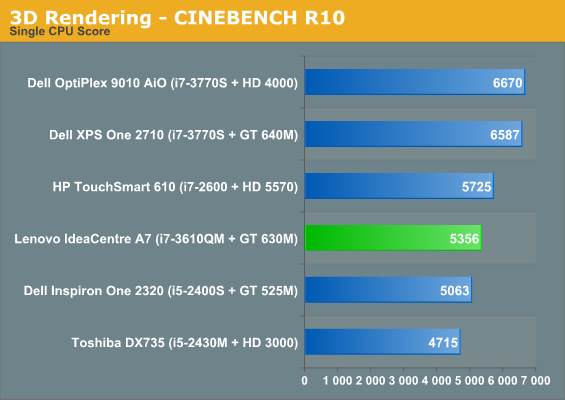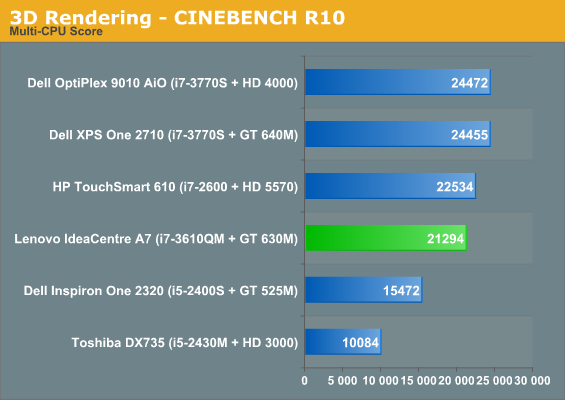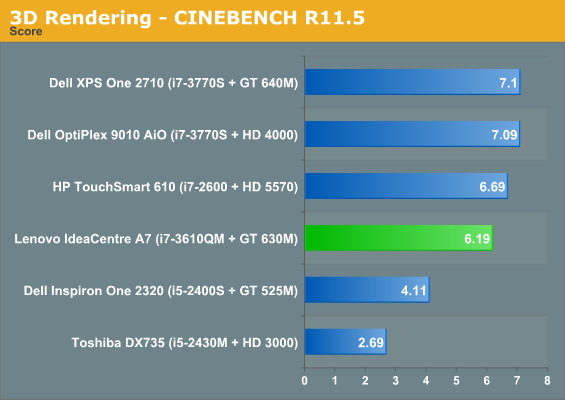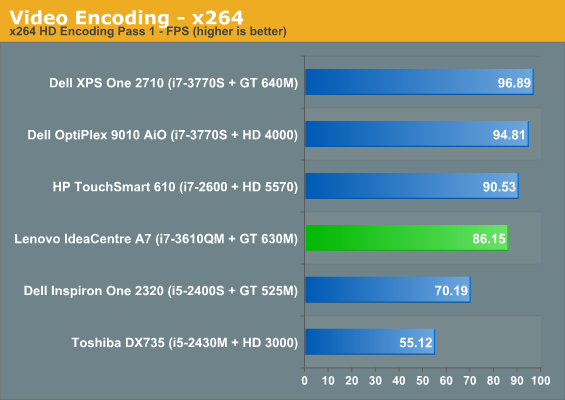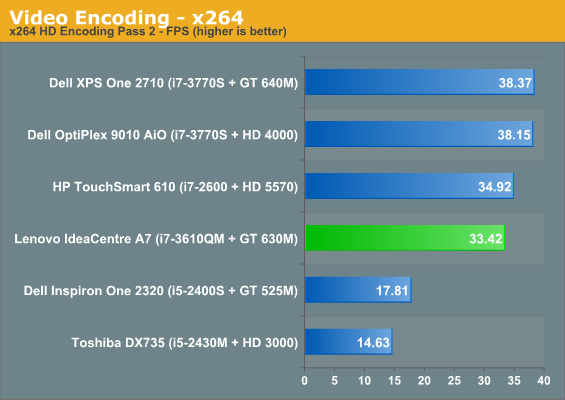 Shift the focus to CPU-centric tasks and the A7's prospects look a lot brighter. It doesn't need to be the fastest, it just needs to be competitive, and being able to nip at the heels of last generation's high end in the HP TouchSmart 610 while consuming 50W less is respectable.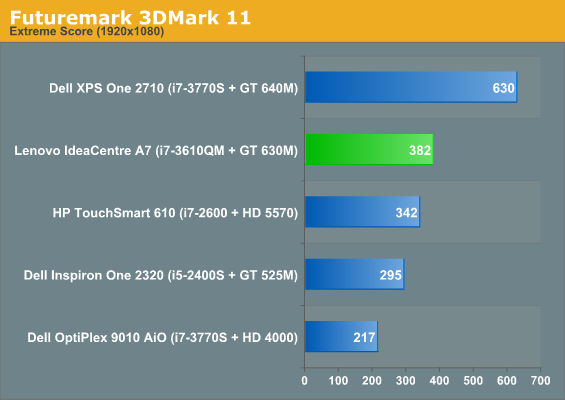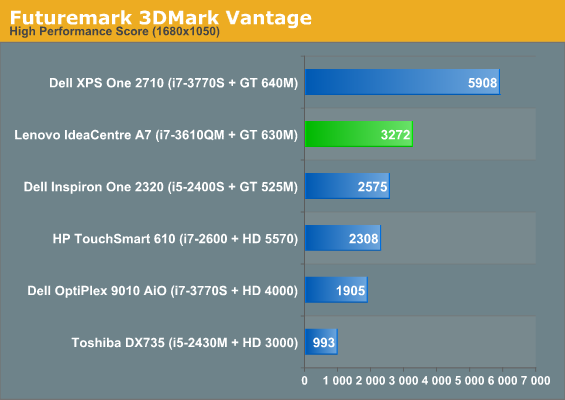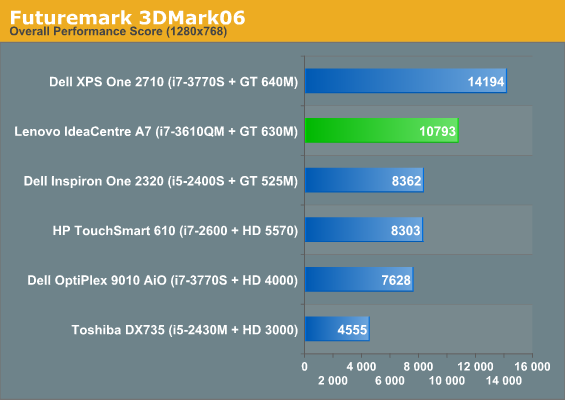 The 3DMarks are kinder to the A7, but I don't think they tell the whole story. The improvement over the last generation of all-in-ones is incremental, and the Kepler-and-GDDR5 combo in the Dell XPS One 2710 is really where the A7 needs to be. Dedicated all-in-one graphics need to justify their inclusion, and a mediocre GPU attached to 2GB of DDR3 just isn't enough to feed a 1080p display as you'll see.
Gaming Performance
It's when you look at the Dell XPS One 2710's performance that it becomes apparent just how much Lenovo left on the table by cheaping out with a GeForce GT 630M and then dumping an unnecessary amount of video memory on it. Even at 1366x768, the A7 struggles.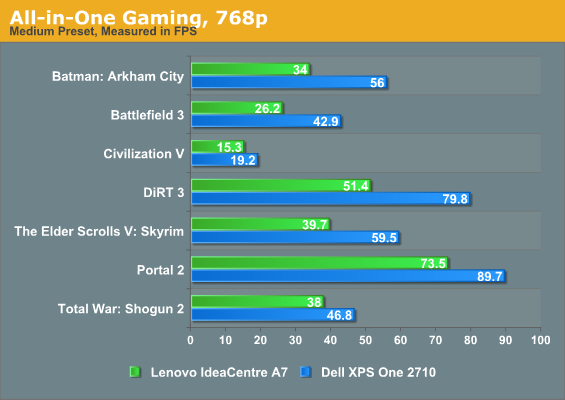 The A7 is able to produce mostly playable performance, but it doesn't look great doing it, and Dell's all-in-one is worlds ahead of it. Pay attention to the numbers in the 1080p chart below.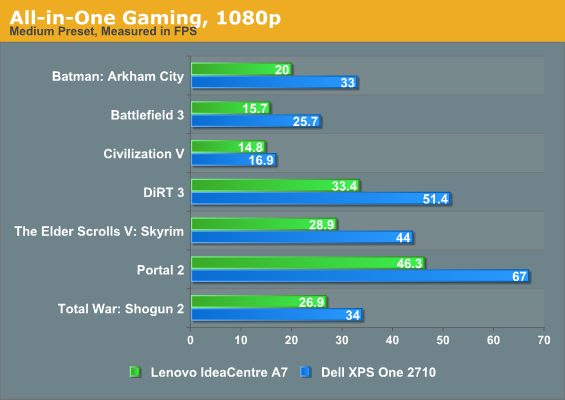 The A7 offers slightly worse gaming performance at 1366x768 than the Dell XPS One 2710 does at 1920x1080. The bottom line is that a Kepler chip with GDDR5 is pretty much the minimum for gaming on an all-in-one, and while I'd concede that the GT 630M is better than nothing, I can see it becoming a problem in short order. It doesn't have much performance to spare from the get go, and that's only going to get worse with time. More than that, the 630M's memory is basically running out of bandwidth when you start pushing the resolution, making it even less ideal for a 1080p all-in-one like the A7.