Build Quality
Once again, it's pretty hard to fault AVADirect's building job. This Quiet Gaming PC seems to have even gotten a little bit of extra thought and care put into it compared to its predecessor, and more TLC is never a bad thing. Of course, AVADirect also benefits from the reduced power consumption of Ivy Bridge and Kepler, though the benefits of Ivy Bridge are mitigated by the heat produced at high overclocks (much like the 4.5GHz overclock in our review system).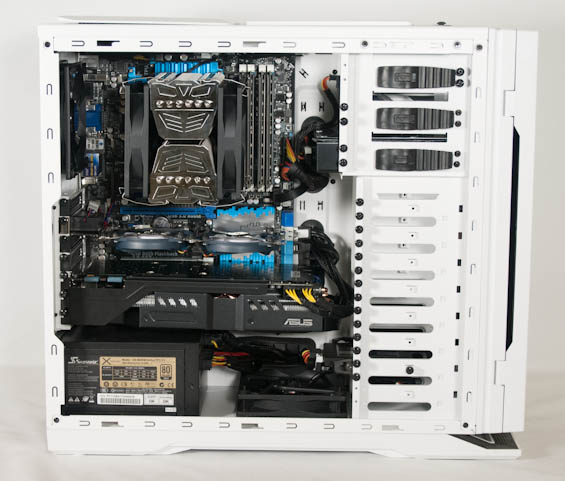 Unlike in the last version, AVADirect has actually opted to move the video card down a slot and instead placed an independent fan unit between the card and the CPU heatsink in order to improve circulation. This is an interesting choice, but it benefits from the speed boost provided by PCI Express 3.0; even though the GTX 680 is forced to run on eight lanes instead of sixteen, the increased bandwidth works out to the same amount of bandwidth the card would've had to work with in a PCIe 2.1 x16 slot. That means the CPU gets a little more breathing room while the GTX 680 takes a virtually nonexistent performance hit. Smart move.
Heat and Noise
True to form, the AVADirect Quiet Gaming System is, indeed, quiet. I can't verify the certification by SPCR; most sound meters don't read below 30dB, so testing to see if those figures are accurate just isn't possible. I can say it's definitely below 30dB at idle and under load, though. Ambient noise in the room is liable to mask the system almost entirely.
That said, it's quiet, not silent. It's definitely audible and still audible over my desktop, but a large part of that is due to the pitch. The noise produced by my desktop's SilverStone FT02 enclosure is lower and hollower due to the large fans and the fact that the case is basically designed to be a vertical wind tunnel. By comparison, the NZXT H2 is a smaller enclosure making do with smaller fans, so while it's by no means high pitched, it's still audible from a foot away, and that noise does increase slightly but noticeably under load.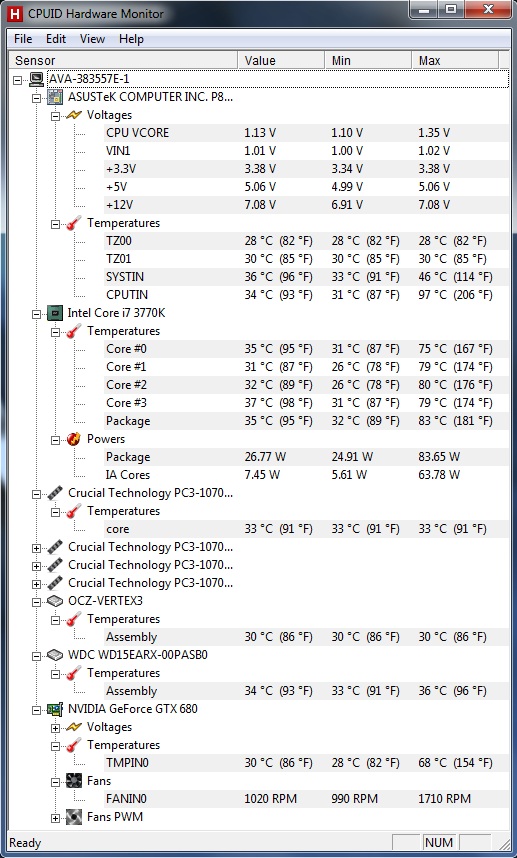 AVADirect did make some smart trade-offs between noise and heat, though. Recognizing that Ivy Bridge just plain runs warm, they allowed the i7-3770K a little bit of slack and it runs up to a toasty but not alarming 80C under full load. The GTX 680's massive cooler keeps it under 70C, though, which is impressive.
Note also that they switched over to a voltage offset on the overclock. While the voltage on the i7-3770K is still higher than I'd like (as I've mentioned, our own Ian Cutress suggested about 1.25V should be the cutoff for this architecture), it's not alarmingly high.
Power Consumption
Keeping with the benefits of this generation of hardware, it should come as no surprise that AVADirect's build is fairly frugal with power drawn from the wall.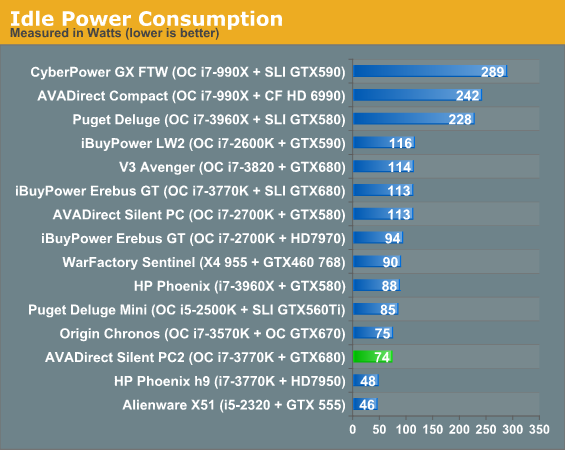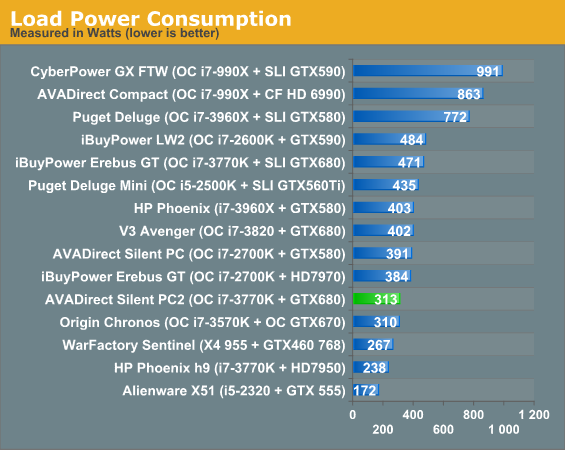 Frankly it's hard to argue with this kind of efficiency. AVADirect's system draws much less power than last generation's competitors while providing tangibly superior performance. Idle power draw is excellent, too.