The Elder Scrolls V: Skyrim
Bethesda's epic sword & magic game The Elder Scrolls V: Skyrim is our RPG of choice for benchmarking. It's altogether a good CPU benchmark thanks to its complex scripting and AI, but it also can end up pushing a large number of fairly complex models and effects at once, especially with the addition of the high resolution texture pack.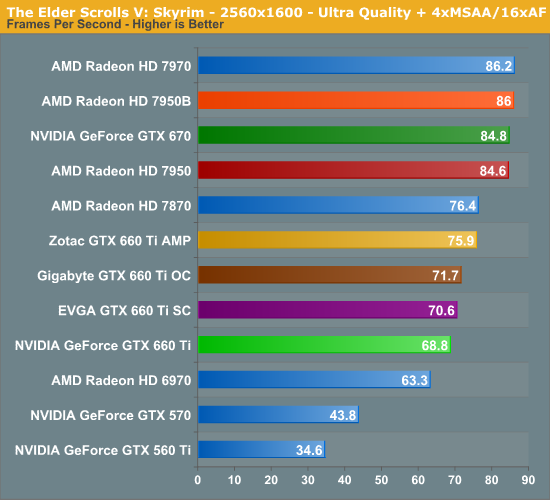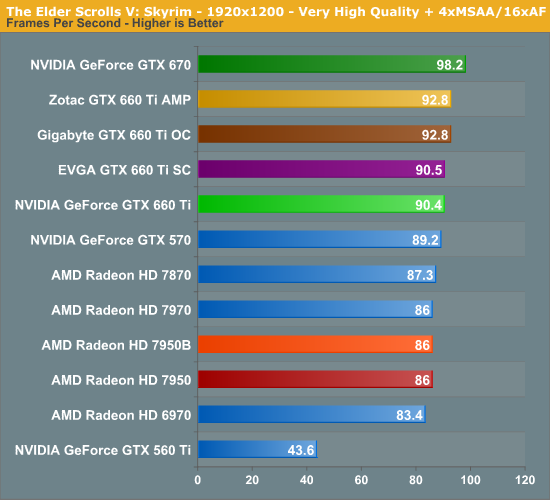 For every Portal 2 you have a Skyrim, it seems. At 1920 the GTX 660 Ti actually does well for itself here, besting the 7900 series, but we know from experience that this is a CPU limited resolution. Cranking things up to 2560 and Ultra quality sends the GTX 660 Ti through the floor in a very bad way, pushing it well below even the 7870, never mind the 7900 series.
Altogether the GTX 660 Ti achieves about 80% of the performance of the GTX 670, making this another game that is hurt badly by the loss of a ROP block and memory bandwidth. At the same time the GTX 670 is the first NVIDIA card fast enough to compete with the 7950, so the GTX 660 Ti came into this benchmark with unfavorable odds. 68fps is more than playable, but hardcore Skyrim players are going to want to stick to cards with more memory bandwidth. At best, the bright spot for NVIDIA is that the GTX 660 Ti is nearly 100% faster than the GTX 560 Ti, a remarkable improvement, but also one being fueled by the meager 1GB of VRAM the latter has.
As for our factory overclocked cards, this is another case of Zotac leading the pack. Its memory overclock is exactly what's needed to counter the GTX 660 Ti's lack of memory bandwidth, which helps it easily clear EVGA and Gigabyte's cards.