OC: Power, Temperature, & Noise
Our final task is our look at the overclocking capabilities of our GTX 660 Ti cards. Based on what we've seen thus far with GTX 660 Ti, these factory overclocked parts are undoubtedly eating into overclocking headroom, so we'll have to see just what we can get out of them. The very similar GTX 670 topped out at around 1260MHz for the max boost clock, and between 6.6GHz and 6.9GHz for the memory clock.
GeForce 660 Ti Overclocking
EVGA GTX 660 Ti SC
Zotac GTX 660 Ti AMP
Gigabyte GTX 660 Ti OC
Shipping Core Clock
980MHz
1033MHz
1033MHz
Shipping Max Boost Clock
1150MHz
1175MHz
1228MHz
Shipping Memory Clock
6GHz
6.6GHz
6GHz
Shipping Max Boost Voltage
1.175v
1.175v
1.175v
Overclock Core Clock
1030MHz
1033MHz
1083MHz
Overclock Max Boost Clock
1200MHz
1175MHz
1278MHz
Overclock Memory Clock
6.5GHz
6.8GHz
6.6GHz
Overclock Max Boost Voltage
1.175v
1.175v
1.175v
As we suspected, starting with factory overclocked cards isn't helping here. Our Zotac card wouldn't accept any kind of meaningful GPU core overclock, so it shipped practically as fast as it could go. We were able to squeeze out another 200MHz on the memory clock though.
Meanwhile our EVGA and Gigabyte cards fared slightly better. We could push another 50MHz out of their GPU clocks, bringing us to a max boost clock of 1200MHz on the EVGA card and 1278MHz on the Gigabyte card. Memory overclocking was similarly consistent; we were able to hit 6.5GHz on the EVGA card and 6.6GHz on the Gigabyte card.
Altogether these are sub-5% GPU overclocks, and at best 10% memory overclocks, which all things considered are fairly low overclocks. The good news is that reference-clocked cards should fare better since their headroom has not already been consumed by factory overclocking, but binning also means the best cards are going to be going out as factory overclocked models.
Moving on to our performance charts, we're going to once again start with power, temperature, and noise, before moving on to gaming performance.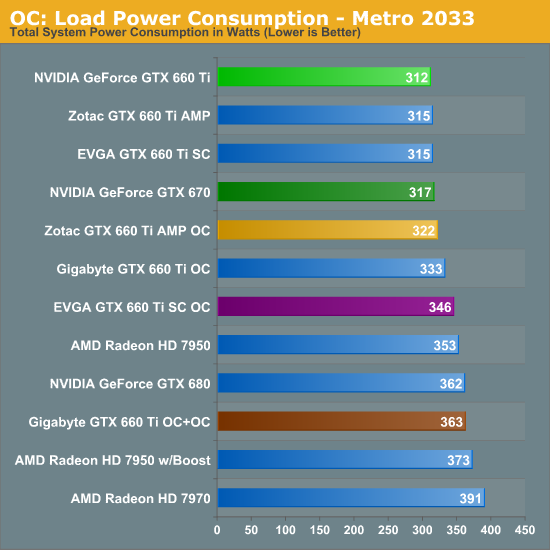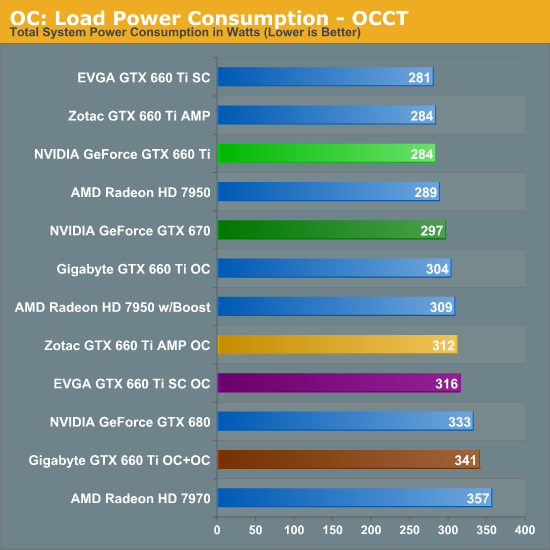 Unsurprisingly, given the small power target difference between the GTX 670 and the GTX 660 Ti, any kind of overclocking that involves raising the power target quickly pushes power consumption past the GTX 670's power consumption. How much depends on the test and the card, with the higher power target Gigabyte card starting with a particular disadvantage here as its power consumption ends up rivaling that of the GTX 680.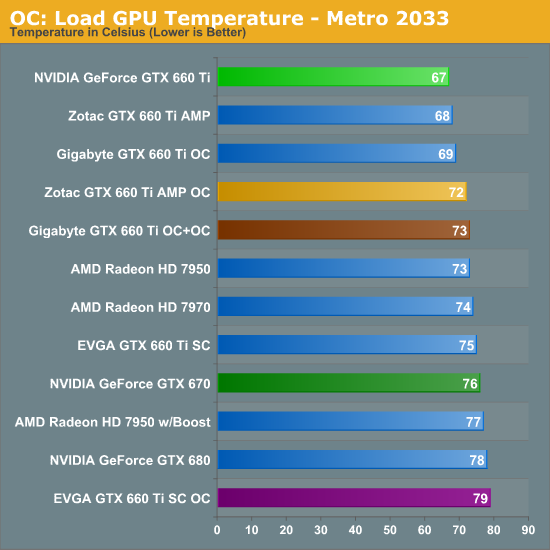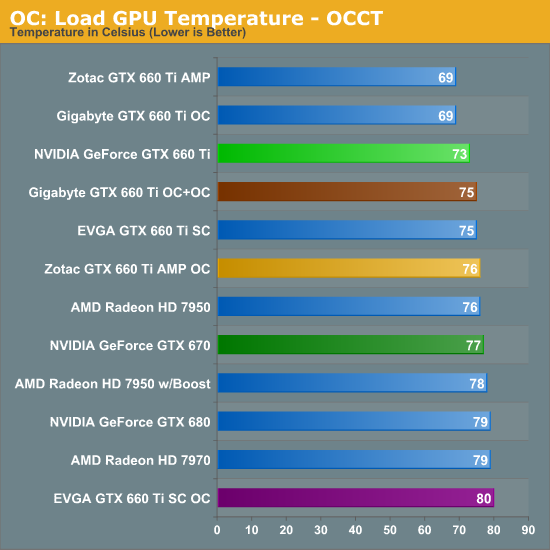 We also see the usual increase in load temperatures due to the increased power consumption. The Zotac and Gigabyte cards fare well enough due to their open air coolers, but the blower-type EVGA card is about as high as we want to go at 80C under OCCT.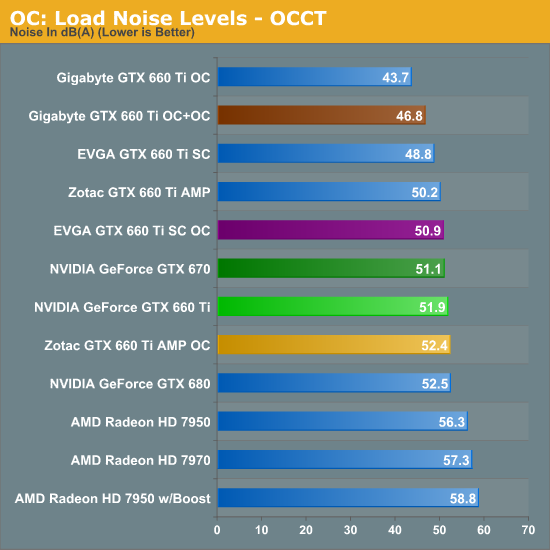 Last but not least, looking at noise levels we can see an increase similar to the temperature increases we just saw. For the Zotac and EVGA cards noise levels are roughly equal with the reference GTX 680, which will be important to remember for when we're looking at performance. Meanwhile the Gigabyte card continues to shine in these tests thanks to its oversized cooler; even OCCT can only push it to 46.8dB.