On paper, the Z77X-UD5H sounds like a great board with a ton of features. It is hard not to notice the dual network ports (one Intel), the mSATA, the extra SATA ports, a total of 10 USB 3.0 ports available (if you have enough USB 3.0 panels), a full compliment of PCIe 3.0 GPU lanes for tri-GPU, a Trusted Platform Module, Firewire/IEEE1394 and a full set of video outputs. All of this for $180 seems a bargain, especially considering the rest of the motherboards in this price bracket.
Gigabyte has also been improving its BIOS functionality, and is now giving us something that is quick to respond and a little easier to navigate. We have suggested several features that would be beneficial to non-technical users and enthusiasts alike, and we hope that Gigabyte take them on-board.
Unfortunately, the buck sort of stops there - talking about the software and performance from here on out does not bring gold medals. Starting with the software, I am sad to say that it is looking very outdated and needs a swift kick in the correct direction. It has not changed in any way since I first started reviewing for AnandTech 18 months ago. Some items do not need changing, like @BIOS, but EasyTune6 is still rough around the edges. It would be nice for Gigabyte to also consolidate all their software into a single clean interface for a user.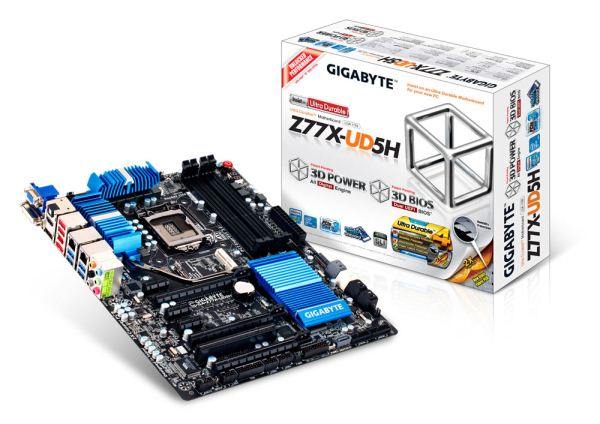 Performance on the Z77X-UD5H ends with mixed results - the motherboard benefits from MultiCore Enhancement, which gives the full turbo-mode of the CPU no matter the CPU loading. On the i7-3770K this means an extra couple of hundred MHz on standard - this helps the Z77X-UD5H reach the top (or near top) results in our CPU testing.
The UD5H comes more often than not in the middle in terms of peak and real-world IO performance, but drags behind when it comes to DPC Latency. In the gaming tests, the UD5H has some preferential tests but others are not so great, even though the board comes top in all the boards we have tested with three AMD GPUs due to the x8/x4/x4 PCIe 3.0 configuration.
The reality of it comes down to the fact that Gigabyte has encrusted this motherboard with many features for a low price. This is hard to ignore. Performance is always there or there about, and if you end up not too bothered about fans (or have your own controller), the Z77X-UD5H represents a good buy at a good price point. Users who want a WiFi controller can also invest an extra $30 to purchase the Z77X-UD5H-WB-WiFi version, at the expense of a PCIe x1 slot.
For offering so many features on a Z77 motherboard for $180, I would like to give the Gigabyte Z77X-UD5H an AnandTech Editors' Choice Bronze Award. It represents good value in a motherboard market that is blurring the lines between mid-range and high-end products.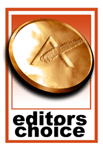 AnandTech Editors' Choice Bronze Award
Gigabyte Z77X-UD5H