The mobile SoC space is generational, just as the x86 space has been for ages. The ARM Cortex-A9 generation is still with us, with Cortex-A15 SoCs not expected to make their way to devices until 2013. But Qualcomm's bespoke A15 competitor, Krait, is already with us, and the easy choice for top of the line handsets, particularly in the carrier driven US market. But this isn't a top of the line handset, so Verizon ordered up the Incredible 4G clocked at 1.2 GHz instead of the S4's full 1.5 GHz. So what does an underclocked S4 net you?
We'll start with our more CPU intensive tests.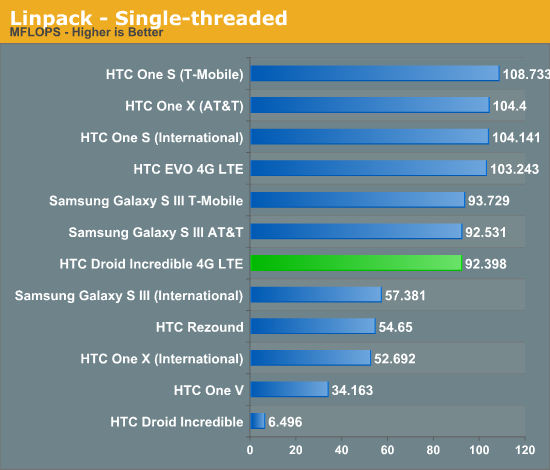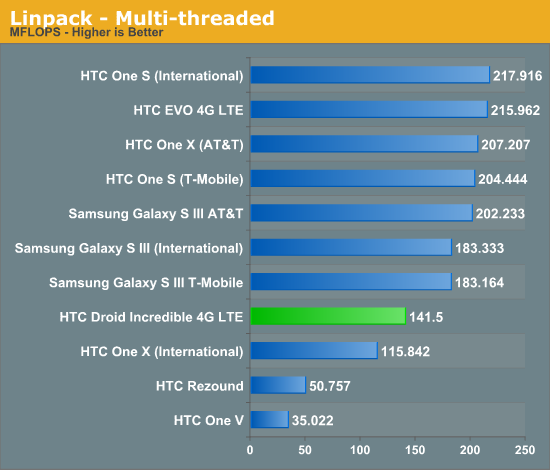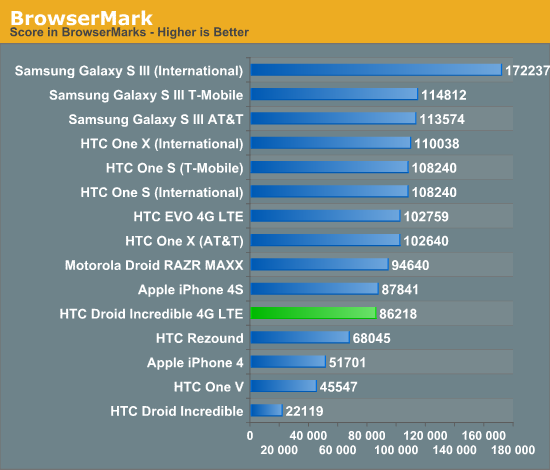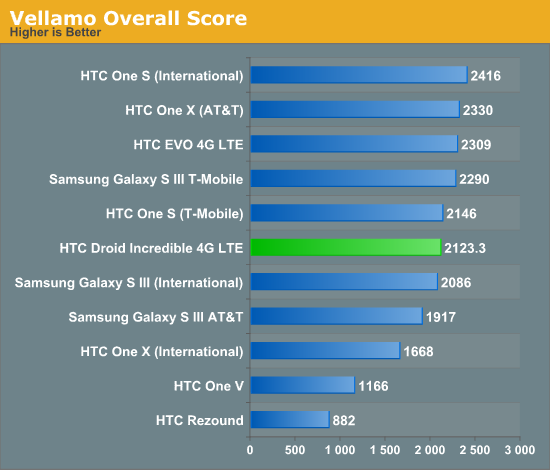 There's a clear performance deficit relative to the other S4 devices on the market, though the S4 still outperforms many of the devices in our chart. The deficits are worst in the Linpack tests, though it's unclear why they should exceed the 20% clock deficit. Rendering tests are within the expected deficit, though. What about GPU performance?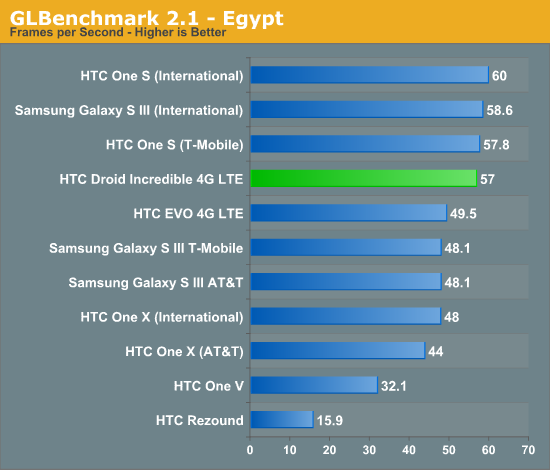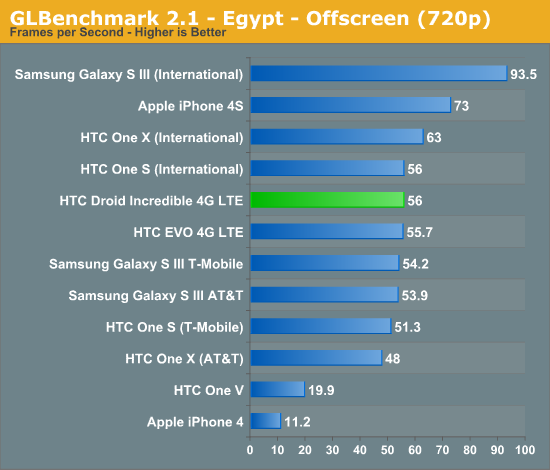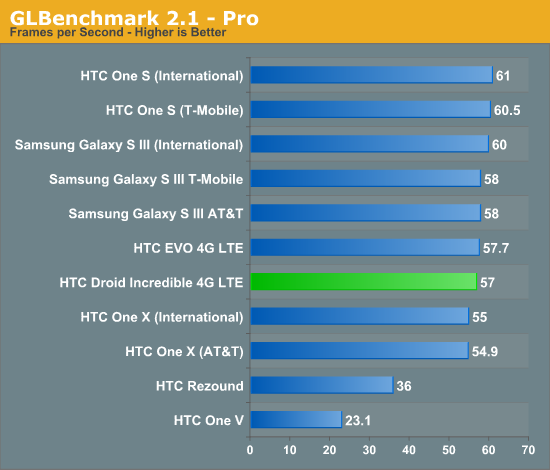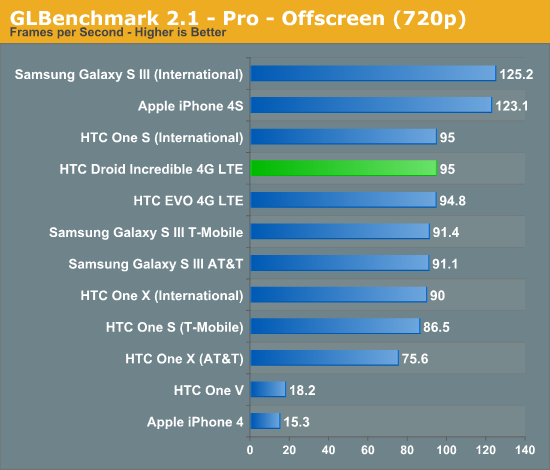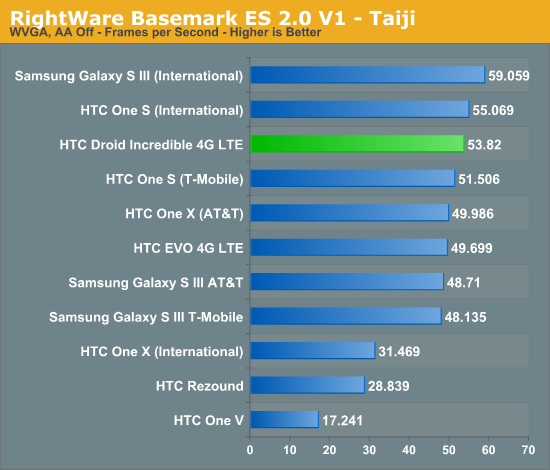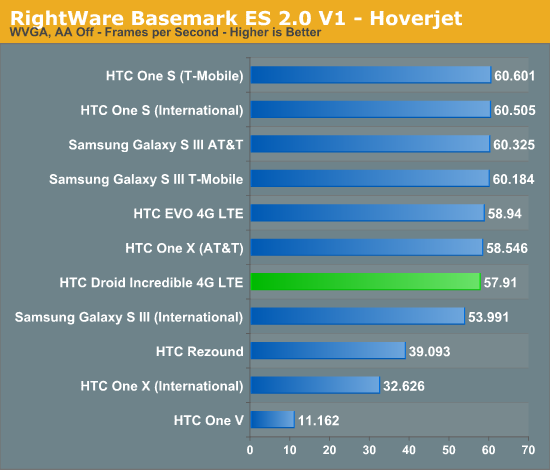 Our GPU tests are starting to show their age, with Vsync getting pegged for the duration of several of them. Even in the challenging offscreen GLBenchmark Egypt test we still see performance approaching 60 fps. Basemark's Taiji and HoverJet tests typically favor Adreno GPUs, and this is no exception. So, while Rightware's tests don't help us stratify the Incredible 4G LTE against non-S4 handsets, it does clue us into something else. With performance that falls in line with the other S4 handsets, but below Vsync in Taiji, it's almost certain that the GPU didn't suffer the same clock penalty as the CPU.
All this aside, there's still the core issue of Ice Cream Sandwich's UI performance. With the Galaxy Nexus running worlds more smoothly with Jelly Bean, despite last-gen internals, there's something very compelling about it. Certainly Jelly Bean should have the potential to be just as smooth on other hardware when the update gets distributed, but with Verizon the eternal question is when that update will actually be distributed. For now, though, this is no better or worse than any other Android handset with similar internals. The UI is buttery smooth across home screens, but open up the gallery or app switcher and the lag isn't just perceivable, it's a nuisance.