Battery Life
The Nexus 7 has an integrated 16Wh battery, which despite its size delivers extremely good battery life. Our WiFi browsing test saw the Nexus 7 deliver 9 hours of battery life on a single charge, that's roughly half an hour less than the new iPad.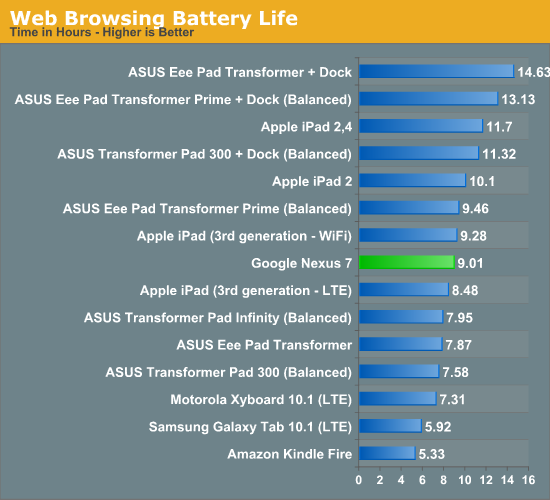 The Kindle Fire comparison is even more impressive - the Nexus 7 outlasts the Fire in this test by nearly 70%.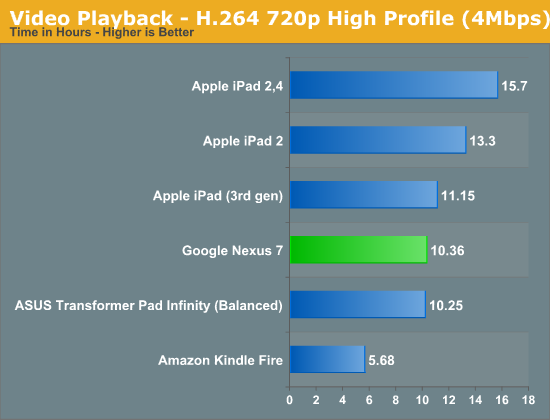 Battery life while playing back locally stored video is just as impressive. Here the Nexus 7 clocked in at over 10.5 hours on a single charge, 82% longer than the Kindle Fire. Of course with only 8GB of local storage you're going to be forced to stream a lot of content to the Nexus 7, where it will get worse battery life.
Our 3D gaming battery life test shows how bad things can get on the Nexus 7 if you really stress the SoC and display: 4.08 hours. This is actually the only test where the Kindle Fire does better on battery. Do keep in mind that the Nexus 7 is technically doing more work (higher resolution and frame rate), which contributes to the delta in battery life here.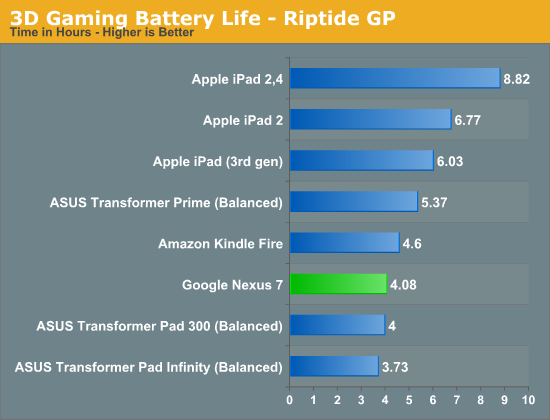 With 4 hours on the low end and 10.5 hours on the high end there's a pretty wide dynamic range for battery life on the Nexus 7. Keep that in mind because depending on your usage model you may end up closer to the lower end of that spectrum than you'd otherwise think. The big problem is without tons of local storage, you're going to end up relying on WiFi for content streaming needs a lot more than you would otherwise - which does have a tangible impact on battery life.
The Nexus 7 does take a good amount of time to charge its relatively small battery using the supplied 10W (5V, 2A) charger: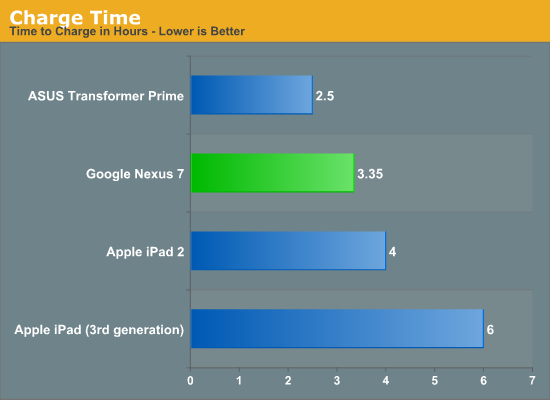 You can expect a full charge to take 3.35 hours, and about 3 hours to hit 90%.