Probably one of the biggest rumors leading up to the Windows Phone 8 announcement was some speculation that Qualcomm would lose its exclusive status as the sole SoC vendor for Windows Phone handsets. As a recap, WP7 and WP7.5 started out with QSD8x50 65nm Snapdragon, and later moved on to 45nm single core MSM8x55 and MSM7x30.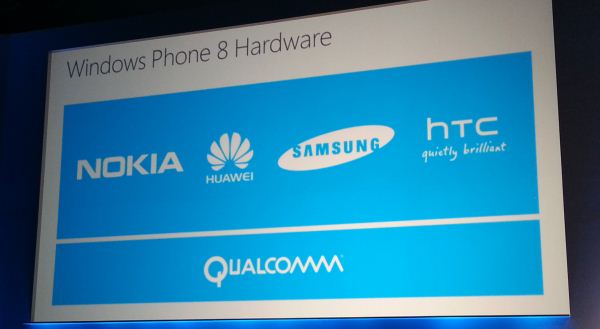 Today, Microsoft announced that Qualcomm will be the sole provider of dual core SoCs for initial launch devices from hardware partners Nokia, Huawei, Samsung, and HTC. There's some wiggle room in there for what comes after that first phase, but for now Qualcomm still holds that exclusive spot.
Update: Qualcomm stated in a note to us that the initial Windows Phone 8 devices will use a Snapdragon S4 Plus SoC. I asked for clarification about which specific SoC this is, and found out it is indeed MSM8960 inside - dual core krait with Adreno 225.