Samsung didn't emphasize camera performance very much during its launch event, which surprised me since HTC and Apple have both made steady improvements on the camera experience this generation. That said, the SGS3 does make some iterative improvements of its own in the camera department.
First off, the 8 MP rear facing camera sits behind F/2.6 optics with a relatively wide focal length of 3.7 mm. If you compare to the SGS2's F/2.7 optics with 4.0 mm focal length, the SGS3 is a fair amount wider, and it's noticeable when out and about shooting photos. From my digging, I've found that both my T-Mobile and AT&T SGS3s contain a S5C73M3 rear camera module - that looks like a Samsung CMOS name to me, but usually Samsung CMOSes start with S5K3 in the 8MP category. This is the same as the International version I've seen, though there's still considerable debate about whether this is a Sony CMOS, but initial reports are that it isn't the IMX145 from the iPhone 4S. I've also seen references to "CML0801" but that doesn't mean anything to me immediately. Either way, the CMOS is 8 MP with 1.4µm pixels and BSI, images at full resolution are 3264 x 2448.

The front facing camera is a Samsung S5K6A3 CMOS which hasn't been announced or made formal yet, and as a result I'm not sure about its pixel pitch or format. It is 1.9 MP and square - 1392x1392, which is relatively unique. I wager most users will just use 1280x960 and not know that the 1.9 MP option exists, though it is exposed in the camera UI.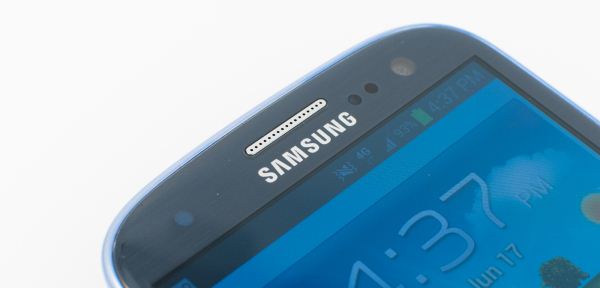 Samsung has made some improvements to the camera UI, and though they're subtle, they're nonetheless worth talking about. The camera application does launch speedily, which was one of Samsung's major points. As I mentioned, the shortcut from home screen (if you enable it) is handy if you don't want to use up one of the application shortcut spaces.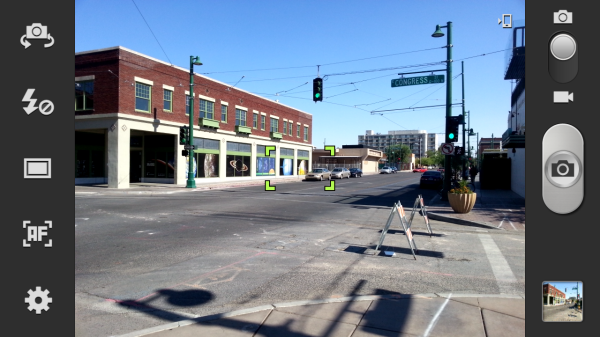 For SGS2 users, the whole application should be familiar, settings is in the bottom left, and all the icons on the left pane can be changed or customized by long pressing. Tap to focus and expose is still here, and capture speed is nearly instantaneous, just like on the One series.
Shooting modes can be changed from single to burst shot, HDR, and a few other options. HDR combines three exposures like we've seen on other platforms, paints a progress bar while it computes (which happens impressively fast) and saves the resulting exposure. Probably one of the cooler shooting modes is share shot, which uses WiFi direct to share photos captured from linked SGS3s to each other. Tapping this brings up the WiFi direct pair prompt, and successive photos get put in a received folder on other devices.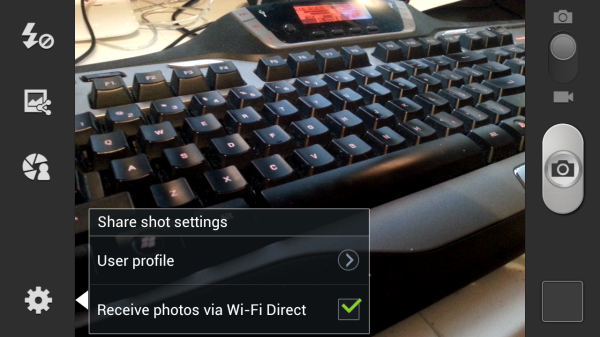 To evaluate still image quality we turn to our usual set of tests, which means the lightbox scene with the lights on and off, and our bench photo locations (numbers 3 - 7 remain). I couldn't get the test charts and lighting setup due to me moving houses while working on this review (everything is boxed up), but will update when that's settled. For now we have a decent picture of the SGS3 camera performance, but something I would like to investigate more once I can setup my test charts. Consider the following more of a first impression than really my end thoughts on the SGS3 camera's performance.
Immediately, you can tell that Samsung has tweaked their camera ISP and disabled the sharpening kernel which used to leave halos around contrasty spatial detail. There's some loss of high frequency detail to noise reduction which is particularly evident in the lightbox camera's focus rings and markings, but nothing too inordinate. White balance gives the scene a somewhat purple cast. I have to say that the One X image is sharper, but not by much.
With the lights off, the SGS3 does a great job exposing, and focuses with the scene lit up so it doesn't miss focus entirely. This is still something I see so many other smartphone cameras not doing, and instead just capturing at infinity focus and hoping for the best. Kudos to Samsung for still doing it the right way.
At the bench location photos, I'm kind of left feeling the same way about the SGS3 camera at first glance. There's nothing really wrong with it, and it seems to have less distortion (the test chart will tell the objective truth) but it just isn't as sharp as some of the other cameras I've seen. Having a wider field of view is definitely something different, and it's noticeable over the SGS2.