Gigabyte GA-Z77X-UD3H – Overview
For $160, there are a significant number of Z77 motherboards to look at, but Gigabyte wants you to buy theirs. In this case, it is the Z77X-UD3H - their mid range, probably highest selling, Z77 SKU. As a reviewer, it is important to not solely focus on the high end products, as it is the ones lower down the range that are often the best selling and closer to what people actually get in a system. Too many high-end boards can leave a reviewer out-of-touch to what actually sells.
With the GA-Z77X-UD3H, we have a good priced Z77 board with a myriad a features to tempt users. Gigabyte is pushing their digital power delivery and tweakable power delivery options, but we also have an mSATA port, a very good (and new-ish) automatic overclocking utility, and a cheaper board with all four video outputs. The audio/network controller choice is a little different, and we actually get power/reset buttons on a mid range Gigabyte board.
Overall, I did not come across many things wrong with the board. There are certain areas that could do with a little improvement, such as memory compatibility or fan controllers, but it seems like a user will have to stretch the wallet a bit for them in other products. At $160, the board is definitely probing the lower end of the enthusiast market, so could be ideal for a more budget-oriented build.
Visual Inspection
Black and blue seems to be the order of the day when it comes to mainstream boards, as indicated by some of the previous boards but also with the Gigabyte GA-Z77X-UD3H. Perhaps there is a sale on black PCBs and blue heatsinks?
Joking aside, Gigabyte intends to release two high-end boards initially – the Z77X-UD5H and the Z77X-UD3H, both in regular and WiFi variants. The WiFi variant comes with a PCIe x1 WiFi card to be used in the first PCIe slot on the board, and aerials for the outside of the case.
We have the Z77X-UD3H in to review for the launch of Ivy Bridge, which should retail for around $160 MSRP. Gigabyte has chosen a few different directions regarding which controllers are on the motherboard. This should provide interesting results when it comes to performance.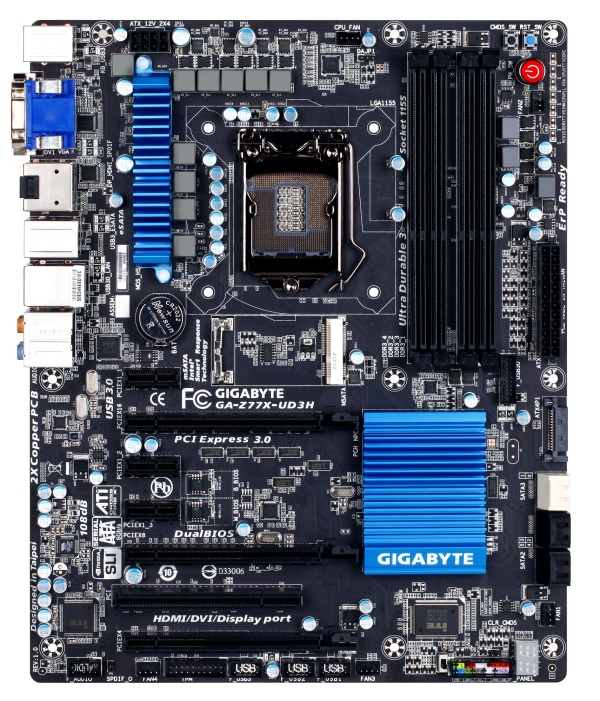 The VRM power delivery comes with a relatively small blue heatsink next to the socket. I've noticed that Gigabyte tend to have their memory closer to the socket than most other manufacturers, presumably in the name of performance due to shorter interconnects, but the downside is that it can restrict big air coolers. Nonetheless, it all still conforms to Intel specifications, and there is actually a large gap to the south of the socket.
In terms of fan headers, there are only two within reach of the socket. We have a 4-pin CPU header at the top near the memory slots, and another near the power/reset/ClearCMOS buttons at the top right of the board. The other three headers on board are found at the bottom – one 4-pin beside the SATA ports, one 4-pin next to the USB headers and another 4-pin beside the TPM.
Along the right hand side of the motherboard, Gigabyte has given us a different style of power/reset/clear CMOS button that I have seen before. The power button is big and red, whereas the other two are relatively small. These will be of use to reviewers and overclockers, however having the ClearCMOS the same size and shape as the reset button may lead to several bad fumbling for the right button followed by several four-letter expletives.
Further down is another style choice – an additional power connector for the PCIe and system, but this case it is a SATA power connector. I prefer this to the awkward molex connectors we see on other products. Below this are the standard six SATA ports from the PCH – two SATA 6 Gbps and four SATA 3 Gbps. Below this is the handy two-digit debug display.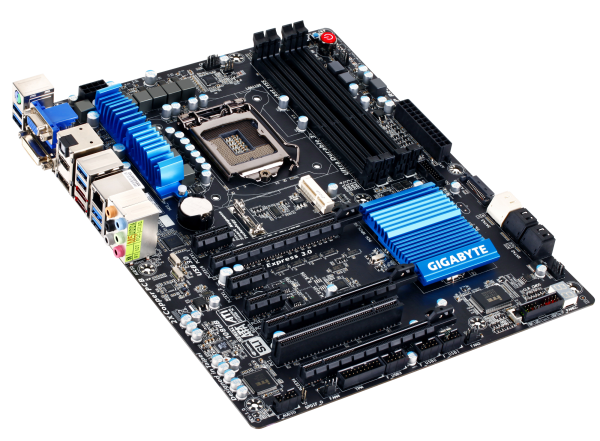 Along the bottom of the board, from left to right, we have the front panel audio, SPDIF header, a 4-pin fan header, the TPM header, three USB 2.0 headers, and another fan header. At the top of the PCIe is our mSATA connection, useful for mSATA SSDs and boot drives to save case space. In terms of PCIe, Gigabyte has installed a little nugget of common sense, giving enough space between the first two full-length PCIe for GPUs. However, in the x1, x16 (x8 in multi-GPU), x1, x1, x8, PCI, x4 setup, only the first two full length PCIe are for graphics output – the final one is a PCIe 2.0 x4 connector. This would be better served if it were a slightly different color to the other PCIe x16/x8 connectors. Also with two full length GPUs on board, the user will have access to two PCIe x1 connectors but the PCI connector is blocked.

I know Gigabyte will make a few people jump with joy in relation to the back panel layout – no USB 2.0! From left to right, we have a PS/2 combination port, two USB 3.0, D-Sub, DVI-D, an Optical SPDIF output, HDMI, DisplayPort, two more USB 3.0, two eSATA, gigabit Ethernet, a final two USB 3.0, and audio outputs.
Board Features
Gigabyte GA-Z77X-UD3H
Price
Link
Size
ATX
CPU Interface
LGA-1155
Chipset
Intel Z77
Power Delivery
6 + 4
Memory Slots
Four DDR3 DIMM slots supporting up to 32 GB
Up to Dual Channel, 1066-1600 MHz
Video Outputs
DisplayPort, HDMI, DVI-D, D-Sub
Onboard LAN
Atheros
Onboard Audio
Via VT2021
Expansion Slots
2 x PCIe x16 Gen3 (x16, x8/8)
1 x PCIe x16 Gen2 (x4)
3 x PCIe x1 Gen2
1 x PCI
Onboard SATA/RAID
2 x SATA 6 Gbps (PCH), Support for RAID 0, 1, 5, 10
4 x SATA 3 Gbps (PCH)
1 x mSATA connector (shared with SATA2_5)
2 x eSATA 6Gbps (Marvell 9172), RAID 0, 1
USB
Six USB 3.0 at rear (2 PCH, 4 VIA VL800)
One USB 3.0 header on board
Three USB 2.0 headers on board
Onboard
4 x SATA 3 Gbps
2 x SATA 6 Gbps
1 x mSATA Connector
5 x Fan Headers
1 x USB 3.0 Header
3 x USB 2.0 Headers
1 x Front Panel Header
1 x Clear CMOS Button
1 x TPM Header
1 x SPDIF Output
1 x SATA Power Connector
Power Connectors
1 x 24-pin ATX connector
1 x 8-pin 12V connector
1 x SATA Power connector
Fan Headers
1 x CPU Fan Header (4-pin)
4 x CHA Fan Headers (4-pin)
IO Panel
1 x Gigabit Ethernet
Audio Outputs
1 x DVI-D
1 x D-Sub
1 x DisplayPort
1 x HDMI
2 x eSATA 6 Gbps
1 x Combo PS/2 Port
6 x USB 3.0
1 x Optical SPDIF Output
Warranty Period
3 Years
Product Page
Link
One of the odd choices of Gigabyte is their network and audio controllers. On nearly every board I have reviewed, we get either a Realtek, an Intel or a Broadcom for the network, and a Realtek or Creative audio solution. Gigabyte has decided to jump in with an Atheros network controller, and a Via VT2021 audio. It will be interesting to see if this has an effect on our test capabilities.