Meet the ASUS N56VM
For Mobile Ivy Bridge, Intel has teamed up with ASUS to provide us with an early sample of their upcoming N56VM notebook. You'll note the choice of words there: this is an early sample, with indications that the hardware we received isn't quite final, and it's also a notebook as opposed to a laptop. Even so, as a first taste of what's to come, the N56VM is very impressive.
I'll admit to being quite happy with the industrial design on the N56VM. We've looked at N-series ASUS laptops in the past, but this iteration is much improved in terms of interior aesthetics. While it appears like the palm rest could be aluminum or some other metal, in actuality it's just silver plastic, but it still looks nice. There's certainly an element of the MacBook Pro vibe going on, only without costing nearly as much. The LCD cover does have an aluminum backing and it's relatively solid, pretty much on the opposite end of the spectrum from the Sony VAIO SE in terms of feel.
In terms of user input devices, the keyboard feels good with a decent amount of key travel and not flex or springiness. Where ASUS continues to bother me is with their 10-key layout; there's room for the 10-key to shift to the right a bit more and make space for a double-size Zero key. Take a look at the VAIO SE keyboard to see what we like, ASUS—it's a simple change that could be implemented without any radical redesign work. Oh, and give us a backlight—the F3/F4 keys are silkscreened for it, and I hope that the lack of a backlight on our test unit is simply because we're looking at early hardware; however, I worry that ASUS will remove the silkscreened labels and leave us with a non-lit keyboard. If I had my way, all laptops that cost north of $800 would include keyboard backlighting.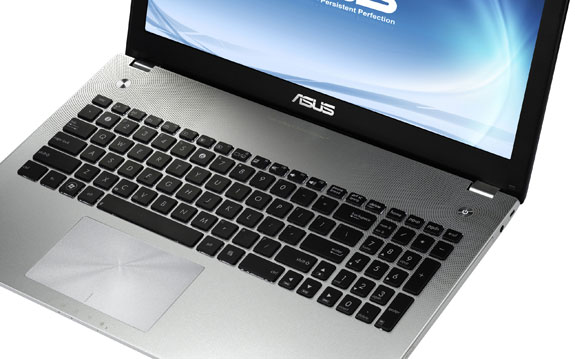 The other input device is the touchpad, and ASUS includes a frankly massive ElanTech clickable touchpad, similar in size to what you'd find on a MacBook Pro 15. The touchpad works great for the most part, as long as you like the whole clickable aspect; I don't, really, but I can adapt well enough that it wouldn't bother me. Gestures actually work very well for scrolling, delivering an experience that's better than most other touchpads I've used. Oddly, however, if you "coast" (e.g. flick two fingers down on a web page so that the page will continue to scroll after you release), the scrolling becomes very choppy when your fingers leave the pad. That seems like more of a driver issue, and it's not a huge problem, but it is worth pointing out. Again, speaking to my personal preferences (and Dustin agrees with me), I'd rather have discrete buttons and ditch the clickable touchpad. Other than potentially nicer aesthetics, there's nothing better about having the buttons integrate into the touchpad surface in my book.
For the remaining hardware components, here's a rundown of the specifications of our test unit.
ASUS N56VM Specifications
(Pre-release Hardware—shipping versions may differ)
Processor
Intel Core i7-3720QM
(Quad-core 2.60-3.60GHz, 6MB L3, 22nm, 45W)
Chipset
Intel HM77
Memory
8GB (2x4GB) DDR3-1600
Graphics
Intel HD 4000 (16 EUs)

NVIDIA GeForce GT 630M 2GB DDR3
(96 CUDA cores, 797/1594/1800MHz Core/Shader/RAM)
Display
15.6" WLED Matte 16:9 1080p (1920x1080)
(LG Philips LP156WF1)
Hard Drive(s)
750GB 7200RPM HDD
(Seagate ST9750420AS)
Optical Drive
Blu-ray Combo Drive (Matshita UJ141AF)
Networking
Gigabit Ethernet (Atheros AR8161)
802.11n WiFi (Intel Wireless-N 2230)
Bluetooth 4.0 (Intel)
WiDi 2.0 Ready
Audio
Bang & Olufsen Stereo Speakers
Headphone and microphone jacks
Capable of 5.1 digital output (HDMI/SPDIF)
Battery
6-cell, 10.8V, ~5.2Ah, 56Wh
Front Side
Memory Card Reader
Left Side
2 x USB 3.0
HDMI 1.4a
Gigabit Ethernet
Exhaust vent
VGA
Subwoofer jack
Right Side
Headphone jack
Microphone jack
2 x USB 3.0
Optical Drive
AC Power Connection
Kensington Lock
Back Side
N/A
Operating System
Windows 7 Professional 64-bit (via Intel)
Dimensions
14.97" x 10.09" x 1.12-1.34" (WxDxH)
(380mm x 256mm x 28.4-34.0mm)
Weight
6.01 lbs (2.73kg)
Extras
HD Webcam
102-Key keyboard
Flash reader (MMC/SD/MS Pro)
120W Power Adapter
I don't want to dwell too much on the hardware specs of the N56VM we're testing, mostly because I'm not entirely sure this is what the final product will include. I've asked both Intel and ASUS on pricing and configuration options; Intel is suggesting a retail price of somewhere between $1000 and $1100 and ASUS is suggesting anywhere from to $1000 to $1300, depending on the specific configuration. My ASUS contact also said they may have a faster Kepler-based GPU in the US version (as opposed to the recycled GT 630M in our test unit), the CPU will most likely be an i7-3610QM, Blu-ray support will be dependent on the model, and there may be some budget configurations that ship with a DVDRW and a lower resolution 1366x768 LCD.
While we're on the subject of the hardware configuration, I do have a few things to say about the NVIDIA GPU. First, the laptop shipped with an older 290.47 NVIDIA driver (dating back to around November or December of last year!) that initially caused some of our gaming tests to fail to run—even when attempting to run on the IGP. A quick email to NVIDIA got me updated 296.54 drivers (the 300 series beta won't install, if you're wondering), but the other troublesome element isn't as readily fixed. If you look at the clocks we listed above, you'll notice that the GT 630M is running at 475/950MHz core/shaders. The problem is that GT 540M and GT 630M normally run at 672/1344MHz, so the GT 630M clocks are 30% lower than what we'd expect. Given this is pre-release hardware, I'm hopeful that the actual shipping product will have better clock speeds—and getting a GT 640M or even GT 650M into the chassis would elevate the N56VM from being a mainstream laptop that can handle a bit of gaming into a viable gaming laptop.
Update: So it took a while, but I actually ended up figuring out that the reported clock speeds for the GT 630M in the N56VM are incorrect. GPU-Z and the NVIDIA Control Panel both list 475/950MHz core/shader clocks, but the sensors tab in GPU-Z shows 797/1594MHz, and based on performance (which we'll see later), the sensor readings are correct.
There were a few other oddities during testing that speak to the early nature of the hardware. The wireless toggle shortcut on the keyboard properly launched a WiFi on/off onscreen overlay that we've come to know from previous ASUS laptops, only it didn't actually work properly. It would enable/disable the Bluetooth radio, but WiFi would only turn off/on using the shortcut if we restarted the laptop. Another anomaly is the keyboard backlight indicators on the F3/F4 keys; there's no keyboard backlight on our unit, though we'd love to see one!
What all this means is that we're testing a laptop that may or may not actually ship in this particular configuration. ASUS will certainly have several N56VM SKUs available (and we know there will also be an N56VZ using the same chassis), and there will be models for Asia, the US, Europe, etc. Hopefully we'll also see some models with a faster GPU, in particular a Kepler-based offering, as the GPU we're testing isn't anything special.
The one thing that I hope doesn't change is the LCD. It's not the best 15.6" 1080p LCD I've ever tested; I'm still heavily biased in favor of the wide viewing angles delivered by the Sony VAIO SE's IPS panel, but second to that the AU Optronics B156HW01 v4 is my favorite TN panel in this size. Still, the LG panel in our unit is at least a good offering. We'll give the detailed numbers later, but suffice it to say the contrast is good, I love the anti-glare coating, and the backlight can get really bright (over 400 nits!) if needed. Colors are only "okay" and I can certainly see the 6-bit interpolated color effect when I look for it (as I can with nearly all TN panels), but at least we're not dealing with a glossy 1366x768 LCD with a poor 200:1 contrast ratio!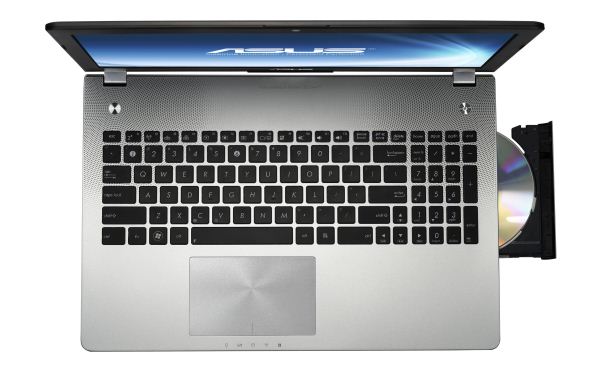 Another item that deserves praise with the N56VM is the speakers. I've seen other ASUS laptops sporting Bang & Olufsen branding before, but until now the speakers were still disappointing. The N56VM on the other hand actually has the ability to produce good audio without the need for headphones. I still don't think it's better than the Dell XPS 15 (the XPS 15z isn't the same, incidentally—the XPS 15 sounds far better, as does the N56VM), but it's at least close. It's one of the better sounding laptops I've had a chance to use in recent years.
So kudos to ASUS and Intel for delivering a laptop that provides just about everything I could ask for. If I could actually point users at a store where they could purchase this exact unit and configuration for $1100 or less, I would happily do so—and I could even see paying up to $1200. However, I would steer clear of any budget configurations, especially if they use a bog standard 1366x768 display. It's that simple. Now let's run through the benchmark results and see what Ivy Bridge brings to the mobile world.