Camera is the other big axis of improvement with Medfield, as Intel has included a SiliconHive ISP with full support for up to 24 MP rear facing cameras and a 2 MP secondary camera. Intel acquired SiliconHive a while ago, and it has integrated their IP prominently inside the platform.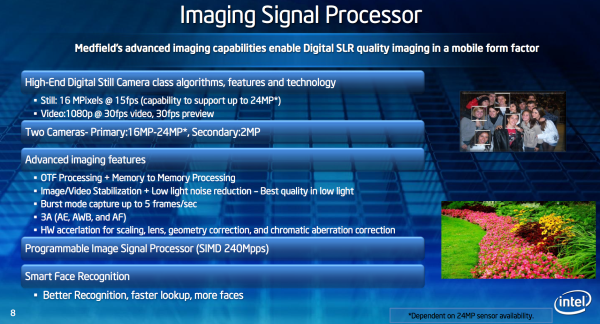 In addition all the features you need to support a smartphone camera are here, including AE, AWB, AF, lens shading and distortion correction, stabilization, and fixed pattern/dark noise subtraction. Intel is also quite proud of its burst functionality which enables up to 10 full size 8 MP images to be captured at up to 15 FPS.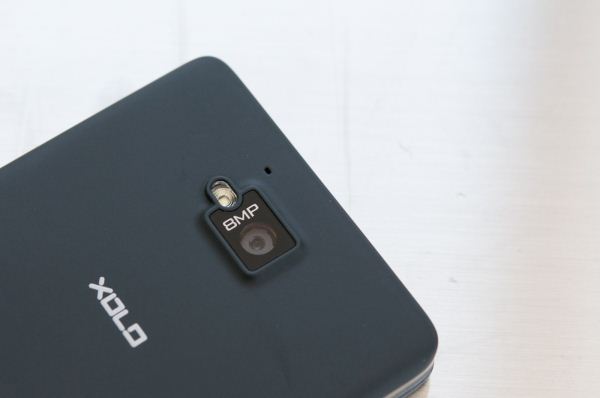 I did some digging and found what CMOSes are being used in the Xolo X900 smartphone. The front facing camera is an Aptina mt9m114 1.3 MP 1/6" CMOS with 1.9µm square pixels, and the rear facing camera is an Aptina mt9e013 8 MP 1/3.2" CMOS with 1.4µm pixels (3264 x 2448). The 8 MP rear facing system appears to possibly be from LiteOn. The optical system onboard is F/2.4 with 4.4mm focal length. The result is a thoroughly modern camera system that is up to par with what's shipping in other devices right now. Interestingly enough, I can tell from poking around that Intel has tested the Medfield platform with a 14MP module as well.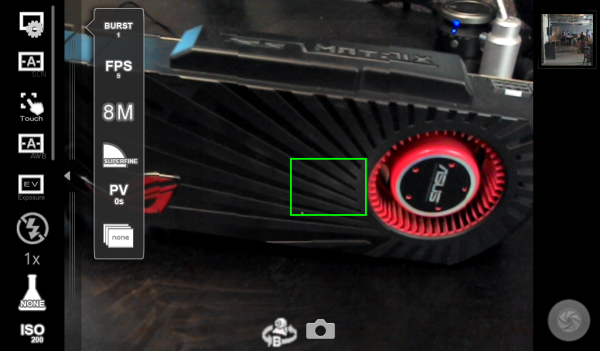 The camera UI on the X900 is by far the most comprehensive of any smartphone I've encountered so far. The still shooting mode includes customization options for the burst mode and FPS, image capture size, compression level, and bracket modes in the top tab. Below that are scene modes (Auto, Sports, Portrait, Landscape, etc), focus modes (Auto, Infinity, Macro, Touch to focus), white balance (Auto, Incandescent, Daylight, etc), exposure, flash, color filters (None, Sepia, BW, Negative), ISO (100, 200, 400, 800), exposure time (1s to 1/500s), and auto exposure metering modes, phew. What's really unique however are toggles under the happy face icon for advanced features like GDC (geometric distortion correction), XNR (extra noise reduction for low light), ANR (another noise reduction routine). These are usually things present in other ISPs, but I've never seen the option to play with them in any smartphone camera UI before. There are also some RAW options which, based on their labeling, I would assume allow you to save pre-Bayer demosaicing RAW data and YUV data, but I'm not sure where this data is stored after capture. Resetting the camera to defaults interestingly enough turns GDC, XNR, and ANR off, so it is in this mode that I captured sample images.
Burst mode works well, as does the camera UI. Images captured in burst mode are prefixed with BST instead of IMG when they're stored, so you can tell the two apart later on the desktop. 8 MP images captured on SuperFine end up being just under 2 MB after JPEG compression.
To get to the bottom of still image quality, we turned to our regular set of evaluation tools, consisting of both photos taken in a fixed smartphone lightbox test scene with the lights on and off, with test charts (GMB color checker card, ISO12233, and distortion), and at our smartphone bench locations. I took these after resetting the camera to defaults, which again curiously disables GDC, XNR, and ANR. The result is some very strange higher order distortion in the chart (the chart is indeed flat and normal to the camera), but good spatial resolution in the ISO chart, I can see up to around 15 lp/ih in the vertical and 14 in the horizontal. White balance is a bit weird on the chart, but in the lightbox the white balance is pretty good. The X900 also illuminates the scene for focusing before taking the photo in the dark, which is something some smartphone OEMs are still not doing.
I'm pretty pleased with camera quality, it isn't as good as some other smartphones that are out right now, but it's very good. I suspect this is more a reflection of the optics (eg heavy distortion without geometrical correction) than ISP. I actually come away pretty impressed with all the options that have been made available, it's obvious that lots of time and energy went into that part.
Video
The video capture UI unsurprisingly offers some of the same configuration options as the still shooting mode. Capture resolutions from QVGA to 1080p are offered, along with various MMS compatible settings like we're used to seeing. The menu here also offers the ability to disable electronic video stabilization (DVS) and noise reduction (NR) which is awesome, especially since many find electronic video stabilization somewhat disconcerting. I disabled it for the test video since this results in the same behavior I saw with the Galaxy Nexus before Google ostensibly disabled it on the rear camera (but left it enabled on the front one). Anyhow, I'm grateful that the options are here, as the smartphone camera UI standard seems to be trending toward Apple's minimalist tendency rather than exposing real options, but I digress.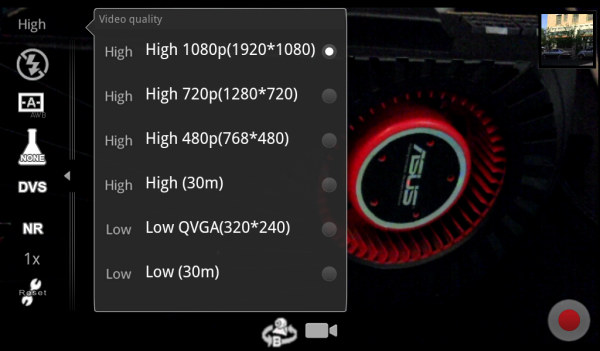 To evaluate video capture quality on the X900, I took videos at the standard bench location at around the same time. The Medfield platform uses Imagination's VDE285 video encoder. 1080p30 video recorded on the X900 is encoded at 15.0 Mbps H.264 Baseline with 1 reference frame. 720p30 video from the rear camera is encoded at around 8 Mbps with the same parameters, but interestingly enough front facing 720p30 video is encoded at 12Mbps. All three include 320 kbps AAC stereo audio.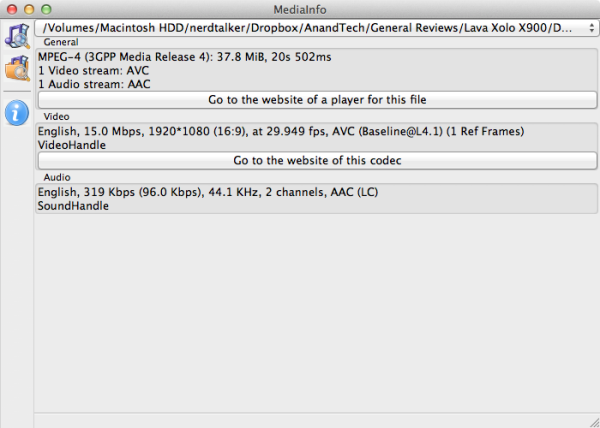 Baseline H.264 is about par, but not the high profile that we've seen being done on other platforms like Exynos 4xxx or OMAP 4. Thankfully the baseline bitrate is good enough to produce good quality results, but again turning the encode parameters up a bit would enable better results with the same bitrate.
1080p Rear Video
720p Rear Video

720p Front Video

As we always do, I've uploaded the bench videos to YouTube and also made them available for direct download if you want to look at them without the transcode. Some small interesting points are how the videos are saved with a .3gp extension instead of the more common .mp4 (haven't seen .3gp in a while, even if it's acceptable), and also the 1080p video field of view is much narrower than the 720p field of view (clearly a center crop is being taken). Those notes aside, I have no issues with the 1080p video quality that's produced, it looks good and has continuous auto focus. The 720p video has some weird decimation artifacts from downscaling, but nothing too bad, and 1080p maximum is usually what I scrutinize anyways.