Fusion X2, We Won't Miss You
Toshiba's Fusion and Fusion X2 finishes are long in the tooth, and unfortunately the Satellite P755D continues the trend with the Fusion X2. Texturing glossy plastic mitigates a lot of the issues with using the material in the first place, but the shell as a whole still looks very bulbous and busy, and Toshiba continues to use a glossy black plastic in (IMO) the worst place a designer can put it: the screen bezel.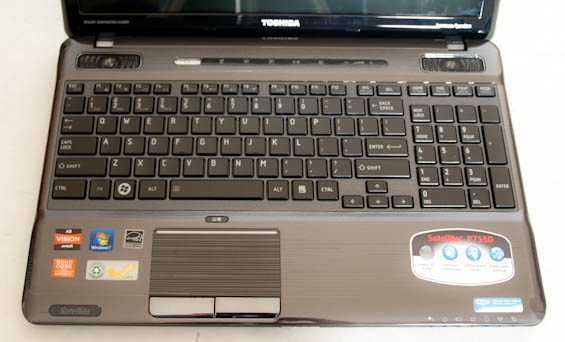 Where Toshiba continues to do a decent job is with the keyboard, though. With the success of the Portege line, Toshiba started transitioning the rest of their notebooks to chiclet keyboards that are substantially improved over the flat glossy keycaps of their predecessors. While I'm still not overjoyed with the use of glossy plastic in the construction of these keycaps (or Toshiba's insistence that these are premium when the matte keyboards they use in less expensive notebooks are actually superior to the touch), the layout of the keyboard continues to be one of the more traditional (and one of the smarter) ones on the market. For some users the keyboard won't matter, but for others it will be a make or break experience, and as a more finicky user I can say the one Toshiba employs is definitely comfortable enough for regular use.
The P755D also enjoys a touchpad with dedicated buttons. The buttons themselves are large, but they do feel like there's a little bit too much resistance. It's a minor quibble in the scheme of things, and the surface of the touchpad itself is plenty comfortable to use. The touchpad can also be easily toggled on and off by pressing a button just above it.
As for the rest of the overall build quality, it's easy to say that Fusion X2's time has passed. Despite having a weight comparable to the Acer TimelineU "ultrabook" we recently reviewed, the P755D feels a lot bigger and bulkier. It continues to be a situation where, when recommending a budget notebook, I feel like I have to continually say "as long as you don't mind how it looks, Toshiba makes good budget machines."