WiFi & GPS
The WiFi stack gets an update with the new iPad courtesy of Broadcom's 65nm BCM4330, compared to the BCM4329 used in the previous two iPads. Both 2.4GHz and 5GHz operation are supported, although as I mentioned earlier the carrier-dependent personal hotspot is only available over 2.4GHz.
As with most smartphone/tablet designs the BCM4330 only supports a single spatial stream, for a maximum link speed of 72Mbps. Similar to the iPad 2, Apple hides the WiFi antenna behind the speaker grille at the bottom of the tablet. The cellular antennas (there are now two) are at the top of the tablet, behind the plastic RF window.
WiFi Performance Comparison
Distance from AP
3 feet
20 feet (Different Room)
50 feet (Different Room/Floor)
100 feet (Different Room)
ASUS TF Prime (2.4GHz)
26.9 Mbps
9.85 Mbps
13.5 Mbps
2.20 Mbps
Apple iPad 2 (2.4GHz)
35.1 Mbps
29.9 Mbps
26.9 Mbps
10.6 Mbps
Apple iPad 3 (2.4GHz)
35.1 Mbps
29.9 Mbps
27.9 Mbps
9.98 Mbps
Apple iPad 2 (5GHz)
36.7 Mbps
36.7 Mbps
36.7 Mbps
11.9 Mbps
Apple iPad 3 (5GHz)
36.7 Mbps
36.7 Mbps
36.7 Mbps
11.7 Mbps
With a similar WiFi stack and similar antenna placement, it's no surprise that I noticed very similar WiFi performance to the iPad 2.
The same goes for GPS performance between the new iPad and the iPad 2. Both devices were able to lock and track me driving around in a car with comparable accuracy from what I could tell.
Airplay Support with the new Apple TV
When paired with a second or third generation Apple TV, the iPad supports wireless display mirroring or content streaming to the iPad via AirPlay. In other words, if you have an Apple TV hooked up to your HDTV, you can use your HDTV as a large, mirrored, secondary display for your iPad—wirelessly. The only requirement is that you have a 2nd or 3rd generation Apple TV and that it's on the same network as your iPad. With those requirements met, enabling AirPlay mirroring is simple—just bring up the iOS task switcher, swipe left to right until you see the brightness/playback controls and tap the AirPlay icon.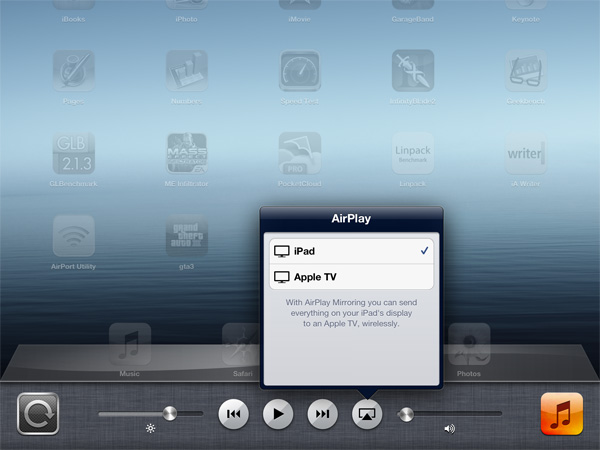 Mirroring gives you exactly what you'd expect—a complete mirror of everything you see on the local iPad screen. All sounds are also sent over and come out via your TV's speakers—the local speaker remains silent.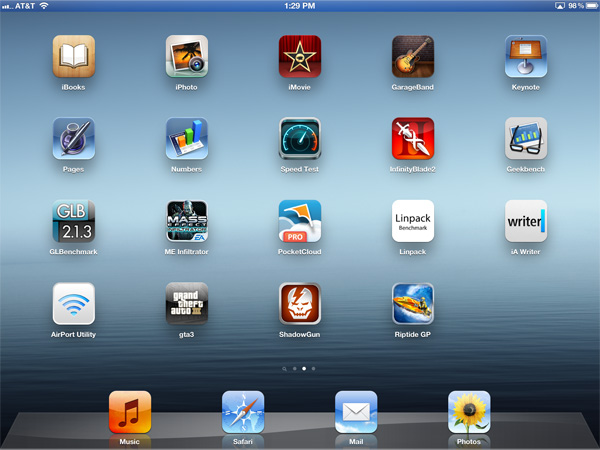 The frame rate isn't as high on the remote display, but there's virtually no impact to the performance of the iPad itself. There's noticeable latency of course since the display output is transcoded as a video, sent over WiFi to the Apple TV, decoded and displayed on your TV via HDMI. I measured the AirPlay latency at ms, which is reasonable for browsing the web but too high for any real-time games. If you want to use the iPad to drive your HDTV for gaming you'll need to buy the optional HDMI output dongle.
While AirPlay mirroring on the iPad works at 720p, if you're playing a 1080p movie on the new iPad and you have a 3rd generation Apple TV, the video is also displayed in 1080p rather than downscaled to 720p.
Video playback is an interesting use case for AirPlay and the iPad. If you don't have mirroring enabled, you can actually start playing a movie on the iPad, have it stream to your TV via the Apple TV, and go about using your iPad as if nothing else was happening. Most apps will allow you to stream video in the background without interrupting, however some games (e.g. GTA 3, Infinity Blade 2) and some apps (e.g. iMovie) will insist on streaming their UI to your Apple TV instead.
Although iOS and the iPad don't do a great job of promoting multi-user experiences, using AirPlay to push video to a TV wirelessly is an exception. If you frequently load your iPad up with movies you can use it to keep others entertained while you either get work done or just goof around on your iPad at the same time. It's a great fit for families where people want to do two different things. If you do put a lot of movies on your iPhone/iPad, the 3rd generation Apple TV is probably a must buy for this reason alone.