Battery Life
Getting detailed specifications for the Acer TimelineU M3 has been a little bit difficult; the notebook isn't on Acer's site yet (despite apparently having been released into the wild) and our reviewer's guide is a bit light on details. The box for it claims a meager 3-cell battery, but we're told it has a healthy 55Wh of capacity. That seems pretty dense, but as you'll see it's believable.
Unfortunately due to the crunch we don't yet have results for media playback, but those will be added as soon as humanly possible.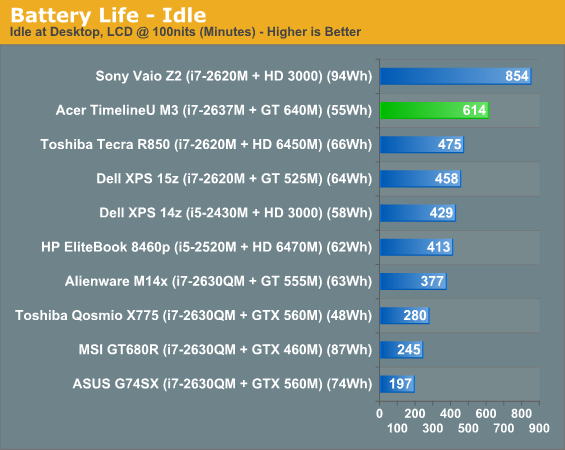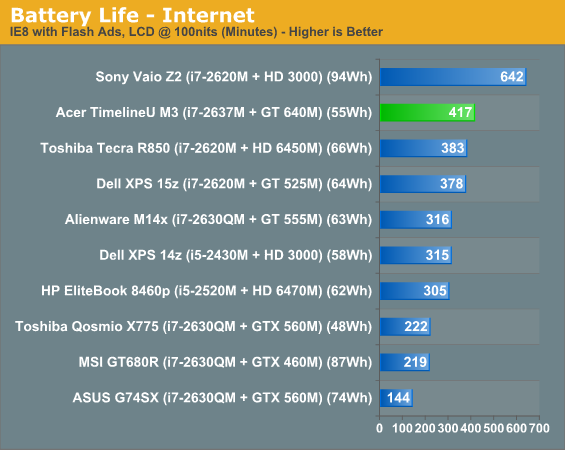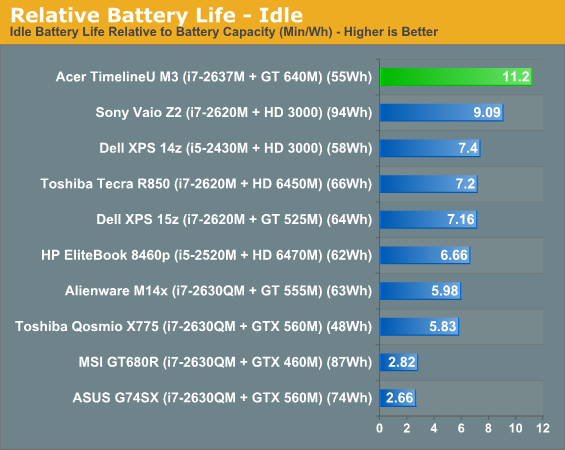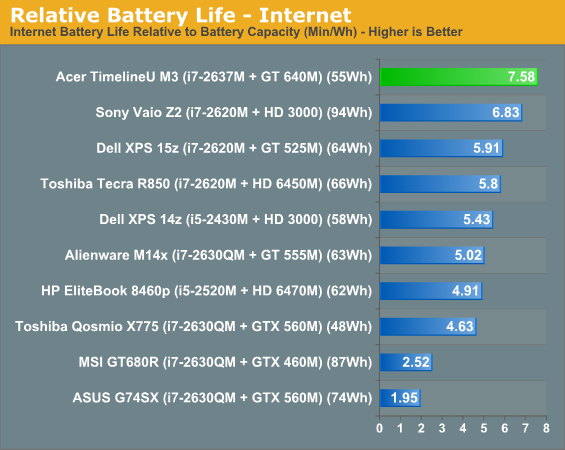 The TimelineU M3 absolutely rocks socks on the battery. NVIDIA's Optimus technology is in full effect here, and as a result the M3 is able to meet and beat the advertised eight hours of battery life that even the reviewer's guide for the M3 claims. This is one place where using the ULV i7-2637M does seem to pay major dividends compared to the full voltage chips.
Heat and Noise
Heat and noise are two more places where having that ULV chip seems to help the M3. While load noise isn't exactly ideal, it's only roughly 41dBA under load, and that's only when the GPU is being stressed. Meanwhile, no hot spots seem to develop on the top surface of the notebook. That said, top-center on the bottom of the M3 does get a bit warm; it's not uncomfortably hot and certainly won't scald you, but there's definitely a single sharp source of heat inside the M3.
Screen Quality
At the risk of digressing, when I used to write for NotebookReview I found myself trying to eschew talking about the speakers of the notebooks I reviewed whenever possible because the results were the same 99% of the time. That's remained true here; notebook speakers are typically only worth talking about when they're not terrible. The reason I bring this up is because I'm beginning to feel the same way when testing the notebook screens. It's obviously useful information, but this is a component that almost always underwhelms, and the same is true again with the Acer TimelineU M3.
While the 1366x768 resolution of today's mediocre TN panel is ideal for our bandwidth-constrained GPU, it doesn't require any feat of prestidigitation to say that the comments on this review will once again light up with well-founded complaints about a 15.6" screen running this resolution natively. Frankly it's just inadequate for a notebook this size, and we're going to keep harping about these subpar panels until manufacturers wise up and start getting it right.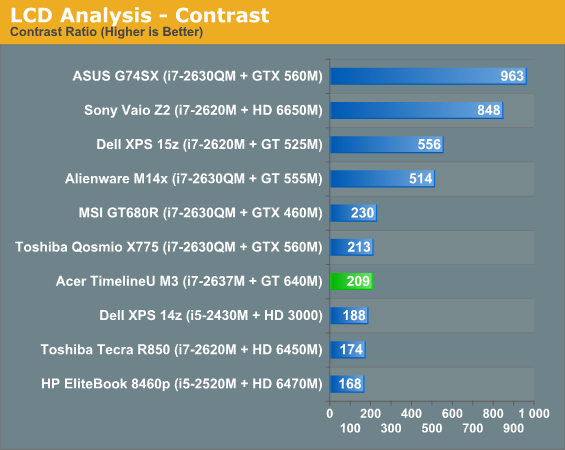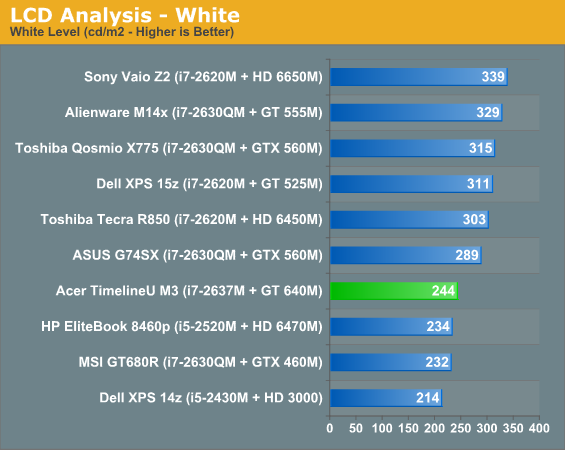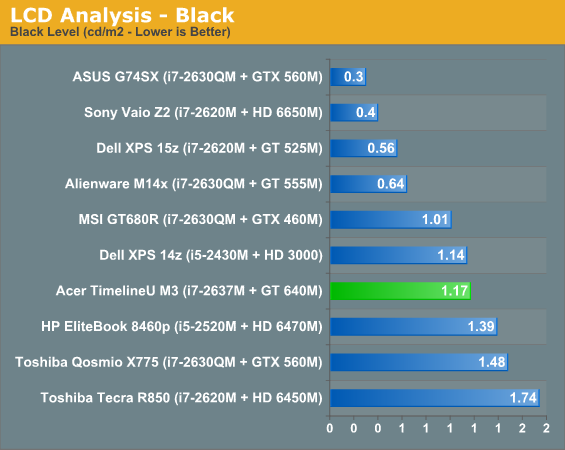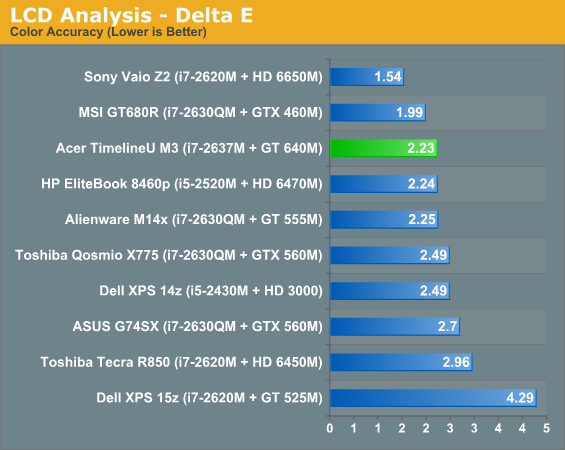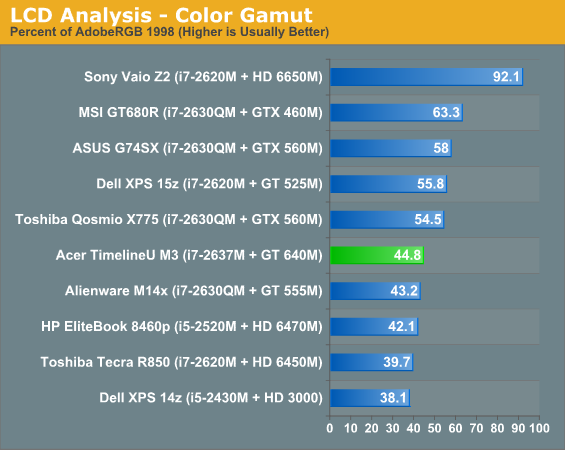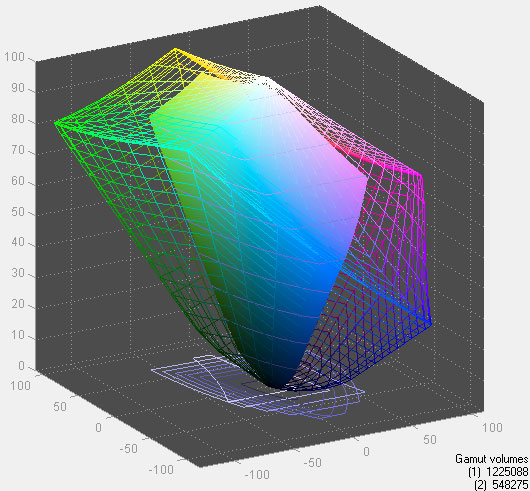 You can see from our test results that it doesn't necessarily have to be this bad. While the M14x's screen is underwhelming in places, it also runs at a superior 1600x900 resolution. The Sony Vaio Z2 may be a premium notebook (or at least a premium-priced one), but you at least see where some of that purchase price is going: a fantastic, high-resolution screen.
Meanwhile, the Acer TimelineU M3 sports the industry-standard dismal TN panel with weak viewing angles, low contrast, and low color accuracy and quality. This needs to change, and there's really no reason to settle for a crappy display when you're putting in 256GB SSDs.
And let's be clear about the costs: when an end user can go out and purchase a replacement AU Optronics B156HW01 v4 display for under $100 (compared to around $60 for a typical 1366x768 panel), the cost savings can't be that much for the laptop makers. Granted, with ultrabooks the manufacturers are also looking to get the thinnest panels they can find (another misguided goal in my book: thinness while sacrificing keyboard and display quality just doesn't make sense), but there are still much better 15.6" displays out there that would only increase the BOM by $50 at most.