Metro 2033
Paired with Crysis as our second behemoth FPS is Metro: 2033. Metro gives up Crysis' lush tropics and frozen wastelands for an underground experience, but even underground it can be quite brutal on GPUs, which is why it's also our new benchmark of choice for looking at power/temperature/noise during a game. If its sequel due this year is anywhere near as GPU intensive then a single GPU may not be enough to run the game with every quality feature turned up.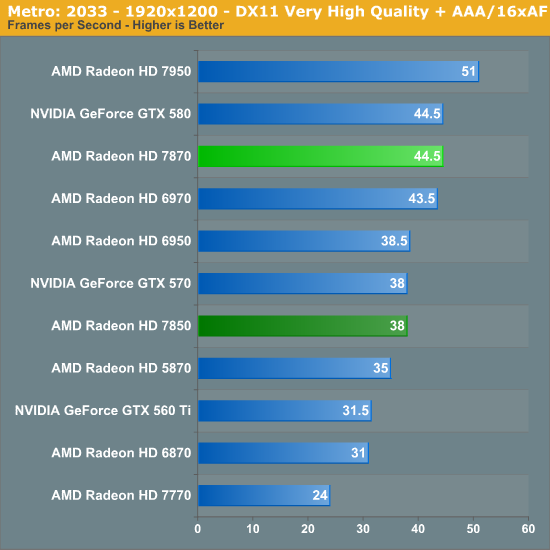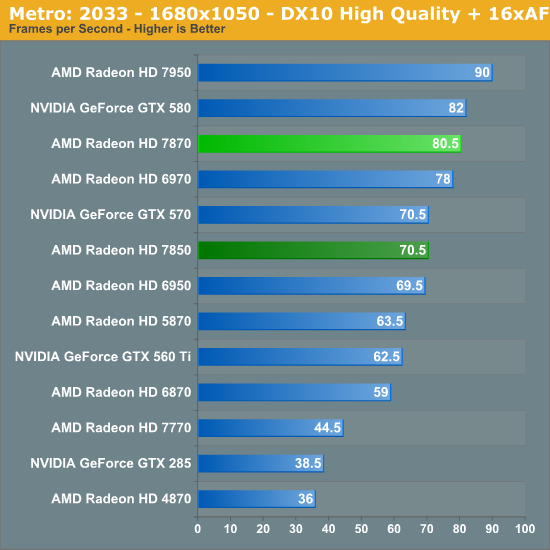 Metro ends up being an even better test for the 7800 series than Crysis was. At 1920 the 7870 ties the GTX 580 while taking a 17% lead over the GTX 570 and a much smaller lead over the 6970. The 7850 on the other hand is slightly behind the 6950, but is itself tied with the GTX 570 and well ahead of the GTX 560 Ti.
Interestingly, in spite of being built from the same architecture the 7950's lead decreases some here. At 1920 it's now only 13% ahead of the 7870, though in all likelihood it's just enough of a difference that the 7870 isn't going to be fully playable at these settings. As it turns out the gap between the 7870 and 7850 ends up being larger, with the 7870 enjoying a 17% advantage.