Dell U2412M Brightness and Contrast
Despite the larger size of the display compared to recent 23" monitors I have reviewed, the U2412M says it can produce 300 nits of light at maximum output, which should certainly be bright enough for anyone to use. It's worth noting that I usually set the display around 5 nits too high before calibration, to allow for a little headroom when ColorEyes generates the curves. However this also means that maximum light output, once calibrated, might be around 5% lower than maximum due to the curves inside the ICC profile.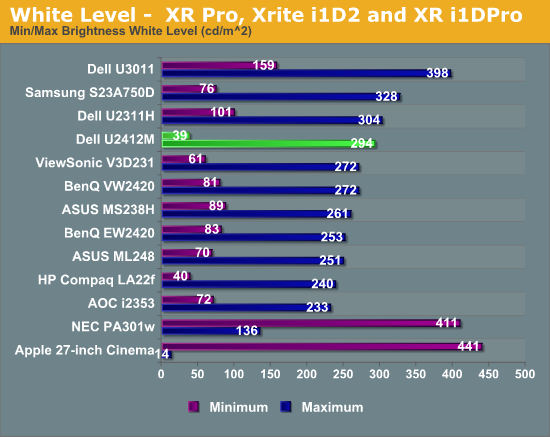 Despite this possible limitation, the Dell still put out 294 nits at maximum brightness after calibration, and 39 nits at minimum brightness. This was plenty bright for my work area, even with bright overhead lights, and the combination of the high brightness and anti-glare coating made it easy to see the screen.
The weak area for IPS screens has always been the black levels, with them being much higher than those from VA based displays. The U2412M did well here, out performing all recent non-VA displays with a nice, low black level.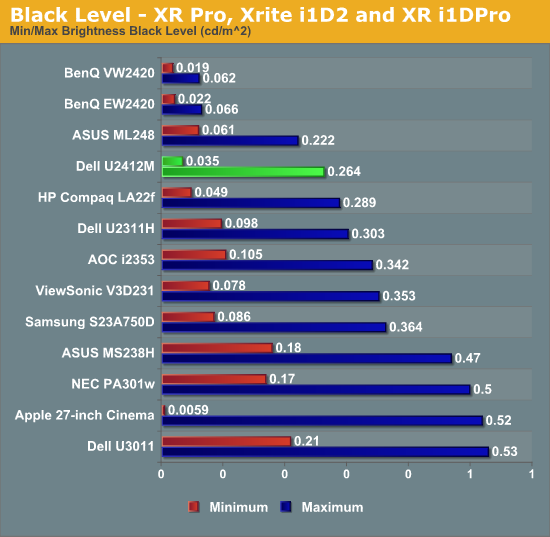 With this combination of black level and a very bright screen, we would expect to see a decent contrast ratio to come out as well, and the Dell delivers here.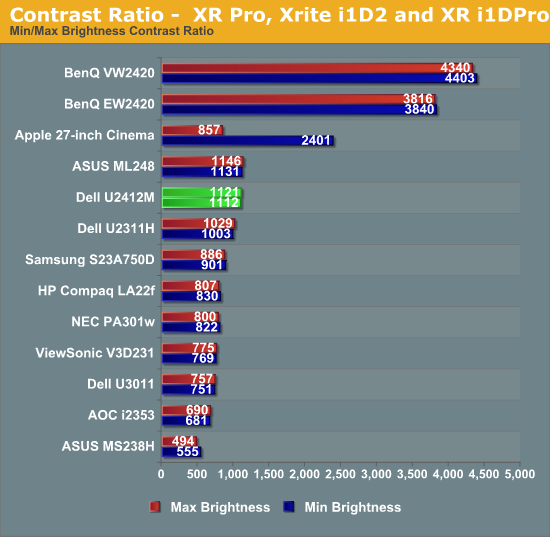 Beating the specified number by over 10% is always nice to see, and the contrast on the Dell is very nice. It easily outperforms most TN displays, though it's not able to compete with the combination of LED lighting and a VA panel from BenQ. It was also very stable across the spectrum, with virtually identical ratios at maximum and minimum brightness.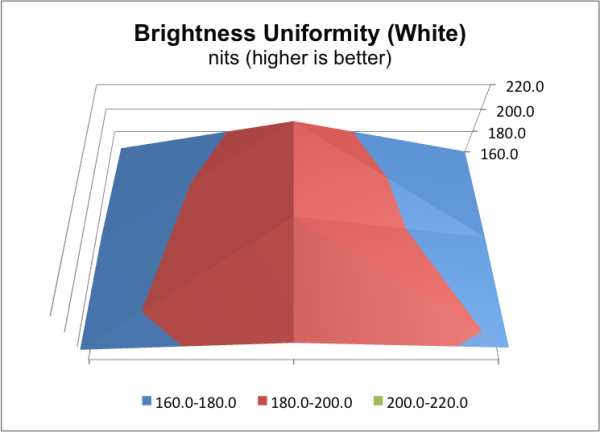 While the center stayed nice and bright, the edges showed a good amount of fall off in comparison, and an overall variance of around 6%. The areas with higher brightness uniformity issues were also the areas with higher dE values on the uniformity testing, just as we expected. Looking at black uniformity, thanks to the bright corners this wound up even worse, with a variance of around 14%.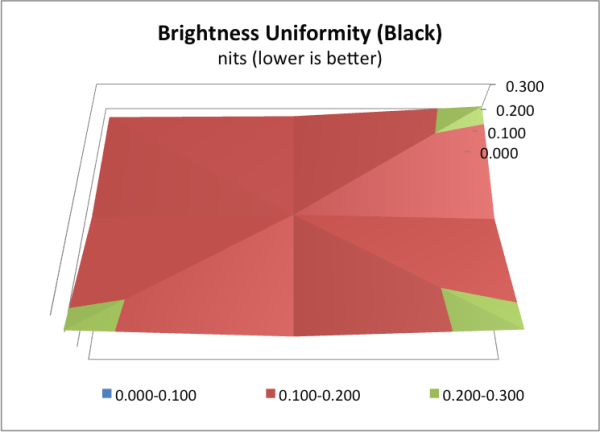 Taken as a whole, the contrast ratios are good, and while there is light fall-off at the edges of the display, it does not seem to have a noticeable effect on color quality.