Miscellaneous HTPC Aspects
One of the nice aspects of the Radeon HD 7750 is the fact that AMD's excellent video post processing capabilities with respect to deinterlacing, cadence detection and noise reduction are carried over from the previous efforts without the introduction of any bugs. As such, deinterlacing is of the same quality as before, and we felt that there was no necessity to repeat screenshots very similar to what we already provided in our previous Llano HTPC review.
3D works very well, and is even more seamless compared to NVIDIA's implementation. I don't play 3D games, and my only interest from a HTPC perspective is playing back 3D Blu-rays. I found that simply clicking on the 3D icon in PowerDVD shifted my VSC-32 / Sony KDL46EX720 into 3D mode. There was no need to explicitly set up the 3D display as I had to do with the NVIDIA cards. This might be a drawback for people doing 3D gaming, but for 3D media watching this is as simple as it could be.
It is not that the 7750 is without its faults. For all practical open source software purposes, MPEG-4 decode acceleration is absent even though it is a feature of UVD3. The Catalyst 10.4 release notes promised support for H.264 L5.1 stream decoding. However, consumers soon discovered that enabling DXVA decode for 4K clips often ended up in a BSOD. AMD has quietly slipped this under the radar, and now officially states that 4K decode is not officially supported for the time being, however this appears to be a matter of validation rather than hardware limitations. That said, we did see that trying to decode a 4K clip now no longer results in a hard BSOD.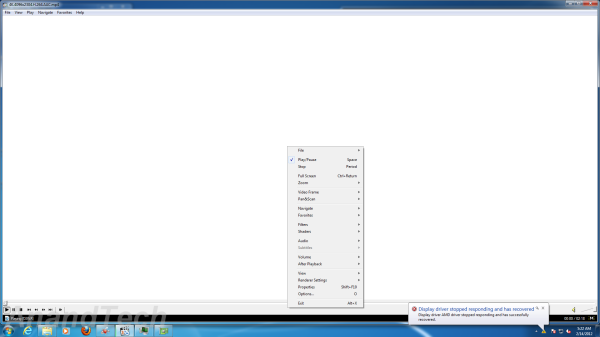 The 7750 also has support for HDMI 1.4a's full specifications. This means that the GPU can drive resolutions of up to 4096x2160 at 24 fps and 3840x2160 at 30 fps over a single HDMI port! I am currently aware of only one HDMI sink supporting this over a single HDMI link, namely, the Sony VPL-VW1000ES projector. Users on AVSForum are already reporting success with driving 4K over a single HDMI link using the Radeon HD 7970, and I expect the 7750 to have no issues either. That said, if we do get access to this projector system, the 7750 will be one of the first HDMI sources to get connected to it.
I recently set up a 2x2 Eyefinity system using the 7950 to drive QFHD videos onto the displays. I was very impressed with the quality and ease of setup. Frankly, I am more excited about 4K compared to what I felt about 3D when manufacturers were trying to push that down the throat of the consumers. In my opinion, 4K (QFHD) with 2x2 23" 1080p thin bezel monitors will become a very cost effective solution for those looking at 4K for the desktop. In that respect, it is a bit disappointing that the 7750 we tested today can't drive four displays without a DisplayPort MST hub.
It is a little bit interesting to compare the GT 520 with the AMD 7750 with respect to readiness for 4K. While the GT 520 has full hardware decode acceleration for 4K videos, it is unable to push out the 4K material to the display(s). The HDMI 1.4a PHY in the GT 520 can drive only 1080p monitors and there is no way to drive four displays with it. The 7750, on the other hand, can drive 4K displays through HDMI right now (and to four monitors using an MST hub down the road), but it is unable to accelerate the decode of those videos. It will be interesting to see what NVIDIA has in store for the HTPC fans down the road. Can they deliver working cards and drivers before AMD fixes its driver issues? It is going to be a very interesting year ahead.
As a summary for our HTPC section, we have to say that the Radeon HD 7750 is an excellent addition to our HTPC testbed. It will definitely be the one to compare against when the new cards from NVIDIA and Intel's Ivy Bridge CPU come out over the next few months. We just hope that AMD will be able to get its driver act together before then.