Final Words
I've been a fan of SandForce's technology since it first showed up in OCZ's Vertex 2 Pro in late 2009. Performance has never been an issue with SandForce and because of the fact that the controller writes less than its competitors, the controller and drives based on it are well behaved over months of use. The biggest issue with SandForce has always been a lack of validation compared to other, bigger players like Intel and Samsung. SandForce relies on its partners to do a lot of the validation and testing that would normally be internalized at its competitors. Until now, SandForce hasn't really had a partner large enough to really throw a ton of resources at drive validation. Now that SandForce is under the LSI umbrella things may change, but until then we finally have a well validated SF-2281 drive: the Intel SSD 520.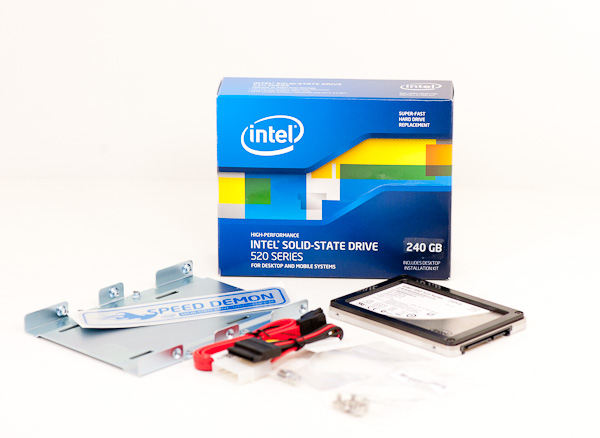 I'm still curious to see if other bugs crop up but if Intel hasn't found anything else after twelve months of testing I'm willing to bet that either the SF-2281 is irreparably broken or the 520 is going to be a reliable SSD.
I only have one data point where the 520 behaves better than other SF-2281 based drives, but that alone is a perfect example of what you pay for with Intel. This is exactly what we've been waiting for. If you want the absolute fastest SSD on the market today, the Intel SSD 520 is the only drive to get. If you're put off by the price, Samsung's SSD 830 is an excellent alternative.
I'm going to save this next bit for a future article, but have a look at the 520's performance in our enterprise workloads compared to the Intel SSD 320:
Enterprise SSD Performance
Oracle Swingbench
MS SQL DailyUpdates
MS SQL WeeklyMaint
Intel SSD 320 300GB
56.5 MB/s
207.3 MB/s
230.4 MB/s
Intel SSD 520 240GB
67.2 MB/s
376.7 MB/s
418.1 MB/s
The 320 is actually widely used in servers as it's very reliable and can last a good amount of time with the right amount of over-provisioning. The 520 just destroys it. The bigger benefit is that if you're dealing with a workload that's not already compressed, the 520 will guarantee you much better drive longevity than the 320 thanks to the fact that it's simply not writing as much data to NAND. If you're looking for an affordable way to get a ton of IOPS for your enterprise workloads, Cherryville may be your ticket...