Introducing the Antec Three Hundred Two
While flagship enclosures are certainly pretty interesting and there are some great deals to be had even just north of $100, competition south of that border is mighty fierce and only becomes more so as manufacturers refresh their lineups with the latest trends and advances in chassis design. We've seen a lot of great options for end users looking to save some scratch, but haven't had a chance to see what Antec can do in this market...until now. Antec is launching their new Three Hundred Two chassis, and if you're an enthusiast on a budget looking for the best cooling you can get without spending up for it, this may be the case for you.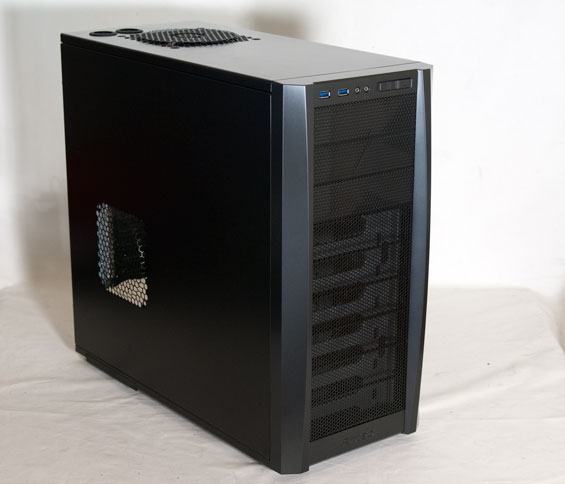 Superficially there doesn't appear to be much that Antec has done to modernize the Three Hundred while keeping the price down, but once you get inside you'll see there's more going on than meets the eye. While the Three Hundred Two is set to be a bit pricier than its predecessor, you'll see there are plenty of good reasons to take the plunge anyhow. Here's the rap sheet:
Antec Three Hundred Two Specifications
Motherboard Form Factor
ATX, Micro ATX, Mini ITX
Drive Bays
External
3x 5.25"
Internal
6x 3.5", 2x 2.5"
Cooling
Front
2x 120mm fan mount
Rear
1x 120mm Antec TwoCool exhaust fan
Top
1x 140mm Antec TwoCool exhaust fan
Side
1x 120mm fan mount; 1x 120mm fan mount behind motherboard tray
Bottom
-
Expansion Slots
8
Front I/O Port
2x USB 3.0, mic and headphone jacks
Top I/O Port
-
Power Supply Size
ATX
Clearance
12" (Expansion Cards), 170mm (CPU HSF), 200mm (PSU)
Weight
15.3 lbs (6.9 kg)
Dimensions
20.2" x 9" x 18.5" (413mm x 229mm x 471mm)
Price
MSRP $79
It's actually kind of unusual to see a case that doesn't support a top-mounted 240mm radiator these days, but when you're dealing with a $79 case it's an omission that shouldn't feel like a major one. Instead Antec gives us an eighth expansion slot, which in my opinion is actually a bit more useful. I know some users are skeptical, but I've personally gotten enough mileage out of eighth slots in cases that I can definitely see their use. Note also that Antec is again using a negative pressure design, but wait until you see the performance numbers.