System Performance
Ordinarily we'd have split the performance pages into two sections, application and gaming, but our benchmark suite has actually undergone a bit of a refresh. The changes to our gaming suite Jarred mentioned in his post here carry over to desktops, where we'll be testing systems at the High preset only, as well as testing the High preset at 5760x1200 whenever practical (mostly SLI/CF configurations).
As a result, the only gaming results we currently have for desktops are for the AVADirect Silent Gaming PC we have on hand right now, and we'll gradually add more as more systems come in. I've also taken the opportunity to prune our existing benchmark results where possible.
AVADirect's system comes to us with three different overclocking profiles available for the i7-2700K: 4.5GHz, 4.6GHz, and a blistering 4.8GHz. It was shipped with the 4.6GHz profile enabled, and that's the one we're going with; frankly the voltage on the 4.8GHz profile is a bit on the high side and would be difficult to recommend for sustained use. That and as you'll see later on, while there's some thermal headroom, the heatsink and fan combo have to work harder and largely negate the advantages of building a silent (or at least quiet) system.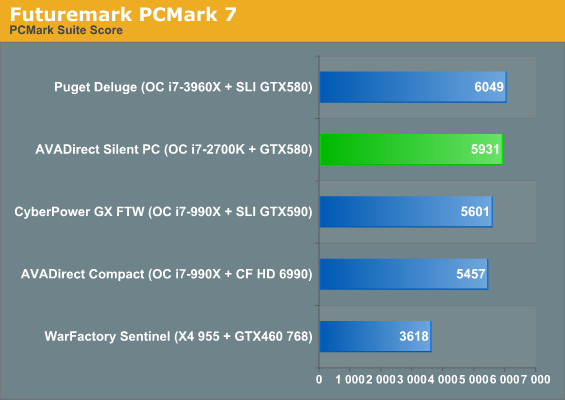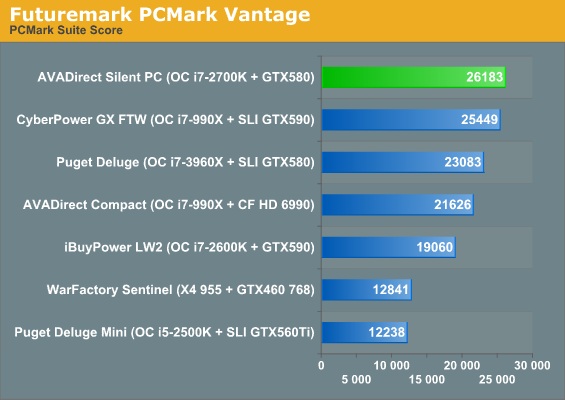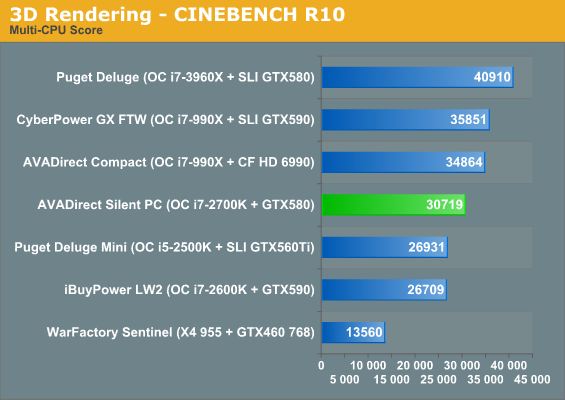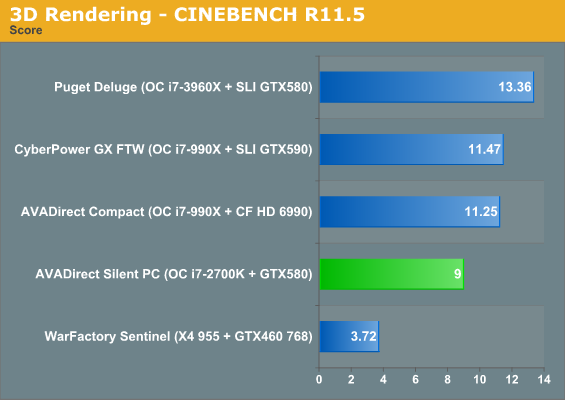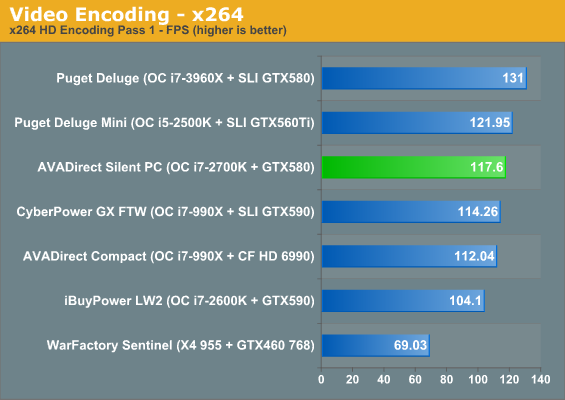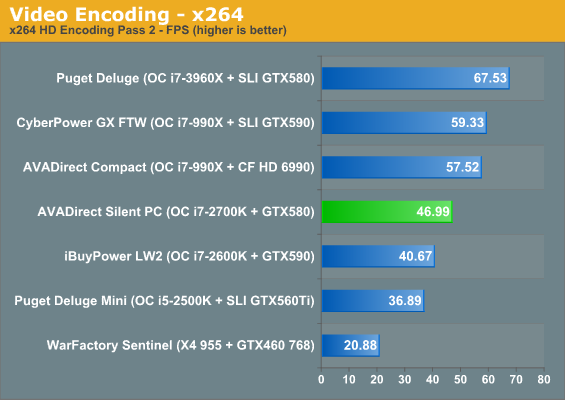 The i7-2700K's 4.6GHz clock is among the fastest overclocks we've tested, and certainly enough to steal top billing in situations that are more dependent on single-threaded performance. Once we get to multi-threaded tasks, though, any of the hex-core processors are able to produce superior performance. Note, though, that in both PCMarks the blistering fast second-generation SandForce controller powering the AVADirect system's OCZ Vertex 3 SSD is enough to produce a sizable advantage.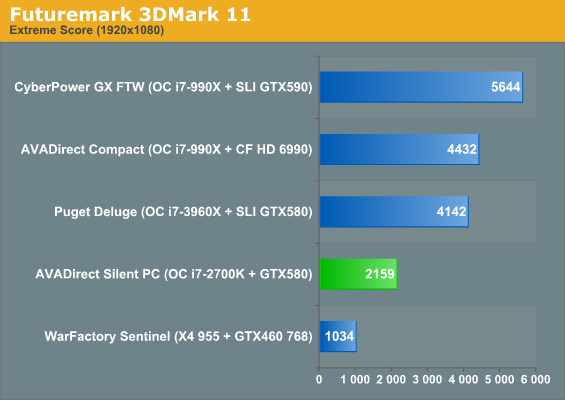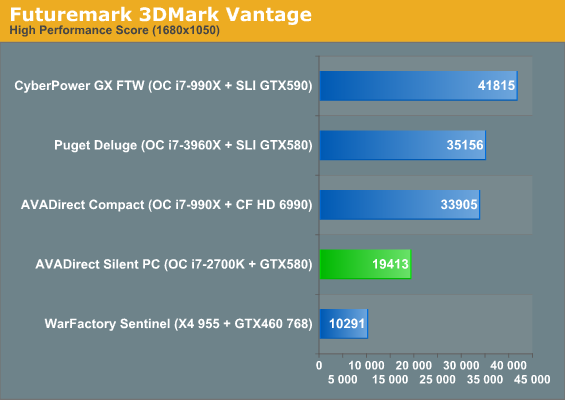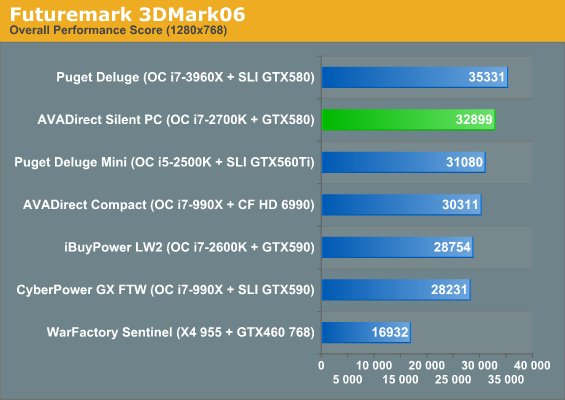 The 3DMarks are a bit less kind to AVADirect's system, but keep in mind what it's competing against: a GeForce GTX 580 is the fastest single-GPU card in NVIDIA's stable, while virtually every other system except for WarFactory's budget gaming rig is employing at least two GPUs. In practice, a single GTX 580 is sufficient to run just about every game currently out at high detail settings and QHD/QWXGA resolutions.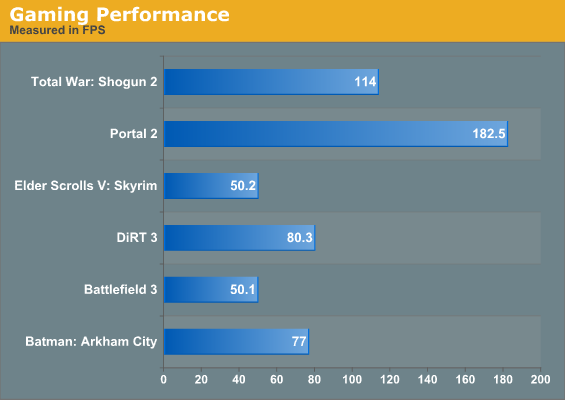 With all of these games running at our High preset, a single GTX 580 is more than enough to handle 1080p gaming, and this is a point I want to drive home: SLI and CrossFire are nice ideas, but a single GPU is both less of a headache and still perfectly adequate for single monitor gaming. All of these games still have plenty of performance headroom on the GTX 580.
You'll note that Civilization V is missing from the benchmark table, though. While the game itself actually runs perfectly fine with no problems on the system, the benchmark mode refuses to run at anything but 1650x1050. It's unusual, and even NVIDIA is stumped as to why this problem materialized. For what it's worth, while I can't provide any concrete numbers I will say that my own desktop with a GeForce GTX 580 and i7-990X has had no problems at all providing a silky smooth framerate in this game at 1920x1200 with 8xAA and VSync enabled—and Jarred has been running a GTX 580 with a 30" LCD since July, with no complaints regarding gaming performance.