Cellular
From a cellular perspective there really are two entirely different Galaxy Nexii, as noted before. The GSM/UMTS (maguro) version which is slightly thinner, and the CDMA/LTE (toro) version which is on sale on Verizon at present and no doubt also Sprint later on when their LTE network is fired up. To accommodate those different combinations of air interfaces, Samsung made two very different phones.
GSM/UMTS Galaxy Nexus
Galaxy Nexus (GSM/UMTS) - Network Support
GSM/EDGE Support
850 / 900 / 1800 / 1900 MHz
WCDMA Support
850 / 900 / 1700 / 1900 / 2100 MHz
HSPA Speeds
HSDPA 21.1 (Cat.14) / HSUPA 5.76 (Cat.6)
Baseband Hardware
Intel/Infineon X-Gold 626 w/I5712 transciever and RFMD RF6260 PA
Cellular connectivity on the GSM/UMTS Galaxy Nexus is courtesy of an Infineon/Intel X-Gold 626 (XMM6260). This is the same baseband as what shipped in the GT-I9100 SGS2, which isn't much of a surprise at all. That means HSPA+ with HSDPA 21.1 (64QAM) and HSUPA 5.76. From a cellular perspective, the Galaxy Nexus is actually virtually identical to the GT-I9100 SGS2, and includes the exact same Infineon Smarti UE2 RF transceiver marked 5712, and the RFMD RF6260 quad-band multi mode (GSM/EDGE and WCDMA) power amp which works between 1710 and 1980 MHz, and 824–915 MHz, supplanting the need for individual power amps for each band. Of course, the 2100 MHz band has its own power amp elsewhere. The GSM/UMTS Galaxy Nexus also takes a regular size Mini SIM (not microSIM). In addition, though XMM6260 supports it, the Galaxy Nexus doesn't include Rx diversity, and instead just locates its single cellular antenna at the very bottom of the device in one module, and the WLAN antenna off to the side.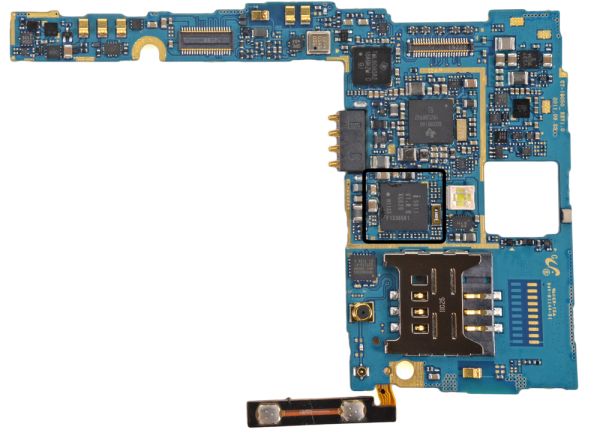 Intel X-Gold 626 circled in black above - Image courtesy iFixit
When the Nexus One (and later Nexus S) originally came out, I was puzzled by why Google hadn't asked its OEM to include pentaband WCDMA support. Back in the Nexus One days, Google was making its big push to try and reshape the way smartphone shoppers buy phones in the US (and make things more like how the rest of the world does it). At the same time however, the hardware launched effectively only with the WCDMA band support for T-Mobile in the US. Third time is a charm, and the GSM/UMTS Galaxy Nexus is now both the first Nexus phone with pentaband WCDMA support, and, moreover, the only Android phone with pentaband WCDMA. The result is a new level of freedom - fully carrier-unlocked and hardware-unlocked hardware that is finally completely carrier agnostic (at least in GSM/UMTS land).
We tested the GSM/UMTS Galaxy Nexus on T-Mobile's HSPA+ network and burned through the 2 GB of data on Google's SIM before burning through another couple of GBs on our own T-Mobile SIM. All in all we ran over 200 tests and generated the histograms that normally grace our smartphone reviews.
T-Mobile HSPA+

Downstream Stats (Mbps) Avg: 3.522; Max: 8.689; Min: 0.029, StDev: 2.022

Upstream Stats (Mbps) Avg: 1.192; Max: 3.259; Min: 0.025, StDev: 0.814

Latency Stats (ms) Avg: 196.93; Max: 500; Min: 105, StDev: 57.122

Number of Tests Run: 244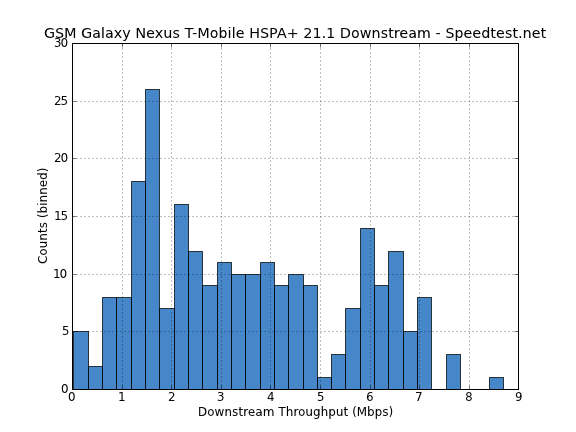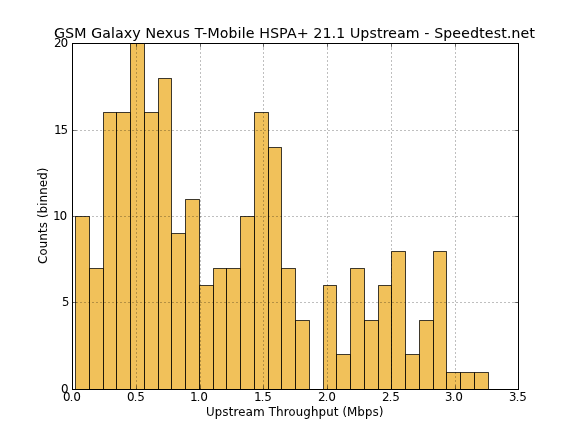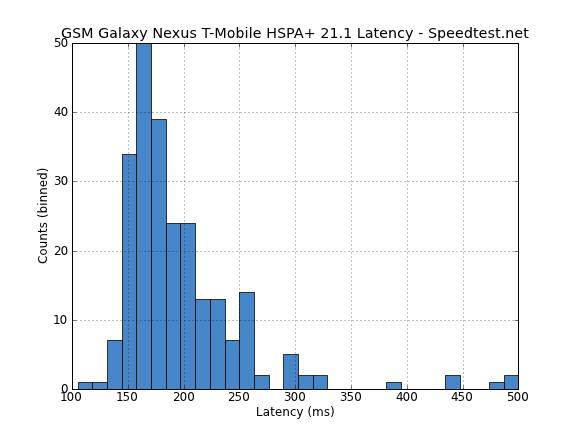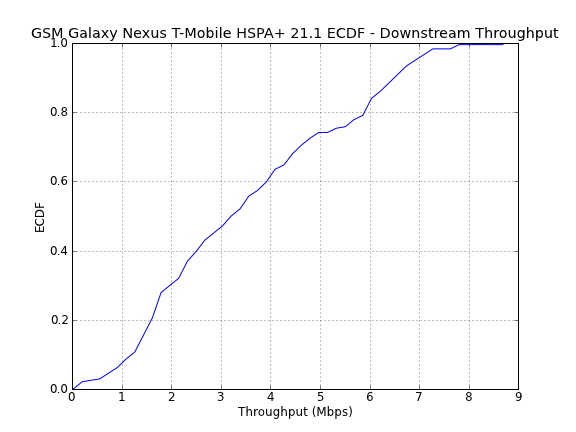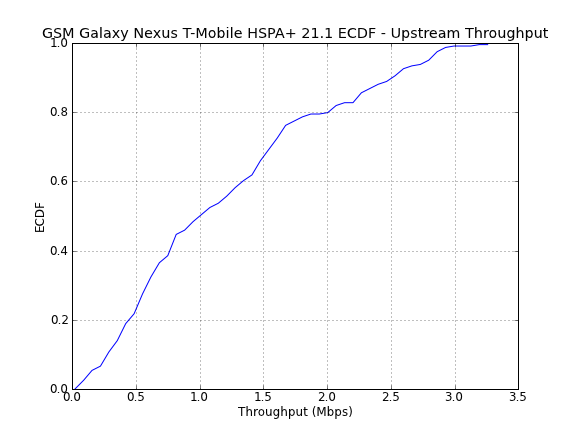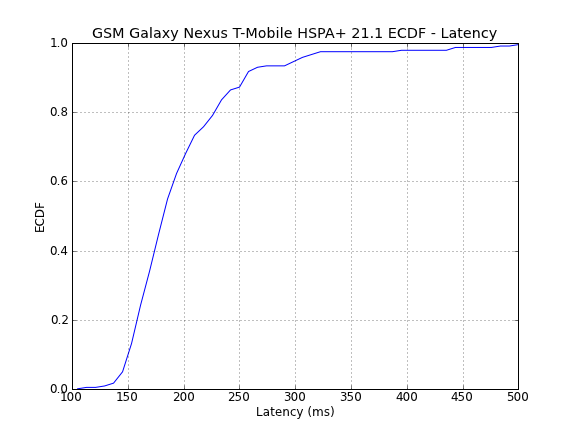 T-Mobile can be fast when it wants to, hitting 8 Mbps down at one point, and 3.2 Mbps up at another. Obviously the Galaxy Nexus is where it should be considering its HSPA+ category. I also tested the GSM/UMTS Galaxy Nexus on AT&T but didn't run enough tests to generate the most meaningful histograms. I couldn't get the Galaxy Nexus to go quite as fast as I'd expect it to on AT&T HSPA+ for some reason, even using the "phone" APN.
AT&T HSPA+

Downstream Stats (Mbps) Avg: 2.114; Max: 4.396; Min: 0.083, StDev: 0.979

Upstream Stats (Mbps) Avg: 1.201; Max: 1.681; Min: 0.043, StDev: 0.449

Latency Stats (ms) Avg: 280.479; Max: 951; Min: 107, StDev: 281.045

Number of Tests Run: 71
Oh, and needless to say, the Galaxy Nexus doesn't suffer from any deathgrip or related signal propagation issues that I can identify.
CDMA/LTE Galaxy Nexus
When I caught wind of the fact that Verizon had also been selected as a launch carrier for the Galaxy Nexus, I speculated that Samsung would reuse the same cellular architecture it used in the Droid Charge. In that review, I talked about how the device used a combination of Samsung CMC220 for LTE, and VIA Telecom's CBP 7.1 platform for CDMA2000 1x/EVDO. It's a rather unique combination that also shipped in the Samsung Stratosphere.
Galaxy Nexus (CDMA/LTE) - Network Support
CDMA2000 1x/EVDO Support
EVDO Rev.A (800 / 1900 MHz)
CDMA Baseband Hardware
VIA Telecom CBP7.1 with FCI FC7780
LTE-FDD Support
UE Category 3 - 700 MHz Band 13
LTE Baseband Hardware
Samsung CMC221 with FCI FC7851
It makes sense for Samsung to reuse what work it has invested in making both Android's Radio Interface Layer (RIL) and hardware work together for the Galaxy Nexus, and this turned out to be a pretty good educated guess. It turned out mostly correct - the CDMA/LTE Galaxy Nexus is based on a combination of Samsung CMC221 and VIA Telecom CBP 7.1.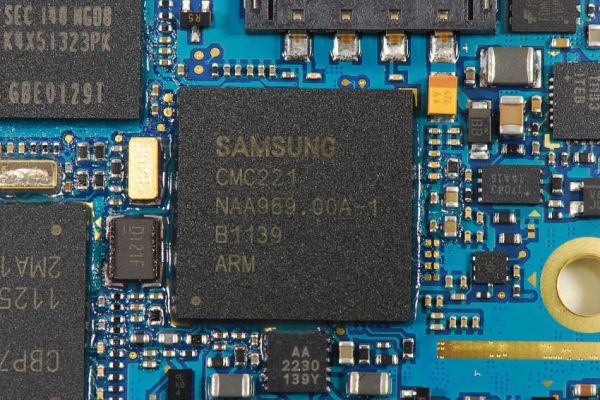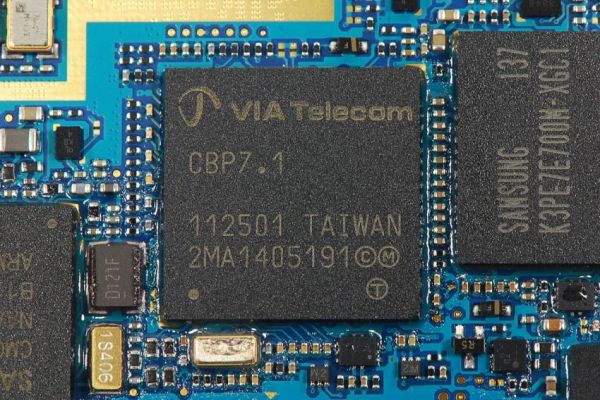 Samsung CMC221 and VIA Telecom CBP7.1 - Courtesy ZDnet/TechRepublic
So what's different between CMC220 and CMC221? No doubt, CMC221 simply is a revision of CMC220 which improves connection stability and handover performance, as one of my few complaints with CMC220 were the prevalence of paused connections in some environments.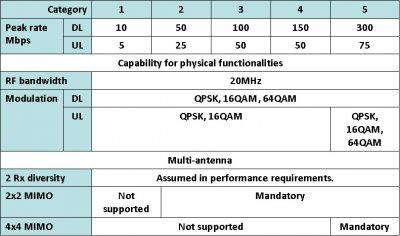 Beyond that, it's hard to know exactly what's changed, but suffice it to say CMC221 shares the properties with CMC220 that we care most about. It's a UE Category 3 part - which is the current maximum for devices right now - it's no doubt 3GPP Rel.8, and it supports 2x2 MIMO on the downlink. The CDMA/LTE Galaxy Nexus right now only operates on Verizon's 10 MHz FDD LTE network, though Sprint is slated to get a CDMA/LTE Galaxy Nexus of their very own that will undoubtably be tailored to the 1900 MHz PCS block it deploys in. For now however, we're just talking about the variant on Verizon 4G LTE.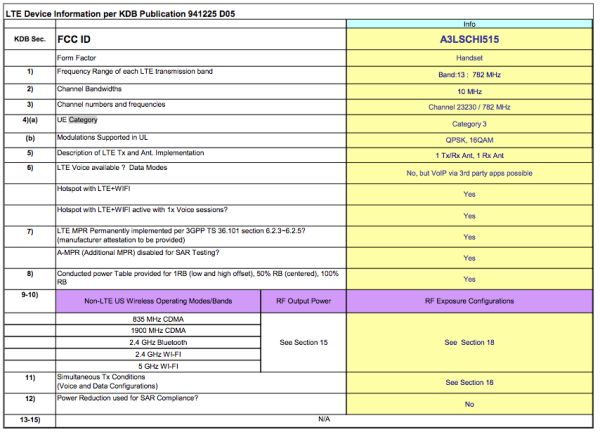 I ran a bunch of tests on the CDMA/LTE Galaxy Nexus on Verizon 4G LTE and 3G EVDO networks. I tested 4G LTE in my Tucson, AZ market and honestly found using a UE Category 3 device quite refreshing after a long wave of UE Category 2 Motorola Wrigley. There is absolutely a difference in the kind of speeds you can see between devices, and I definitely consider the LTE Galaxy Nexus's performance above average. I saw a maximum of 58 Mbps on the LTE Galaxy Nexus, though I didn't grab a screenshot. I did of one at 56 Mbps down, however.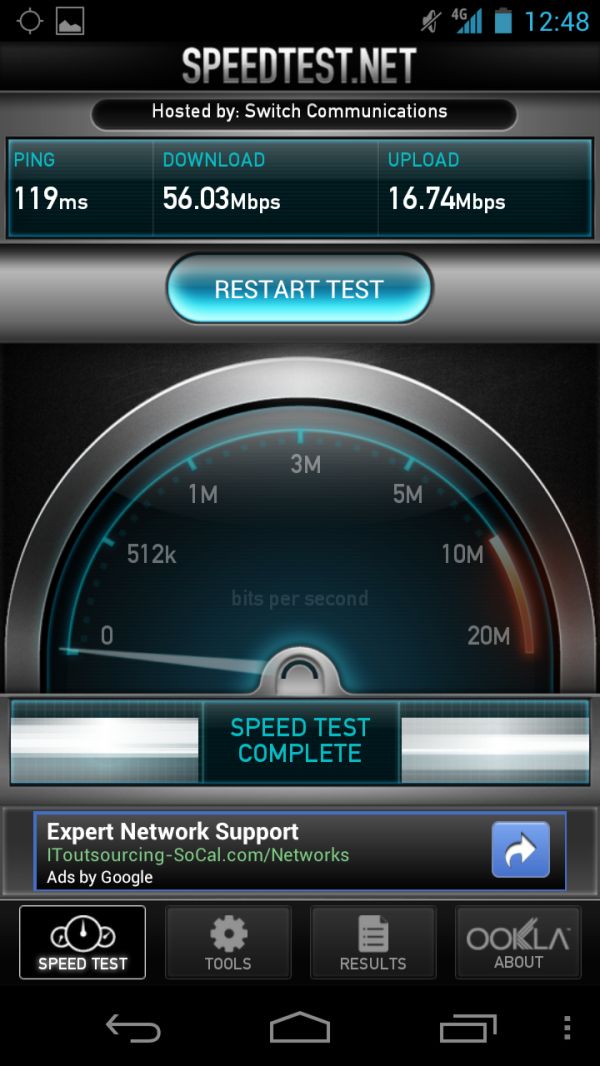 Verizon Wireless 4G LTE

Downstream Stats (Mbps) Avg: 19.715; Max: 58.294; Min: 0.089, StDev: 11.744

Upstream Stats (Mbps) Avg: 7.437; Max: 19.711; Min: 0.242, StDev: 3.699

Latency Stats (ms) Avg: 87.312; Max: 188; Min: 63, StDev: 21.285

Number of Tests Run: 342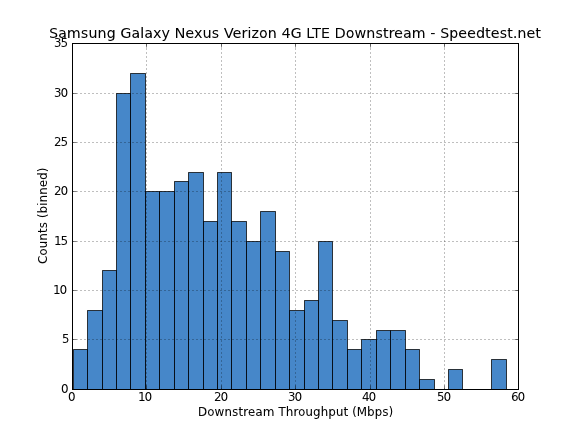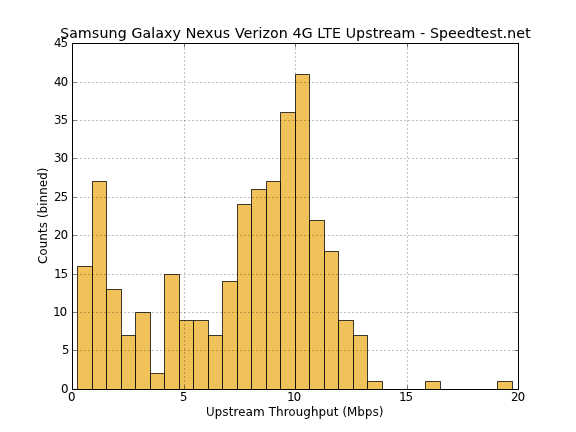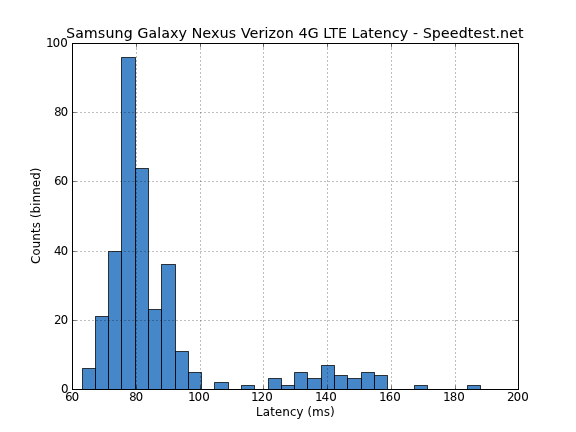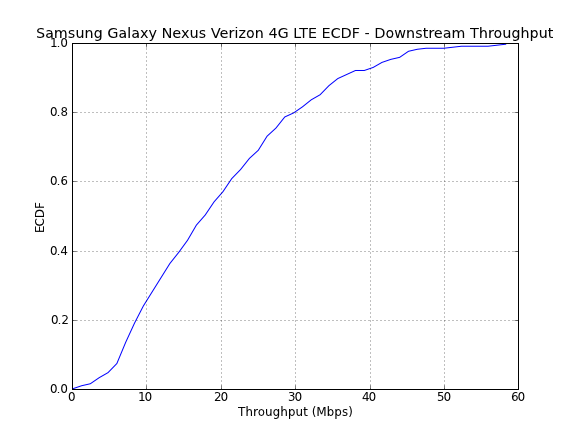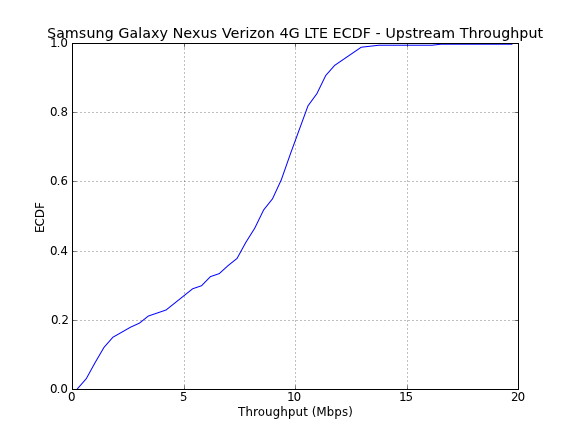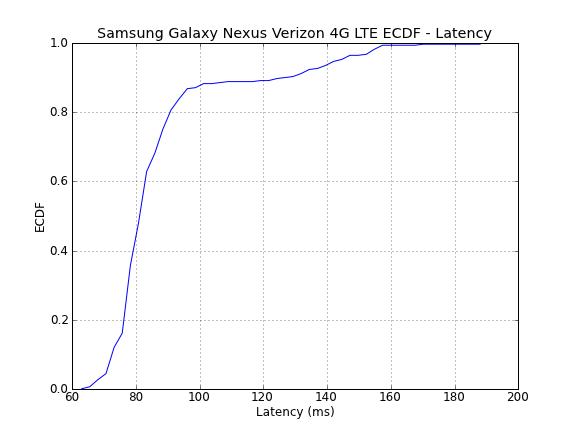 Again, I consider the 4G LTE performance of the Galaxy Nexus quite good, and I saw speeds in my market that I haven't been able to achieve with other devices. The 58 Mbps test is pretty good, although I know a few other people I talk to have been able to hit over 71 Mbps on the Galaxy Nexus, and likewise consider its RF performance above average on LTE.
We also talked about the perceived LTE signal issue with the Galaxy Nexus at some length. Without revisiting the whole thing, the issue is with the way Android 4.0.2 paints signal bars as a function of signal strength. The Galaxy Nexus as of 4.0.2 does this in a way that isn't in line with the other Verizon 4G LTE devices, and coupled with the fact that getting to LTE signal strength (and not 1x or EVDO RSSI) is difficult, misled many into thinking there was an issue when there really wasn't one. I've continued comparing LTE RSRP (Reference Signal Received Power) between the Galaxy Nexus and other phones that report it, and have yet to see a significant difference. In addition, other LTE devices reported RSSI instead of RSRP - again it's good that people are using numerics instead of bars (which are not standardized), however caution must be taken to compare the same parameters properly.
Of course, that's really not all there is to talk about - what about 1x and EVDO performance on the VIA CBP7.1? My initial investigation only looked at 4G LTE, and since then I've had countless people email or otherwise notify me that EVDO also needs a good looking at.
I believe I've nailed down why there's a perception that something is wrong with the Galaxy Nexus' EVDO connectivity. Interestingly enough, the reason is again a nuance in the way that the device reports signal, but on EVDO. In particular, I noticed something in common with the Droid Charge that is no doubt unique to CBP 7.1. Namely, the baseband reports signal level in a quantized fashion at a few different levels in dBm. Ordinarily I see signal level quantized to just integer values, however on the CBP 7.1 based devices I've seen (like the Droid Charge and CDMA Galaxy Nexus) that quantization takes it to a few different levels. That means the values below are the only ones shown when connected to EVDO. You could be in an area with -51 dBm EVDO RSRP, but the maximum you'll ever see reported is -75. There's some hysteresis as well and the device doesn't switch between levels that often.
-75
-83
-93
-100
-113
-120 (0 signal)
I have a sneaking suspicion that these values originally were designed to correspond to some decent cutoffs for signal bars (eg a 5 bar system with -120 being 0 bars), though I'm not entirely certain. The result of this quantization again is that you can be misled into thinking signal is worse or better than it really is depending on conditions, and I wager that this is what leads many to report that things are different than shown on other devices. I also compared EVDO signal strength between the CDMA/LTE Galaxy Nexus and a Droid Bionic, and quantization issues notwithstanding I saw very similar measures.
The caveat is that no doubt CBP 7.1 + FC7780 has different performance than the MDM6600 that has been ubiquitous for CDMA connectivity, so the fact that phones might perform differently in the same location doesn't surprise me. That said, I've yet to see anything dramatic at all.
Nevertheless, I ran a ton of tests on EVDO (eHRPD is EVDO anchored through the PDN-Gateway) to test performance.
Verizon Wireless 3G EVDO Rev.A

Downstream Stats (Mbps) Avg: 0.891; Max: 2.525; Min: 0.07, StDev: 0.560

Upstream Stats (Mbps) Avg: 0.851; Max: 1.534; Min: 0.149, StDev: 0.254

Latency Stats (ms) Avg: 145.036; Max: 800; Min: 103, StDev: 97.1341

Number of Tests Run: 139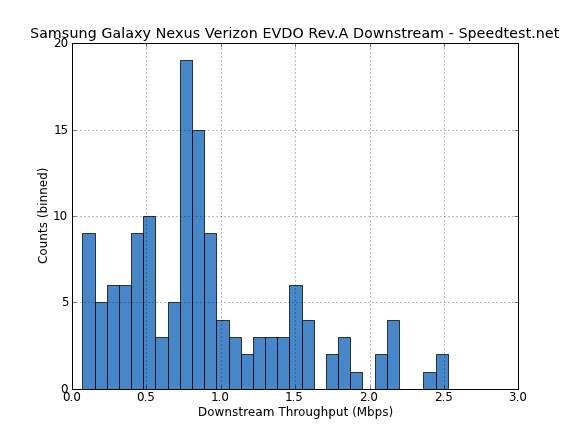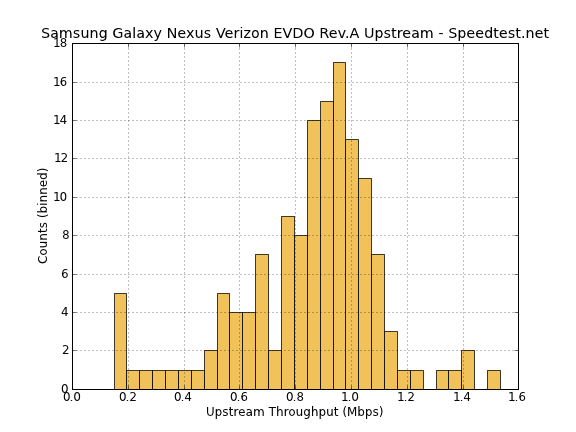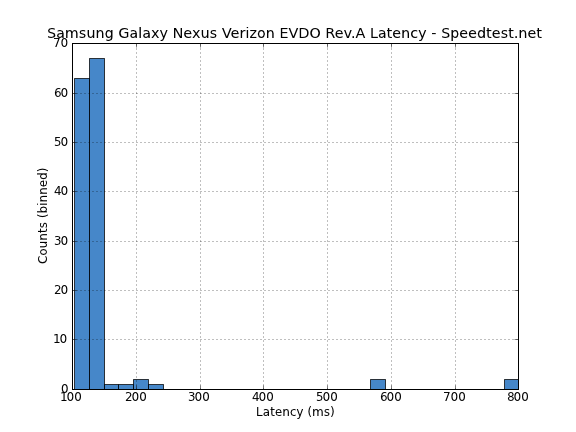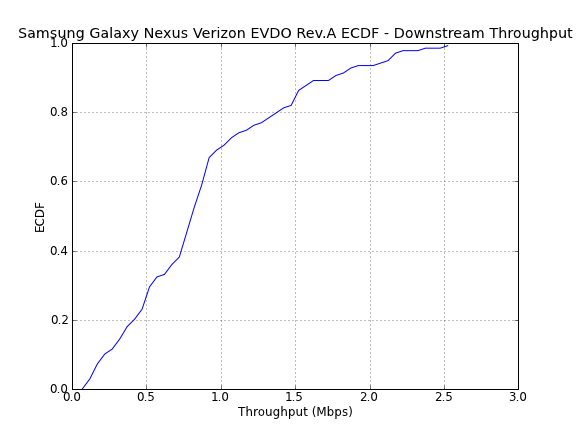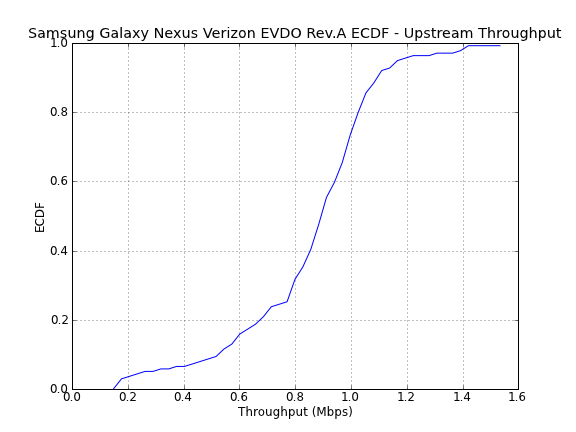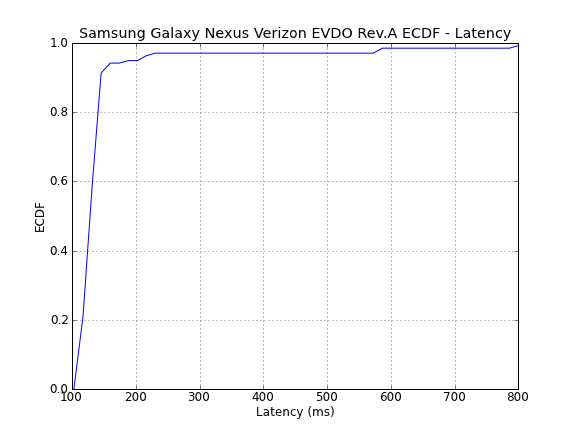 Honestly I can find nothing wrong with EVDO performance on the Galaxy Nexus. In fact, if you go back to the Droid 3 review, you'll see that the Galaxy Nexus numbers are slightly higher in the upstream department and pretty similar (though differently grouped) on downstream.
Call Quality
I don't usually include call quality measures in this section, but it also bears talking about since we're dealing with some reports of things varying from what they've seen before on the CDMA/LTE Galaxy Nexus. Call quality on the GSM/UMTS Galaxy Nexus on T-Mobile is pretty par for T-Mobile 3G voice (AMR).
CDMA voice on the Galaxy Nexus does sound a bit different from other devices, however. Compare to the RAZR below which is again based on MDM6600 and its own vocoder.
It isn't a huge difference, but enough to account for why many people have reported that voice sounds different on the CDMA/LTE Galaxy Nexus. Again, there are bound to be subtle differences between implementations, and I wager Qualcomm's CDMA market domination in the US accounts for why the difference is something so many have talked about. It's interesting to me that none of these nuances attracted as much attention with the Droid Charge, but then again I doubt as many people made a switch at that point.
That said, I've been using the CDMA/LTE Galaxy Nexus for almost all my calls, and did encounter one circumstance where voice continually cut in and out inexplicably. I haven't experienced that behavior since.
When it comes to ambient noise suppression, both the CDMA/LTE Galaxy Nexus and GSM/UMTS Galaxy Nexus have a second microphone for common mode noise rejection. The microphone is right near where the battery cover makes contact with the top, slightly offset to the right. It's a small port but easy enough to pick out.
I don't know what solution is at play inside the Galaxy Nexus, but it honestly does a mediocre job suppressing noise, we've seen other phones definitely do better.