Batman: Arkham City
After a rocky launch last month, Rocksteady finally got their DirectX 11 problems sorted out for Batman: Arkham City earlier this month. Batman: Arkham City is loosely based on Unreal Engine 3, while the DirectX 11 functionality was apparently developed in-house. With the addition of these features Batman is far more a GPU demanding game than its predecessor was, particularly with tessellation cranked up to high.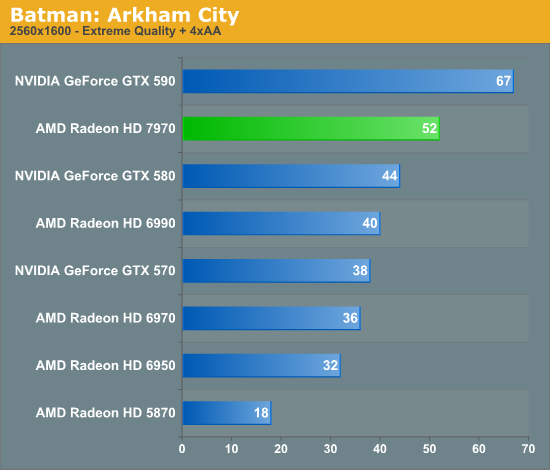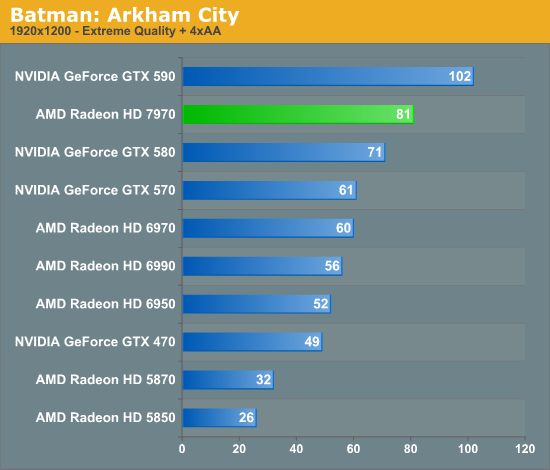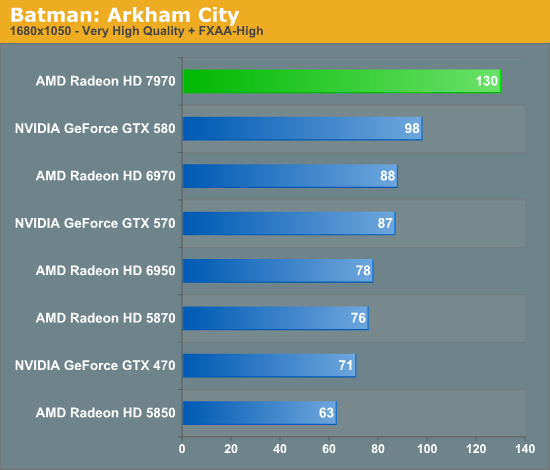 At Extreme settings Batman is quite daunting for our entire GPU lineup at 2560. Nothing except the GTX 590 can crack 60fps, though the 7970 begins to come close at 52fps. Relative to NVIDIA's lineup Batman ends up being one of the weaker games for the 7970, with the 7970 only taking an 18% lead over the GTX 580 at 2560. As for the 6970, the 7970 has another very strong showing opposite AMD's previous generation, beating the 6970 by 44%.
At 1920 we're still using Extreme settings and the story is much the same, though the 7970's lead drops a bit more. Against the GTX 580 it's now only 14% faster, and against the 6970 it's 35% faster. Things do eventually pick up at 1680 when we back off to Very High settings and stop using MSAA, at which point the 7970 takes a surprising 32% lead over the GTX 580 while the lead over the 6970 jumps back up to 47%.
Looking at all of our cards it's really the 5870 that tells the whole story. Tessellation plays a large factor in Batman's performance, and as a result the partially tessellation-constrained 5870 absolutely struggles even at 1920. Consequently this is further proof that AMD was able to get a great deal of additional performance out of their geometry engines even with the 2 tringle/clock limit.