Brightness and Contrast
With the previous LED monitor I saw from BenQ, the exceptional thing about it was native contrast ratios that exceeded 3000:1 at all levels of light output. These superior contrast levels result in better highlight and shadow detail across the screen, and an image with more "pop" than other displays.
With the monitor set to its maximum light output, I managed to record 272 nits of output, which should be more than enough for most users. With the brightness set to the minimum value, we dropped down to 81 nits, which provides enough range for people that want to use the display in total darkness for print work. It's very unlikely that anyone would need to use a monitor above or below these peak values, so the BenQ provides plenty of light output for everyone. (Note that it's possible to get the white output even lower if you tune the RGB colors in the "User" mode, though we didn't feel this was necessary.)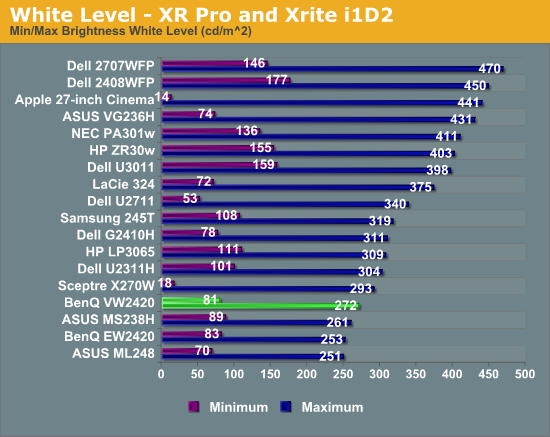 Of course if the black levels are very high to go with those white levels, you'll lose a lot of image quality. With the brightness set to maximum, our minimum black level was recorded at 0.062 nits. This black level is lower than many other panels can manage with their brightness set to the minimum value, which is good to see. Setting the brightness to the minimum gave us a reading of 0.019, which is a very good value as well.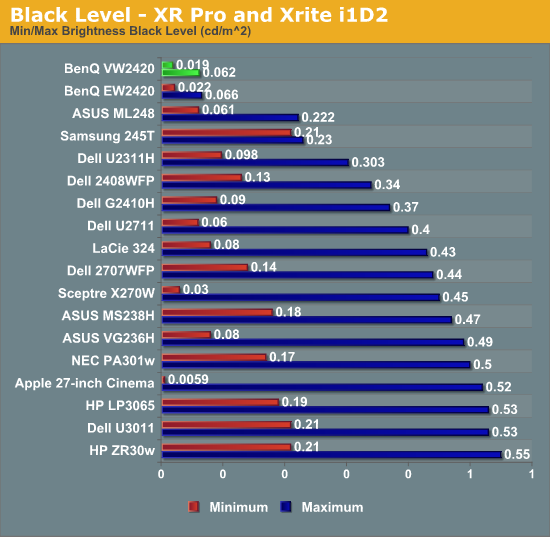 Putting these numbers together gives the BenQ a contrast ratio of right around 4,400:1 at both minimum and maximum brightness levels. This is even better than the previous panel and is easily the best contrast we have recorded for a monitor (without any dynamic contrast at play). Unless we start to see LED backlight monitors, or OLED monitors, that can potentially put out absolutely no light on a solid black screen, it might be a while until we see numbers much better than these. There are a lot of LED lit panels out there now, but the BenQ currently performs better than any of them when it comes to contrast ratio.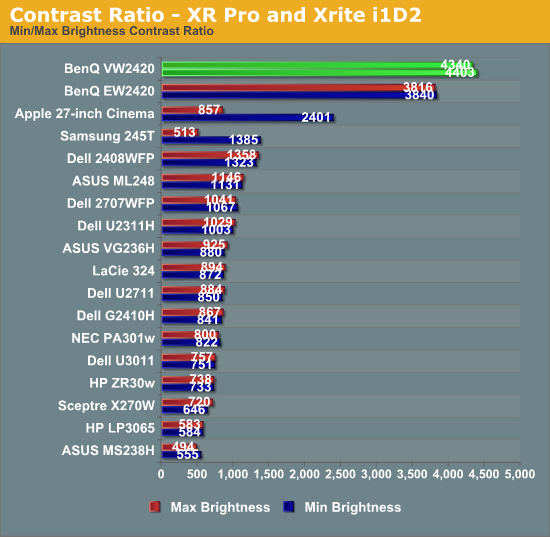 Contrast ratio is one thing that can really make a huge difference in the quality of the image and is often not valued as much as it should be, but here it is just fantastic. BenQ has a huge advantage over everyone else it seems and hopefully this will motivate everyone to improve their own contrast ratios. [Ed: Please, can laptops get some of this high contrast love?]