Battery Life
With 39 hours to test I was pretty limited in what I could do when it came to battery life testing. I was able to run through two tests (one run a piece) and only in one configuration each. I wanted to see how Tegra 3 and the Prime fared in the worst case scenario so I picked the Normal power profile. Over the coming days I'll look at battery life in the other two profiles as well, not to mention run through more iterations of our test suite.
My bigger concern has to do with the malfunctioning WiFi in my review unit. For our video playback battery life test WiFi was on but not actively being used, those numbers should be ok. It's our general use test that loads web pages and downloads emails over WiFi and it's there that I believe things could've suffered a bit.
In both cases I saw around 9 hours of continuous battery life out of the Transformer Prime, without its dock. These numbers are a bit lower than the original Transformer but it's unclear to me how much of this is due to the additional cores/frequency or the misbehaving WiFi. The fact that we're within striking range of the original Transformer with the Prime running in Normal mode tells me that it's possible to actually exceed the Transformer's battery life with the Balanced or Power Saver profiles. That's very impressive for an SoC built on the same manufacturing process as its predecessor but with twice the CPU cores and a beefier GPU.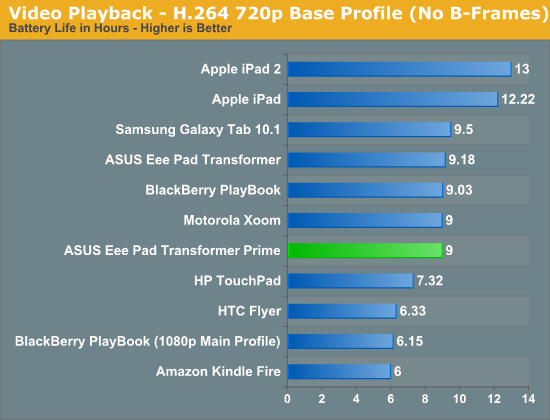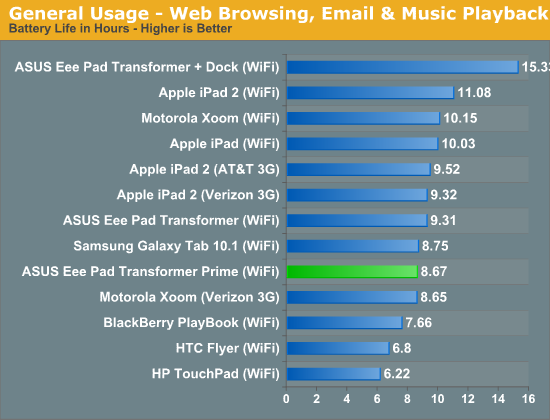 What I'm not seeing however is the impressive gains in battery life NVIDIA promised its companion core would deliver. I'm not saying that the companion core doesn't deliver a tangible improvement in battery life, I'm just saying that I need more time to know for sure.
That the Transformer Prime can deliver roughly the same battery life as its predecessor without any power profile tweaking may be good enough for many users. Both ASUS and NVIDIA shared their own numbers which peg the Prime's battery life in the 10 - 13 hour range. As I mentioned before, I'll have more data in the coming days.
Update - With a replacement Transformer Prime in house, battery life is looking a lot better already: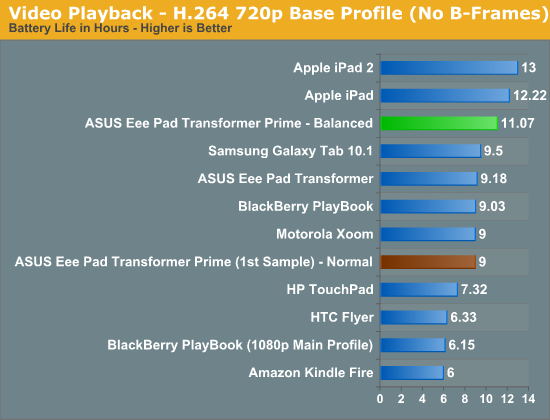 Update 2: Even more battery life results in our follow-up.