In the pursuit of sheer performance, a user should aim to combine the ultimate CPU with the ultimate everything else – motherboard, memory, and so on. The latest enthusiast platform to hit our streets is Intel's latest Sandy Bridge-E and X79 chipset, released today.
So to start a series of X79 reviews, we are going to have a look at what the X79 chipset brings to the table over other Intel chipsets, and the first motherboard under our microscope is the ASUS P9X79 Pro, coming in at an RRP of $329.99. Needless to say, this is fairly expensive in the land of motherboards, even when pairing it with a $1000 CPU. However, if previous Intel chipsets are anything to go by, ASUS Pro boards get a lot of attention. So the question becomes 'Is it worth it?'
Overview
ASUS are impressive – as an innovator and as a product producer. Any company can stick an Intel chipset together on a board and sell as-is. It takes a large amount of highly skilled, consumer and technically oriented people to produce top level products, and ASUS have succeeded with aplomb on what seems to be their entire range.
One of the major plus points for the ASUS boards, including the Pro, is the implementation on X79 style SSD Caching. By a hardware/software combination, users can implement SSD caching via a specific pair of SATA 6 Gbps ports on the board. There is also ASUS USB 3.0 boost, which overcomes Windows' USB protocol limitations to improve USB 3.0 speed. As expected on such an enthusiast board, an Intel NIC is used for improved performance and lower CPU usage.
The ASUS boards also include a feature called BIOS Flashback. This allows a user to write a new BIOS to the board via a USB stick without the need for CPU or DRAM being installed. In my opinion, this is a great idea, especially if the board shipping BIOS does not support a future processor being released.
Power delivery is completely digital in the form of DIGI+, and adjustable to both the CPU and now the memory. On the Pro, six fan headers are provided onboard with high quality fan adjustment (both BIOS and software) thanks to their more expensive fan controller solution. The graphical BIOS is the typical ASUS fare we are used to, and I was impressed by the automatic overclocking functions which perform well, giving significant boosts in performance.
Points requiring a little adjustment on the Pro, at least from my point of view, start with the PCIe layout. While having three spaces between the main PCIe slots does wonders for GPU cooling, a lot of GPU manufacturers only put triple slot length connectors on board for SLI/CrossfireX, not quad length. This may cause extra expense for the consumers if their particular model did not come with the right cable, which surprises me when ASUS include SLI cables with the Pro, but not CrossfireX (ed: AMD has suppliers to bundle cables with cards instead of boards). Perhaps also expected is dual Gigabit Ethernet on such a board, given that there is plenty of I/O panel space. Even if this was a simple Realtek solution, if software was provided to enable Teaming, there would be users who would love the option. Lastly, I would have liked a USB 3.0 front panel addition in the box. All that said, ASUS states the Pro has an RRP of $329.99 and a standard 3 year warranty.
Visual Inspection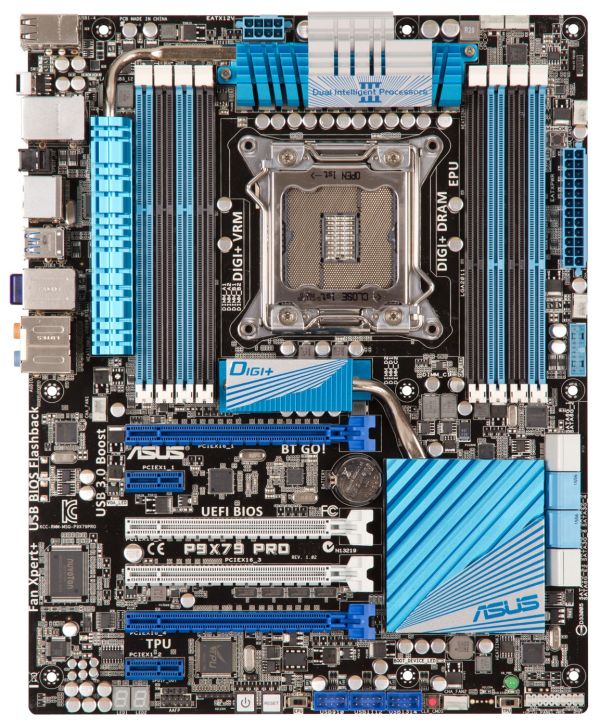 If you have never read any of AnandTech's pre-X79 coverage articles before, the thing that will strike you most on any of these motherboards is the size of the socket. While the CPU die is only 20.8 mm x 20.9 mm, it supposedly requires 90lbs per square inch of pressure, up from 70lbs per square inch on previous platforms. As a result, we have a new CPU bracket holding the socket together, which uses two latches rather than one to hold the CPU in place. The mounting holes themselves are of similar ilk to Intel's recent platforms in terms of spacing; however the screw size is reduced from previous platforms. Due to the extra pressure requirement, Intel are moving away from push-pin type coolers, and are aiming more at those that screw into the bracket directly. This means a move away from backplate type arrangements, and a step towards screw-ins. This is evident on the Intel all-in-one liquid cooler, which requires manual adjustment of the screws into the bracket, then tightening with a screwdriver.
The mass of DIMM slots is also of note, as this takes an obscene amount of PCB space either side of the socket. As mentioned before, there could perhaps be a call for motherboards with 2 DIMMs in a dual channel mode, in order to free up this real estate. Nevertheless, ASUS handily color codes the DIMM slots, where the blue ones should be filled first, then the black, for optimum performance. All these DIMM slots get in the way of the power delivery of course, and the Pro uses an 8-phase digital VRM for CPU power delivery. The relatively small heatsink above the CPU has a large surface area, and is connected via a heatpipe to another heatsink to the left of the DIMMs.
I like a board with a lot of fan headers – and ASUS have put six on this board, all under the control of their Q-Fan/Fan Xpert technology. These fan headers are located such that two 4-pin CPU headers above the right hand side DIMMs, one 4-pin chassis header beside the IO panel, two 4-pin chassis headers beside the 24-pin ATX power supply, and a final 4-pin chassis header on the bottom of the board. All of the fans can be adjusted in the BIOS and the OS via software – this level of detail is testament to how well ASUS listens to users wanting these fan controls.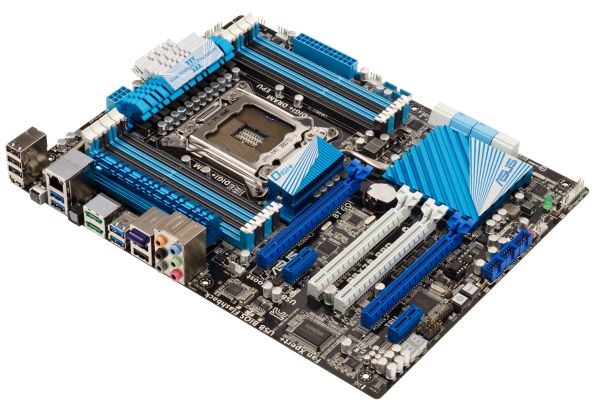 The PCH is hidden underneath a low profile heatsink, also connected via a heatpipe to another heatsink in the middle of the board. The SATA ports here on offer come in three flavors – two SATA 6 Gbps via a Marvell 9128 controller, four SATA 3 Gbps from the PCH, and two SATA 6 Gbps from the PCH. These final SATA 6 Gbps are the ones used in ASUS' SSD Caching, explained later.
Along the bottom of the board are features of interest: a 2-digit Debug LED panel; large power/reset buttons; a small Clear CMOS; ASUS' TPU (Turbo) and EPU (Power Saving) switches; and a standard variety of USB and front panel headers. I'm glad that the Clear CMOS button is of a different style to the power/reset buttons and not next to them – there are some boards which have it next to them, which makes for interesting expletives when the wrong button is pressed.
PCIe layout is not that intuitive, though a user should fill up the blue x16 slots first from top to bottom, then the white. As a result, we have a PCIe x16, x1, x8, x8 (non-GPU), x16, x1. The second blue x16 reduces to x8 when the first white x8 is populated. This layout also means that any PCIe x1 users will have to use the white PCIe lanes when two dual-slot GPUs are being utilized. As I mentioned previously, having such a large gap between the blue x16 slots can be an issue, when GPU manufacturers do not provide long enough cables with their cards. While ASUS provide a long enough SLI cable for this, they do not give any CrossFireX cables.
The back panel feels slightly empty here, but that may be indicative of X79 as a whole with some legacy connectors now no longer being used. From left to right, we have four USB 2.0 ports (including one in white for BIOS Flashback), a BIOS Flashback button, two USB 3.0 ports below an Intel Gigabit Ethernet port, an optical S/PDIF output, two 'Power' eSATA 6 Gbps ports, two USB 3.0 ports, two USB 2.0 ports below a Bluetooth v2.1 module, and standard audio headers. Personally, I see room for another Gigabit Ethernet port, hopefully with the option of Teaming.