The ReadyNAS NV+ v2 shipped with 2 x 1TB Hitachi 7200rpm drives. We mapped one of the default shares on our Windows testbed. The Intel NASPT benchmarks were run. In addition, we ran our standard robocopy benchmark to transfer a 10.7 GB Blu-ray folder structure.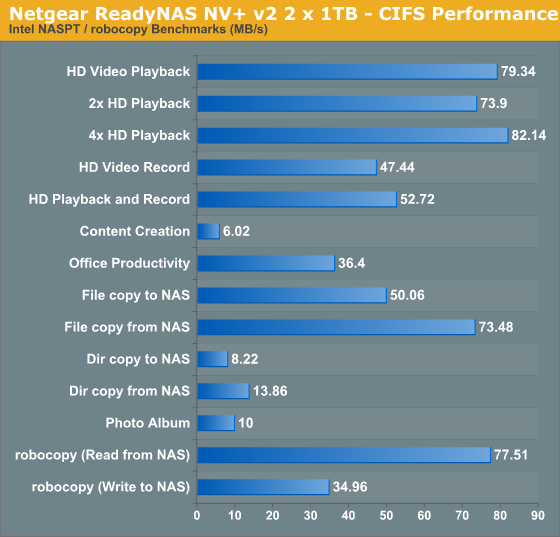 Netgear's X-RAID2 solution automatically handles RAID level management and volume expansion as more drives are added. The ReadyNAS website has a very high level explanation of how X-RAID2 works. We added a 1 TB Samsung 7200 rpm drive to the mix and measured the time taken to expand the volume (from RAID-1 to RAID-5).
X-RAID 2 Volume Expansion
2 x 1TB RAID-1 to 3 x 1TB RAID-5
07:36:25
With the new 3 x 1TB configuration, we repeated our NAS benchmarks.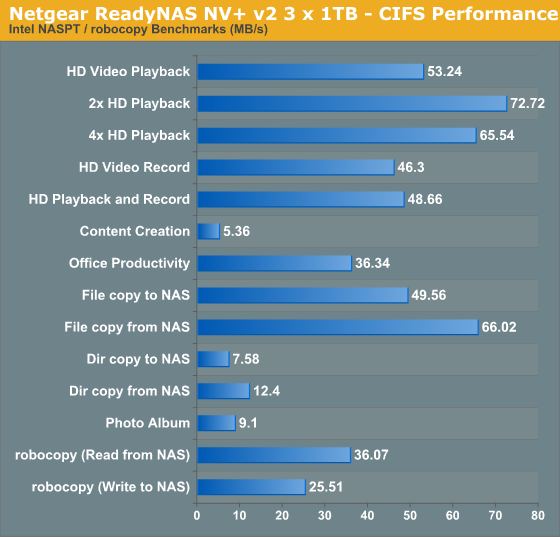 We see a discernible loss in the performance. Does this mean that larger number of drives would tend to lower the performance of the unit? We added another 1TB Samsung 7200 rpm drive in the fourth bay and measured the time taken for volume expansion.
X-RAID 2 Volume Expansion
3 x 1TB RAID-5 to 4 x 1TB RAID-5
10:31:57
With the new 4 x 1TB configuration, the benchmarks were rerun.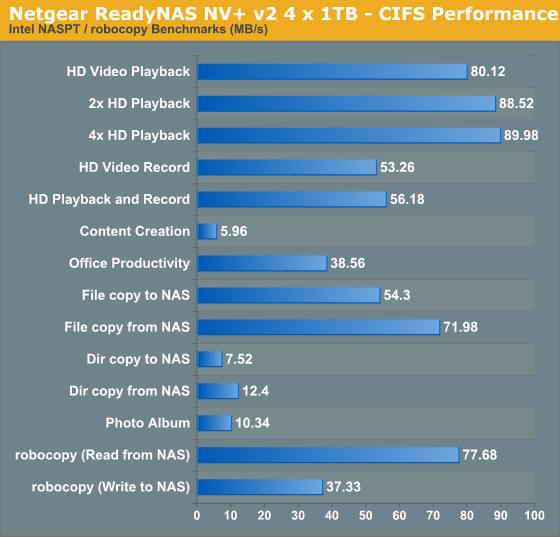 We see that the performance is back on track. Note that these numbers compare very favourably with those obtained in the Synology DS-211+ review. At half the price (for the Duo v2), the Netgear units seem to be very good value for the money.
One of the NAS aspects we have started testing recently is RAID rebuild. With all the four bays occupied, a disk failure was simulated by removing the hard drive in the first bay. A Samsung 1 TB hard drive was put in place of the original Hitachi drive in that bay and the time taken for rebuild was recorded:
ReadyNAS NV+ v2 RAID-5 Volume Rebuild
4 x 1TB RAID-5 Rebuild after Single Hard Drive Failure
04:58:29
During all stages of the volume expansion / rebuild process, the existing data remained accessible. Operation in degraded mode was made evident in the front display as well as the system health tab in the web interface.