Yesterday Seagate had three members of its Barracuda family of 3.5" hard drives: the Barracuda Green, Barracuda, and Barracuda XT. Today, all three lines are being folded under the Barracuda name. The Barracuda Green drives will cease production in February 2012. The Barracuda XT, Seagate's flagship 3.5" drive, will eventually be replaced by a solid state Hybrid drive at some point in the future. Until then, if you want a 3.5" hard drive from Seagate - it'll just be called a Barracuda.
The new Barracuda lineup is top-to-bottom 7200RPM. Seagate makes up for the extra power required to spin at 7200RPM (vs 5900RPM for the Green drives) by moving to 1TB platters and a faster cache. Increasing platter density has been the preferred route of increasing performance in hard drives over the past decade, causing spindle speeds to stagnate but sequential transfer rates to increase steadily. The new 1TB-per-platter Barracuda disks are no exception. Despite not carrying the XT label, the new 3TB drive is capable of noticeably higher sequential read/write speeds compared to the outgoing Barracuda XT.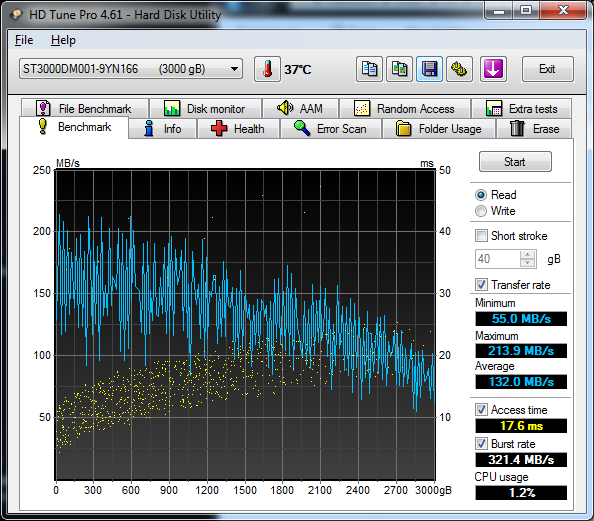 Seagate also updated the controller (now built on a 40nm process) and DRAM (now up to 64MB of DDR2) on the new Barracuda line. The 1TB platter drives are available in 1TB, 1.5TB, 2TB and 3TB capacities. Their prices and model numbers are below:
Seagate's 1TB-per-platter Barracuda Lineup
Model Number
Capacity
MSRP
ST3000DM001
3TB
$179.99
ST2000DM001
2TB
$105.99
ST1500DM001
1.5TB
$83.99
ST1000DM003
1TB
$71.99
We'll have a full review of the new 3TB flagship drive later today.