Introducing the Corsair Carbide 500R
Corsair seems to have completed their case lineup with their latest addition, the Carbide 500R. Though currently made available in black, this enthusiast-geared enclosure was originally advertised in its attractive pearl white coloring, and that's the model we have on hand today. Does this powered up Carbide 400R have what it takes to make it as a compelling alternative to not just its cheaper sibling, but also to Corsair's Graphite 600T and 650D as well as the other enclosures around the $139 price point?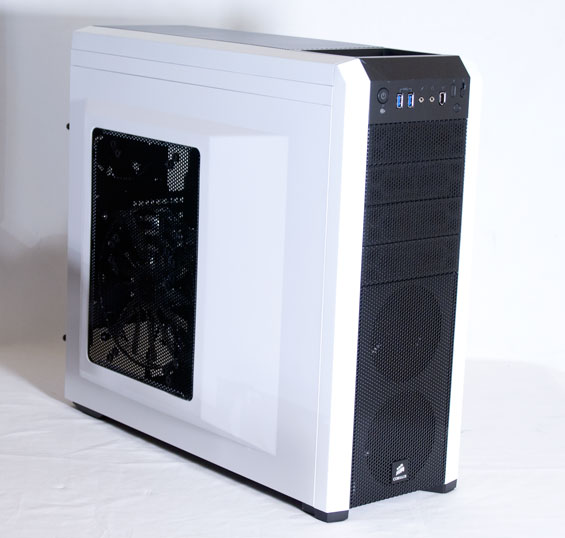 While the MSRPs of the 500R, 600T, and 650D show stratification (and a visit to NewEgg confirms this), things get a little muddy when you start bargain hunting. While you can get the 500R for $139 ($125 after rebate as of the time of this writing), the cheapest I could find the 600T for was about the same price and usually around $160, hanging out in the same neighborhood as the Obsidian. That clusters these three enclosures against each other and while it's not as goofy as the sub-$100 graphics card market, it does make you wonder a little bit about why Corsair shot so high with the 500R.
That said, there are definitely differences. The Graphite 600T is a fine case but an odd bird in Corsair's lineup with no siblings, while the 650D is essentially the love child of the 600T and Obsidian 700D/800D enclosures. And while the 600T on up are all designed largely with acoustics in mind (and all use negative air pressure designs), the Carbide enclosures are a bit more open, with more fans, more fan mounts, and positive air pressure. Theoretically, acoustics suffer while thermal performance should improve. It's a trade-off end users often have to make in the sub-$200 case market.
Corsair Carbide 500R Specifications
Motherboard Form Factor
ATX, Micro ATX
Drive Bays
External
4x 5.25"
Internal
6x 3.5"/2.5"
Cooling
Front
2x 120mm intake fan
Rear
1x 120mm exhaust fan (supports 140mm)
Top
2x 120mm fan mounts
Side
1x 200mm intake fan (supports up to 2x 120/140mm fans)
Bottom
1x 120/140mm fan mount
Expansion Slots
8
Front I/O Port
2x USB 3.0, mic and headphone jacks, 6-pin FireWire, LED and three-step fan controls
Top I/O Port
-
Power Supply Size
ATX
Clearance
11.5" with drive cage/17" without (Expansion Cards), 180mm (CPU HSF), 300mm without bottom fan/170mm with (PSU)
Weight
16.6 lbs. (7.53 kg)
Dimensions
20.5" x 8.1" x 20" (521mm x 205.8mm x 508mm)
Price
$139
The fan controls are going to be familiar to people who've seen the Obsidian 650D, but the internals are all Carbide series, with a tremendous amount of cooling expansion available. End users willing to put in the time to fine tune the cooling are probably going to be well rewarded, but the configuration Corsair ships the 500R with isn't half bad either.