Western Digital provides the WD2go and WD2go Pro apps for the iOS and Android devices. Together with the WD2go remote access via website, they form the personal cloud solution for the My Book Live. In this section, we will go over the WD2go Android app features as well as the web remote access solution. The WD2go Pro app provides extra security, sharing options and Dropbox like syncing functionality. However, we will just be looking at the free basic version in this section.

Upon initial launch, the Android WD2go app asks for an activation code which needs to be generated via the web interface of the My Book Live. After this code is input, one can see the attached devices on that network (I am assuming that multiple My Book Live units on a single network will end up with the same activation code). A few taps later, one can view and navigate the shares. The WD2go app settings include a configurable cache size (for storage of downloaded content) and the ability to clear it. The app also remembers a list of recently accessed files, which can also be cleared.
The app downloads the chosen file and launches it in the linked application. I was able to get this to work without issues for both pictures and music files. Pictures had to be fully downloaded for viewing on the mobile device.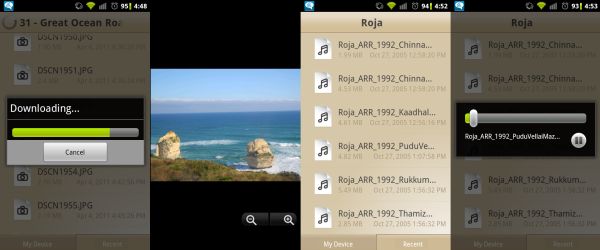 Music files were streamed without any problems. Playback was started even before the file was downloaded in full. Videos were quite picky, though. I had to install RockPlayer Lite / Doubletwist in order to stream the videos. Since there is no transcoding going on at the My Book Live end, we are severely limited with respect to the nature of the video files which can be played back.

An interesting aspect is the connectivity status reported in the web interface. A relay connection implies that the data goes through WD's data center. A direct connection is obviously better in terms of performance. It is suggested that turning on uPnP in the router could help with this.

The PC WD2go feature is set up by registering an e-mail address for remote access. Clicking on the sign-up link set via e-mail enables the registering of a WD2go account on the WD2go.com website. A Java program loads in the background upon selecting the device on the webpage. This mounts the share as a network drive on the local machine.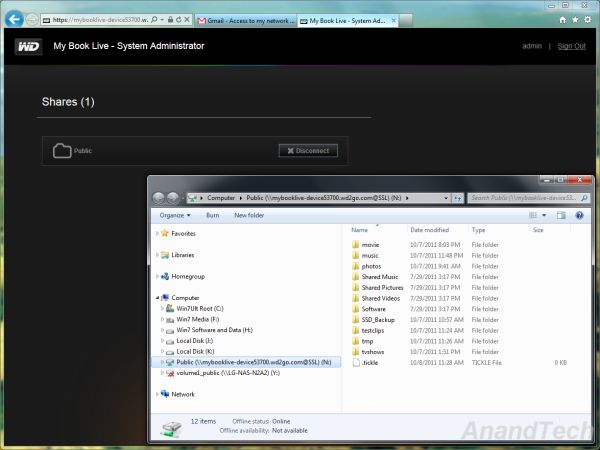 Western Digital's personal cloud solution is quite effective in providing access to the My Book Live over the Internet, be it from a mobile device or a remote computer. Unlike other NAS vendors who require open ports in the router / expect users to register for a dynamic DNS service, WD's model is perfect for the mainstream consumer.