One of the main issues with Intel's integrated GPU solutions for HTPC users was the absence of 23.976 Hz refresh rate support. When Sandy Bridge was launched, it was discovered that the 23 Hz setting could be activated and made to function as intended if UAC was disabled. With v2372 drivers, the disabling of UAC became unnecessary.
While we don't get perfect 23.976 Hz yet, it is definitely much better than the earlier scenario. Though there are user reports of lip sync still being an issue (particularly when used with a projector), we were unable to corroborate this finding. Personally, I managed to watch two complete movies at their native refresh rate without losing lip sync in our test setup.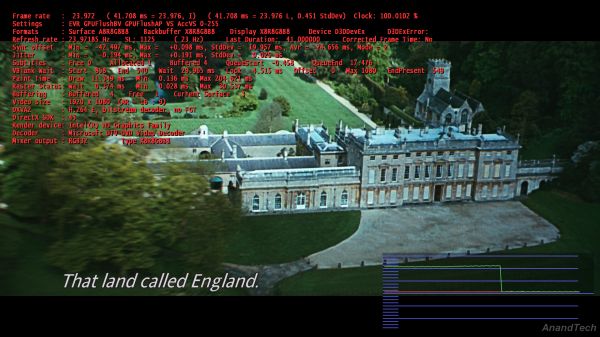 23.976 fps Video Playback (MPC-HC/EVR-CP) with 23Hz Refresh Rate Setting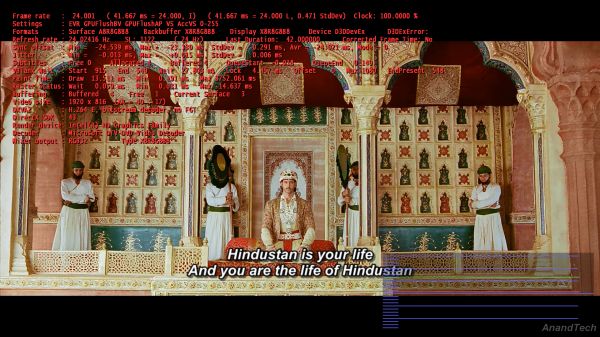 24 fps Video Playback (MPC-HC/EVR-CP) with 24Hz Refresh Rate Setting
The 24 Hz refresh rate feature works as before. Unfortunately, the drifting in the refresh rates doesn't seem to average to 23.976 Hz in the first case. The player locks to 23.972 fps, which implies a skipped frame every 250s (~4 minutes). The scenario seems similar for other refresh rates.
Another aspect we found irritating with Intel's GPU control panel is the custom resolution section. Intel seems very reliant on EDID and doesn't allow the user to input any frequency not supported by the display. I recently got hold of a display (Sony KDL46EX720) to help test 3D as well as multiple refresh rates. Since the unit was sold in the US, it doesn't indicate PAL compatibility in its EDID information. I was able to play back PAL videos with matched refresh rates using the Vision 3D (NVIDIA GT 425M), but Intel's control panel wouldn't allow me to set up 50 Hz as the display refresh rate. It is possible that an EDID override might help, but we can't help complaining about Intel's control panel not being as user friendly as NVIDIA's.

In the next section, we will look at how the integrated GPU in the ASRock CoreHT 252B handles cadence detection and deinterlacing.