Introducing the NZXT Tempest 410 Elite
The last time we checked out an NZXT enclosure, we saw in their H2 a lot of fantastic ideas done in by a single poor design choice. NZXT's engineers are clearly thinking on their feet and the company stays in the enclosure conversation with good reason, and today we have on the slab their new Tempest 410 Elite mid-tower. Geared towards excellent performance without breaking the bank (remember when that was what overclocking was about?), should the Tempest 410 Elite be on your shortlist for an economical build, or were too many compromises made?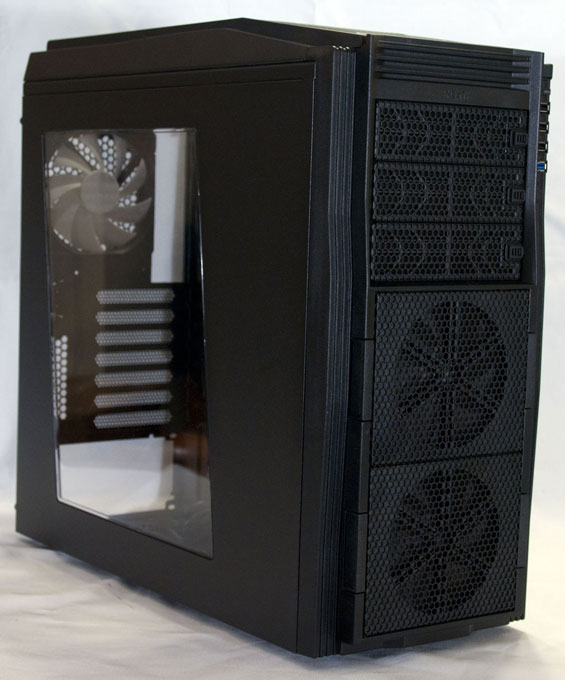 First impressions when opening the box for the Tempest 410 Elite were mixed, but it's important to keep in mind that enclosures under $100 tend to make some sacrifices to keep the price down, one of the major ones being extensive use of plastic for the front bezel. Yet further inspection of the 410 revealed that, much like their peers at BitFenix, NZXT's engineers are keenly interested in cramming a lot of value into their enclosures. Whether or not they were successful with this case remains to be seen, but there are some awfully nice touches here and there.
NZXT Tempest 410 Elite Specifications
Motherboard Form Factor
ATX, Micro-ATX, Mini-ITX, Flex-ATX
Drive Bays
External
3x 5.25"
Internal
8x 3.5"/2.5"
Cooling
Front
2x 120mm intake fan
Rear
1x 120mm exhaust fan
Top
2x 120mm fan mount
Side
-
Bottom
1x 120mm fan mount
Expansion Slots
7
Front I/O Port
3x USB 2.0, 1x USB 3.0, mic and headphone jacks
Top I/O Port
-
Power Supply Size
ATX
Clearance
Up to 11" (Expansion Cards), 170mm (CPU HSF), 280mm (PSU)
Weight
17.2 lbs.
Dimensions
19.53" x 8.46" x 18.94"
Price
MSRP $89
Just looking at the spec sheet, there should be a couple of oddities jumping out at you. The biggest one I ran into was actually the odd mix of USB 2.0 and USB 3.0; this really should've been two USB 2.0 and two USB 3.0 instead of the odd numbers, since now half of each header is basically wasted. And the Tempest 410 Elite does use an internal motherboard header for its USB 3.0 port, as is becoming increasingly common.