Beats Audio
At its TouchPad announcement HP brought Jimmy Iovine on stage to talk about Beats Audio, obviously to promote its integration into the TouchPad. I will begin this section by saying that the TouchPad is definitely the best sounding tablet I've tested thus far. But how much of that is due to some magical Beats Audio hardware?
Tech Republic cracked open the Samsung Galaxy Tab 10.1 and found a Wolfson Micro WM8994 audio hub and codec. What about the HP TouchPad? A Wolfson Micro WM8958.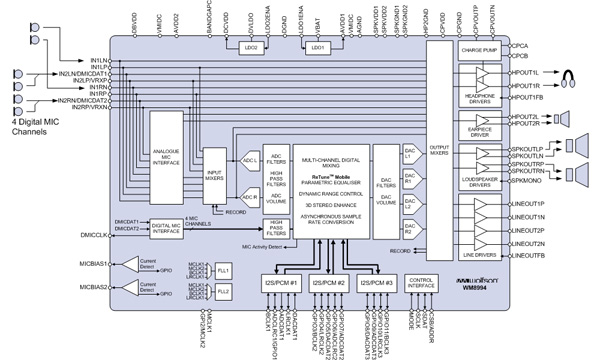 The only difference between the two parts is the WM8958 used in the TouchPad features a DSP used as a multiband compressor and dynamic range controller. The multiband compressor explains exactly what I hear with the TouchPad. On most tablets low frequencies are almost entirely lost, while the TouchPad sacrifices dynamic range in order to boost these low and/or mid spectrum frequencies. The result can be pleasant depending on the type of music you're listening to. In general I found the TouchPad's audio to be more filling than any competing tablet. While I'm not usually a fan of most aural or visual trickery, in this case I believe the multiband compression does a good job.
Touch to Share
When used with a Pre 3 (not yet available) or with a future update to the Veer, you'll be able to initiate the exchange of a URL (and potentially other data) just by touching your supported webOS phone to the TouchPad. HP wasn't able to get us a Pre 3 for the review so I can't comment on the experience with the TouchPad but I can talk about the bigger picture here.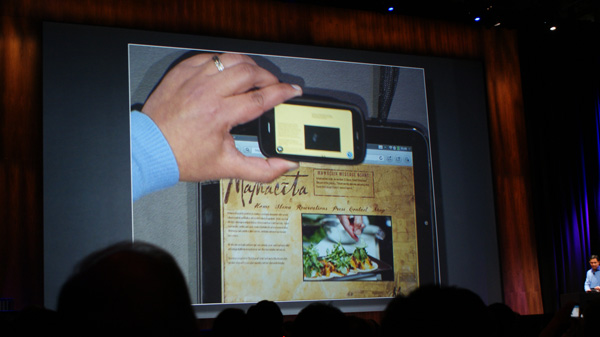 One of the biggest problems I have with tablets today is this: if I have a dozen tabs open in Chrome on my desktop and then choose to start browsing on my tablet, the only way to transfer my state is to email or IM myself a bunch of URLs and open them one by one on the tablet. Improving sharing of state between devices is going to be key to making the transition between multiple computing devices more seamless. The concept behind Touch to Share is to quickly copy the URL of a web page you're looking at on your tablet to your phone and vice versa. The idea here is to be able to load a web page on your phone or tablet and quickly port the experience to another device without having to manually type in a bunch of URLs. I can see the potential here if HP brings a similar type of sharing between its PCs running webOS and its mobile webOS devices.